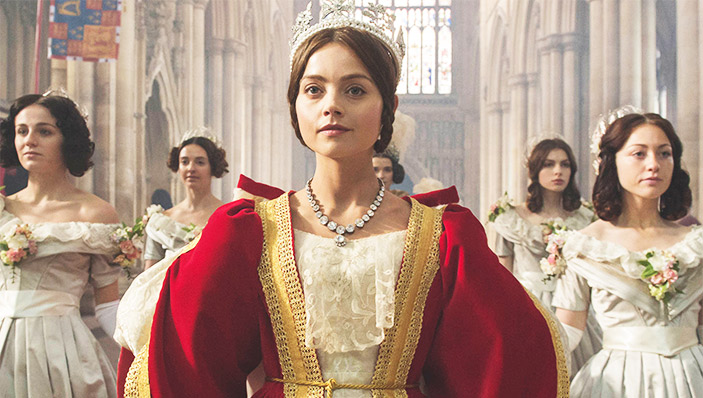 12 incredible period dramas you can stream in Australia right now

---
Whether you like sweeping tales of star-crossed romance or gritty thrillers about serial killers, there are a bunch of period drama series on Australian streaming services that are worth a binge session or two. Jenna Guillaume picks 12 of her favourites.
Stan
Leo Tolstoy's epic tome is transformed into a sumptuous series written by Andrew Davies and directed by Tom Harper, starring Lily James, James Norton and Paul Dano. The six-part series chronicles love, loss and life against the backdrop of the Napoleonic invasion of Russia.
Arguably the most popular period drama of all time, and the ultimate comfort series. It doesn't get much better than watching Colin Firth as Mr Darcy and Jennifer Ehle as Lizzy Bennet, hating each other and then loving each other, over and over again. Also, there's that wet shirt scene.
Call the Midwife (2012-present)
This is an ongoing series that explores the lives of a group of midwives in London's East End during the 1950s and '60s. If you love the idea of a multi-season drama focused on women to sink into, this is the show for you.
There have been many adaptations of Charlotte Bronte's most famous love story, but this is definitely one of the best. Ruth Wilson is remarkable as Jane, while Toby Stephens makes Rochester rather hard to resist – mad wife in the attic notwithstanding.
These three period dramas can be viewed on their own, but they are part of the same overarching series based on the books by Philippa Gregory. The White Queen and The White Princess tell the stories of the women at the centre of the last two generations of the Wars of the Roses, while The Spanish Princess focuses on Catherine of Aragorn and her path to becoming queen.
Netflix
Set in post-war Britain, this show boasts a stellar cast and follows a group of women who were codebreakers in the war and are now using their skills to investigate a series of murders. This is for anyone who prefers their period dramas with a bit more action than romance.
Starring Dakota Fanning, Luke Evans and Daniel Bruhl, The Alienist is another series for those who like a side order of murder with their fancy period costumes. It follows a small team investigating a serial killer who targets street children in 1890s New York.
This stunning Canadian series is not the most faithful adaptation of Lucy Maud Montgomery's Anne of Green Gables. But with an incredible cast and some interesting plot choices, it's nonetheless seriously compelling.
Foxtel Go and Now
Gentleman Jack (2019)
Based on the real diaries of the "first modern lesbian" Anne Lister, Gentleman Jack explores Anne's quest for love and also her endeavours as a landowner and businesswoman. By turns funny and touching, the wonderful performances of Gemma Whelan, Sophie Rundle and especially Suranne Jones really make this series a standout.
Victoria chronicles the story of Queen Victoria in her early years as ruler, with Jenna Coleman in the lead role. It's not entirely historically accurate and can be quite soapy at times, but it's still a lot of fun.