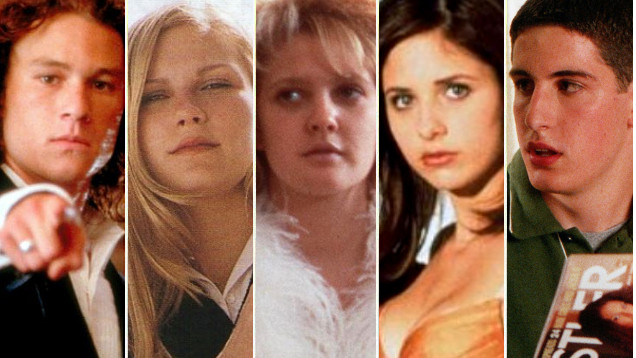 10 teen movies from 1999 – and where to stream them

---
1999 was a bumper year for teen movies. With classics starring the likes of Drew Barrymore, Kirsten Dunst and Sarah Michelle Gellar, many of these instantly enjoyable movies beckon to be rewatched today. Critic Sarah Ward picks 10 currently available to stream in Australia.
While there's no such thing as a bad year in cinema, 1999 punched above its weight when it came to highlights. It's the year that dubbed Keanu Reeves "The One", showed the world what it's like to be John Malkovich, watched dead people with Haley Joel Osment and welled up over a giant animated robot from outer space. It revelled in an Edward Norton-Brad Pitt double act, returned to a galaxy far, far away, entered Stanley Kubrick's vision of a crumbling marriage and pondered intertwined lives in the San Fernando Valley.
It was also the year of the teen movie. Of many, many teen movies, in fact. Films about adolescent angst and antics had been around for decades, but they reached cinemas in droves as the '90s came to an end, examining a generation coming of age as they waited for a new millennium. And so 1999 was the year of Heath Ledger serenades, steamy trysts, suicidal sisters, high school satires and sexual encounters with baked goods, too.
Twenty years on, they're neither gone nor forgotten thanks to long memories and movie-filled streaming platforms. Here are ten that you can revisit right now.
Sign up for Flicks updates
On March 31, 1999, just four days short of Heath Ledger's 20th birthday, 10 Things I Hate About You released in American cinemas. A star was born, obviously, and so was a spirited and thoroughly charming teen take on Shakespeare's The Taming of the Shrew — a comedy that shaped the Bard's witty comedy into a high school-set delight, and gave more than a little boost to Julia Stiles and Joseph Gordon-Levitt's careers as well.
Stream 10 Things I Have About You on Stan
Premiering at Cannes in 1999, The Virgin Suicides instantly stood out from the teen movie crowd. Instead of the raucous comedies that were popular at the time, Sofia Coppola's Kirsten Dunst-starring feature debut turns teenage malaise into a dreamy, poignant drama. The first-time filmmaker drew upon excellent source material thanks to Jeffrey Eugenides' book of the same name, but this tale of five suicidal sisters is a feat of style as much as story. An ethereal, memorable score by Air also helps.
Stream The Virgin Suicides on Foxtel Now
Sex, lies and scheming in politics – they may be age-old, real-life newspaper headline staples, but they're also the basis for Alexander Payne's high school-set black comedy Election. Overachieving student Tracy Flick (Reese Witherspoon) faces off against beloved teacher Jim McAllister (Matthew Broderick) as she bids for the coveted position of class president, and this smart satire finds plenty of material in both the teen and political worlds.
Stream Election on Google Play
Take an 18th-century French novel about the amorous affairs of the upper class, transport it to late '90s Manhattan and cast plenty of the decade's rising talents, and you have Cruel Intentions. Les Liaisons dangereuses has been adapted to film many times before and since, but never like this Sarah Michelle Gellar, Ryan Phillippe and Reese Witherspoon-starring teen romantic drama, which remains entertaining even when it's completely over the top (and that's often).
Stream Cruel Intentions on Stan
Dick (Google Play)
Watergate mightn't seem like an obvious topic for a teen flick. It's not, and yet Watergate as seen through the eyes of – and unwittingly shaped by – 15-year-old best friends (Kirsten Dunst and Michelle Williams) is an inspired, intelligent and incredibly amusing concept. Re-imagining history proves a hilarious joy in this quirky comedy, which gets its protagonists not only dallying with Richard Nixon, but also accidentally becoming the political informant known as Deep Throat.
Pygmalion became My Fair Lady, and then both inspired She's All That – because transformative makeovers apply in the '90s teen realm, too. The Superman-like idea that taking off a pair of glasses and donning different clothes can turn someone average into a shining light remains absolutely ridiculous, but this 1999 flick is aided immensely by a great lead performance by Rachael Leigh Cook, and a likeable cast that also includes Freddie Prinze Jr, Paul Walker and Anna Paquin.
1999 was clearly also the year of Kirsten Dunst, who added Drop Dead Gorgeous' wannabe beauty queen to her acting resume alongside her roles in The Virgin Suicides and Dick. Unravelling in mockumentary-style, this pageant parody didn't set the box office alight but has gained a cult following since, and boast Allison Janney, Ellen Barkin, Kirstie Alley, Brittany Murphy and Amy Adams among its stars.
Stream Drop Dead Gorgeous on SBS on Demand
1989 favourite Heathers has inspired many things, including a hit musical and a misguided TV remake; however it inspired 1999 comedy Jawbreaker first. Just as Rose McGowan would replace Shannen Doherty on television series Charmed, she followed in her footsteps here as part of a savage high school clique that's forever changed when death strikes down one of its members.
Teen films might've been prolific in 1999, but they certainly didn't need to be original to win over the masses. Case in point: Never Been Kissed, which plays with the familiar idea of sending an undercover adult – this time a journalist – back to high school. And yet there's an undeniable sunniness and sweetness to this comedy that works from start to finish, as personified by Drew Barrymore's shy 25-year-old who's given a second lease on life.
Stream Never Been Kissed on Google Play
The sex comedy that hit a heap of familiar beats, tried to cover it up by getting erotic with dessert and launched plenty of careers, American Pie was the teen movie genre's huge 1999 success – coming in 15th at the global box office, raking in more than $235 million dollars and getting a generation spouting its lines for years. It also spawned seven sequels, which keep the baked goods metaphor going by endeavouring to serve up the same slice over and over again.