You Can Go Now is a remarkable portrait of Indigenous artist Richard Bell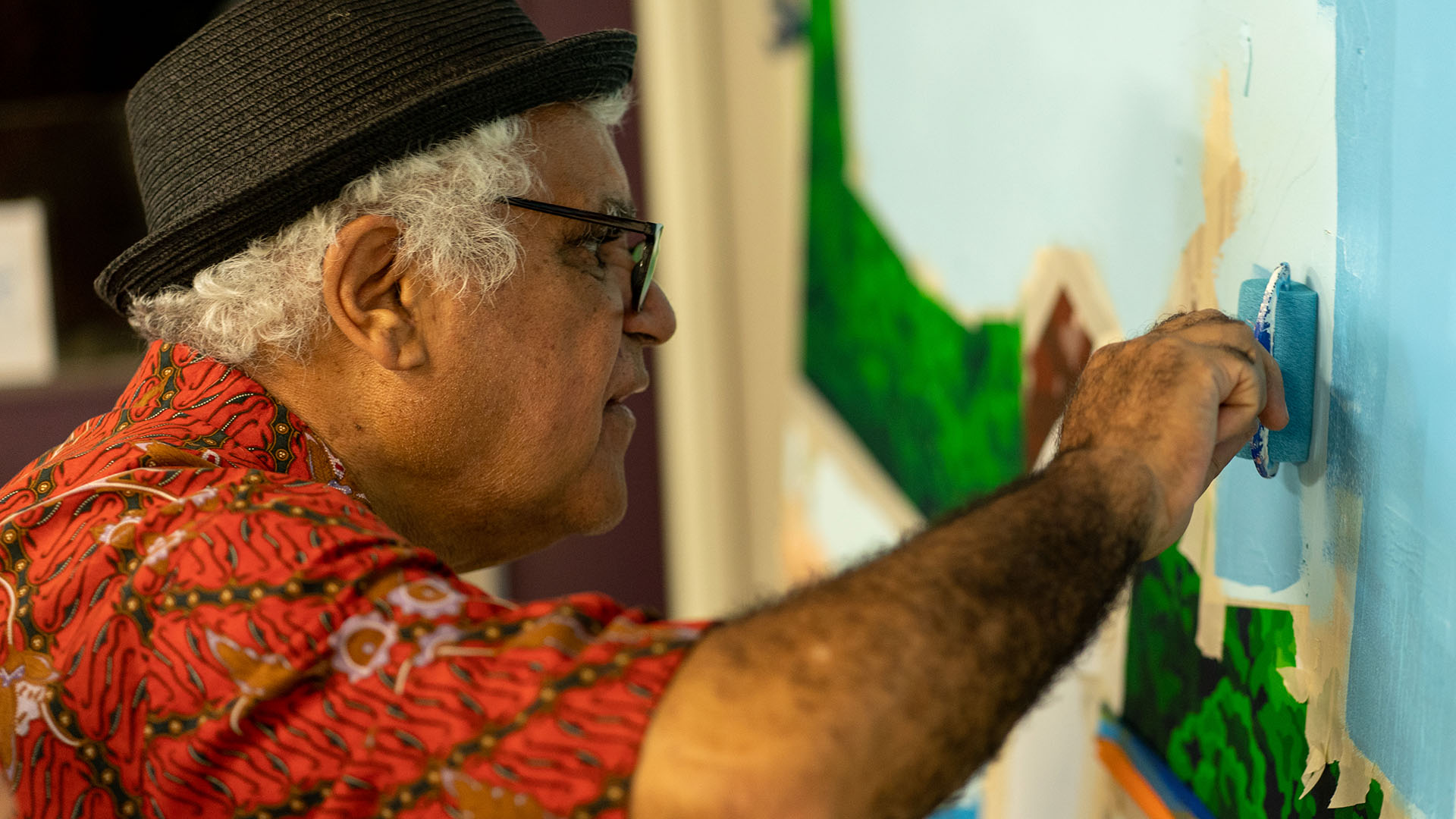 New documentary You Can Go Now filters 50 years of First Nations activism in Australia through the lens of contemporary Australian Aboriginal artist Richard Bell. As Travis Johnson writes, it's a film with its finger firmly on the pulse.
"I'm an activist masquerading as an artist," Kamilaroi, Kooma, Jiman, and Gurang Gurang man Richard Bell likes to say, which is an attitude I respect. Bell, whose work was recently the subject of a massive career retrospective exhibition at the Museum of Contemporary Art Australia in Sydney, likes to push buttons. His art and his attitude have attracted all the usual appellations over the course of the last 50 years: provocative, confrontational, iconoclastic, angry. He accepts this. Hell, as we see in After the Apology director Larissa Behrendt's new documentary, You Can Go Now (the MCA exhibition sported the same title), he welcomes it.
Behrendt's film traces the entire arc of Bell's life and career, from his childhood in outback Queensland, where the demolition of his family home by white authorities proved to be a keystone formative experience—that it took place a mere eight months after the Indigenous Constitution Recognition Referendum of 1967 Bell notes with bitter irony.
We follow him to the streets of 1970s Redfern, NSW, where his political activism put him in the orbit of fellow Indigenous activist, Tent Embassy co-founder, and occasional actor Gary Foley (Dogs in Space), whose presence widens the focus of the film from biography to a larger picture of Indigenous struggle over the past half century. While Bell's personal story is fascinating and the man himself is a brilliant raconteur, the film comes into its own when Behrendt draws connections between his personal narrative and the broader battle for self-determination.
Sign up for Flicks updates
As Bell's star rises in the international art world, with his Brisbane gallerist Josh Milani on hand to explain his prominence and position in that rarefied sphere, we see how he uses his platform to bring global attention to First Nations issues. One highlight being his 2013 installation Pay the Rent, aka EMBASSY, a replica of the Aboriginal Tent Embassy, which has since been exhibited in the U.S., Germany, and Venice, Italy. Losing out on representing Australia at the 2019 Venice Biennale, Bell set about funding his own exhibition there, wrapping a replica of the Australian Pavilion in chains and floating it on the lagoon as an audacious act of activist art.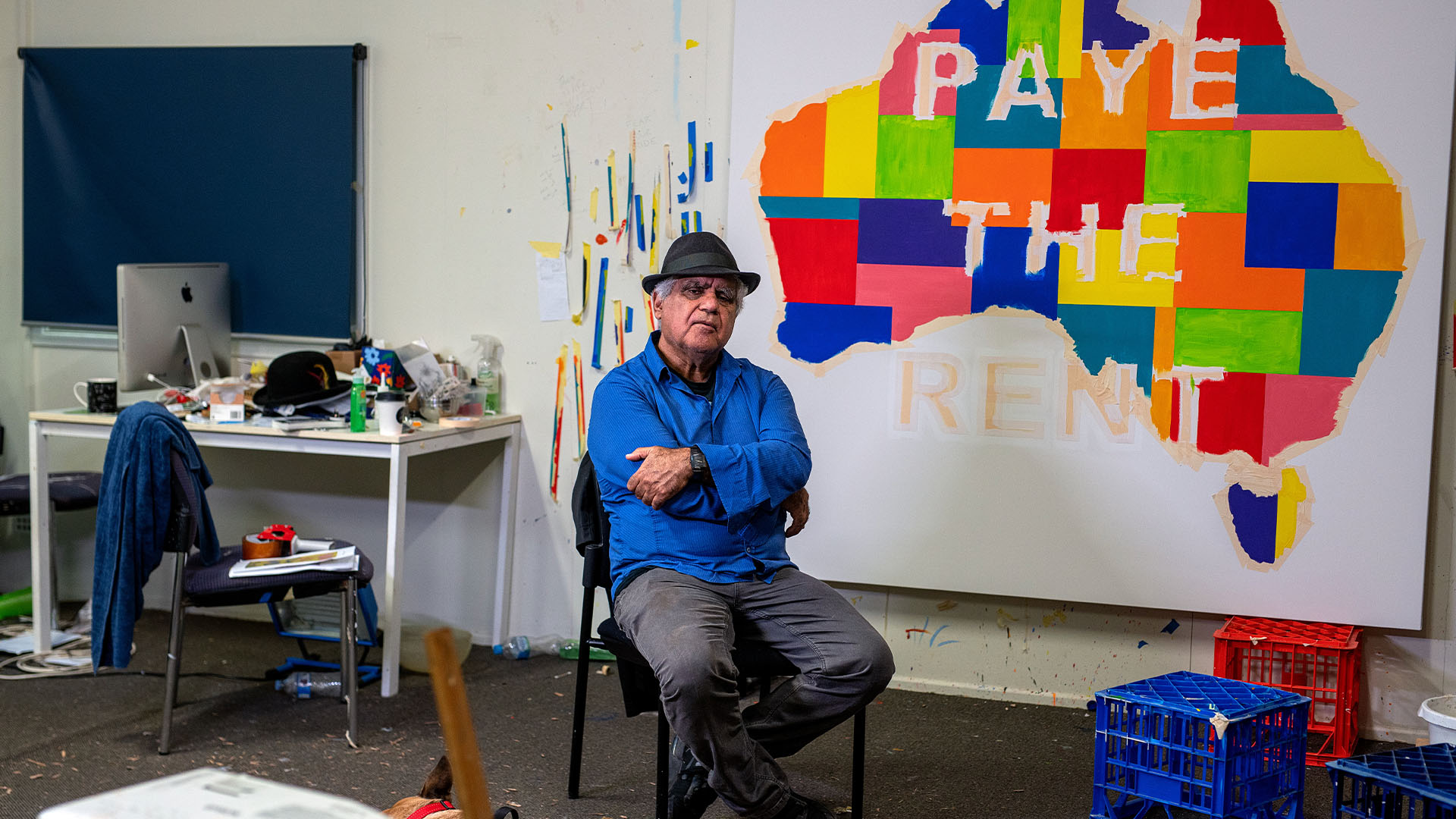 He's that sort of guy—unafraid to bite the hand that feeds and committed to his own political and artistic aims rather than any externally-mandated ideology. As such, he's frequently drawn criticism from all corners. When he won the 2003 Telstra National Aboriginal and Torres Strait Islander Art Prize for his painting Science E Metaphysica (Bell's Theorem), his victory was almost overshadowed by controversy when he accepted the award wearing a t-shirt that proclaimed, "White Girls Can't Hump", ostensible allies tripping over themselves to call him out for perceived misogyny and ignoring his satirical point in favour of PC point-scoring.
But for all that, You Can Go Now stands as a remarkable act of portraiture that packs a lot into its lean 80 minutes, giving us a close look at a man who has stood at the intersection of First Nations Art and First Nation activism for decades. Bell balances justifiable anger with wry, cheeky humour, and his often blunt artistic statements are driven by keen intelligence and a mistrust of paternalistic white allyship. This documentary's release window is also perfectly timed: with debate over both Australia/Invasion Day and the Indigenous Voice to Parliament currently raging as Australia struggles to come to terms with its colonial past, it's a film with its finger firmly on the pulse.