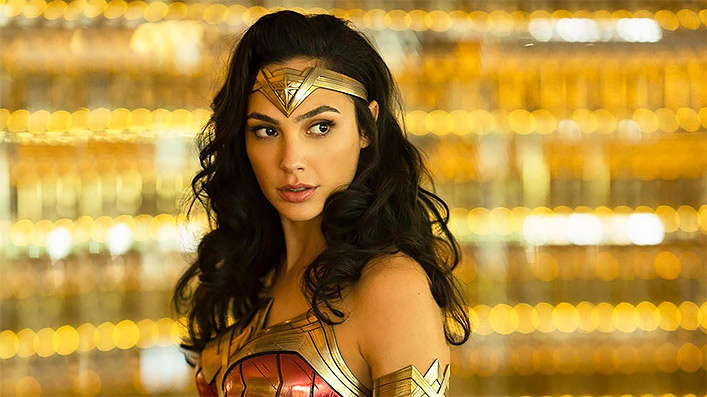 Wonder Woman 1984 is an ungainly sequel to the 2017 smash-hit

---
Superhero blockbusters are back, but D.C. does little to show us what we've supposedly been missing with this lacklustre Wonder Woman sequel, which arrives in Australian cinemas on December 26. Here's critic Craig Mathieson's review.

Absence supposedly makes the heart grow fonder, but it can't save a failing film. Cinemagoers have gone a year without a superhero blockbuster—and in some cases shuttered cinemas—but that can't excuse this uninspiring comeback. Patty Jenkins' Wonder Woman 1984 is a frustrating and ill-considered successor to 2017's decisive debut for Gal Gadot's Amazonian heroine.
See also
* All new movies in cinemas
* All new streaming movies & series
The film revisits what it got right the first time, notably the graceful authority of its star and its belief in the nobility of her mission—but few of the ideas added to this ungainly mix advance the character or her place in the comic book movie realm. The story lurches from scene to scene, with the cast doing their best to distract you.
The setting moves from 1918 to 1984, avoiding the contemporary years covered in the Snyder shenanigans of the Justice League group chat. Working at the Smithsonian Museum in Washington D.C. as Diana Prince, the title character cleans up crime on the side and still holds a torch for her one and only love, aviator Steve Trevor (Chris Pine). This is a somewhat boring and restrictive image for a female superhero, but it allows Diana to be bowed over when a magic rock—yes, a magic rock—helps her inadvertently bring back Steve. It also allows for a nebbish colleague, Barbara Minerva (Kristen Wiig), to grab some of Wonder Woman's strength, while a sleazy television mogul, Maxwell Lord (Pedro Pascal), sees a way out of his failing Ponzi scheme.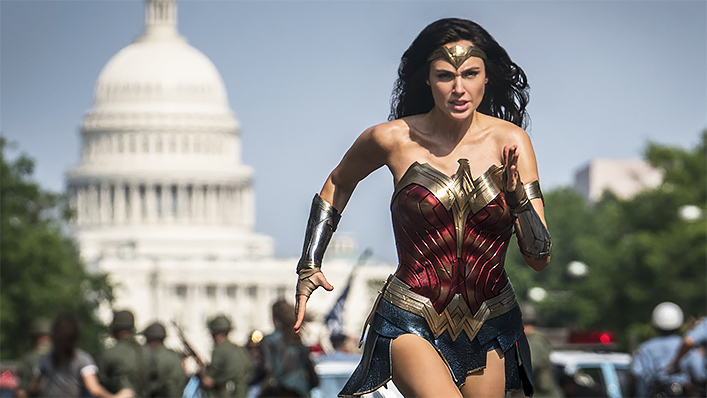 "No true hero is born from lies," a young and competitive Diana (Lilly Aspell) is told in an early childhood flashback, which sets up a recurring issue: themes are stated with boilerplate simplicity. Words not deeds set the tone, with little here that compares to how the World War I setting of the original movie allowed for a nuanced examination of responsibility, blame and guilt. The dynamic between Gadot and Pine still allows for comedy, but it's essentially flipping expectation. He's the newcomer to a strange society and it's clothing this time, and at certain points the two actors are reduced to open-mouthed wonder as a means of conveying the awe meant to elevate the storytelling.
Wiig is an intriguing choice as an antagonist, but she essentially plays Barbara as one of her Saturday Night Live characters: verbalised embarrassment, nervous admissions and the coda of soft-spoken acknowledgement. When she begins to transform into Cheetah the power corrupts, and that's Wiig at her most interesting, but the film can only look at these two women as opposites and then adversaries—a binary that it would have been better to break.
The plot presents a world spinning out of control, the arbitrary mechanism behind it defying even comic book plausibility. The action scenes Jenkins marshals don't have quite the crispness or the tactile heft of their predecessors. It doesn't help that set-pieces such as a truck convoy being taken down vehicle by vehicle can only draw comparison to Raiders of the Lost Ark.
Superhero sequels often land with a thud—another Thor: The Dark World is more likely than Captain America: the Winter Soldier. The disparate parts keep pushing the film forward, all the way to a 155 minute running time, but the pleasures are fleeting and the flaws noticeable (the period costume design, for example, is ludicrously blunt). Pascal's scenery chewing performance feels right for the character's ambition and greed, but it's undercut by some parenting angst that builds to a shameless finale.
That also adds to the sense that Wonder Woman is intermittently sidelined in her own film, even if the intention of serving the ensemble is noble. "Why not more?" the avaricious Lord keeps urging his viewers, and that should be the message ultimately conveyed by Wonder Woman 1984. Superhero movies need to be better than this.