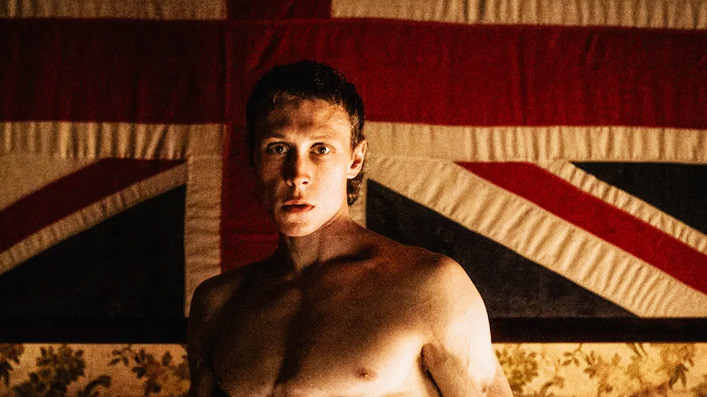 True History of the Kelly Gang is an electrifying reimagining of an Australian legend

---
Justin Kurzel's exhilarating film about Ned Kelly issues a sharp bolt of electricity directly into the heart of this well-worn legend, writes Alexandra Heller-Nicholas.
So entrenched in Australian folklore is the story of Ned Kelly and his spectacular showdown with police in Glenrowan that the lines distinguishing fact and fiction are almost now beside the point. It is in this spirit that Justin Kurzel's fourth feature True History of the Kelly Gang, which recently had its world premiere at the Toronto International Film Festival, kicks off from the outset. Even before the film's title appears, on-screen text informs us in no uncertain terms that the film that follows is in fact not 'true' at all.
From Sidney Nolan's famous paintings of the famous figure to Peter Carey's 2001 Booker Prize winning novel upon which Kurzel's film is based, the story of Ned Kelly and his gang conjures an almost instantaneous image of his iconic face-covering metal armour. Simultaneously, his very name provokes a list of associated keywords: i.e. "bushranger," "Australia's answer to Robin Hood" and "cop-killer" (relax, in this case the cops are the bad guys).
Adapting the story of the Kelly gang plays a significant role not just in Australian film history, but world cinema more broadly. Charles Tait's 1906 feature The Story of the Kelly Gang is today largely recognised as the very first fictional feature-length movie ever made. Filmmakers have returned to the story every decade from 1920 onwards, until it hit the international big time with British director Tony Richardson's famous 1970 film Ned Kelly, starring Mick Jagger in the title role. From Yahoo Serious' Reckless Kelly in 1993 to Gregor Kelly's Heath Ledger-fronted Ned Kelly in 2003, the outlaw's image has been into everything from video games to breakfast cereal commercials.
In theory, there should therefore be a degree of pressure on Kurzel in terms of coming up with an original take on the nation-defining legend. But as he proved with his impressive 2015 screen adaptation of William Shakespeare's Macbeth, he has little difficulty in taking familiar, almost sacred material and making it his own.
Despite the true crime nature of the Kelly story, True History of the Kelly Gang curiously shares more both stylistically and thematically with Macbeth than it does the perhaps most obvious candidate from Kurzel's filmography, his 2011 debut feature Snowtown – another film based on a real-life Australian bloodbath.
From the opening moments of True History of the Kelly Gang, a similar stylistic abstraction to Macbeth dominates: while the Shakespeare film is marked by a toxic orange fog, Kurzel's stylistic signature in Kelly Gang is a contemporary Australian take on German Expressionism (an early 20th century artistic movement which in film was marked by high contrast black and white photography and sharp angles that grant narratives unique psychological depth and intensity).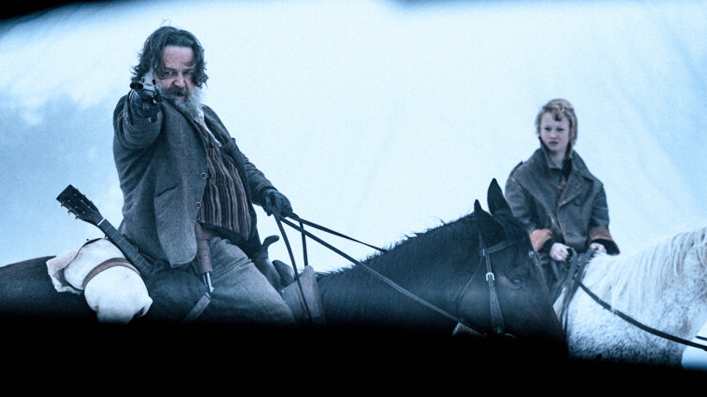 As we first enter Ned's world, the harsh angles of bushfire-blackened trees scar the landscape around his crude, poverty-stricken childhood home where he and his siblings are raised by their fiercely independent Irish mother Ellen (Essie Davis). Impressively played as a child by Orlando Schwerdt, the young Ned is overpowered by the force of his mother's often morally-dubious passions, and Kurzel places the relationship between mother and son squarely at the centre of a story that has largely been dominated historically almost completely by men and their interpersonal relationships.
True History of the Kelly Gang is told in flashback. Ned recounts his story through voiceover, writing his life's journey down on paper for his son as he awaits execution in Melbourne after the famous Glenrowan showdown that saw the rest of Kelly's gang obliterated. Acts of reading and writing mark Ned's behaviour throughout the film; not only in terms of the written word, but how he reads situations, often observing quietly as a child before being forced into criminal actions that he is at first unsure of (particularly those ordered by elder bushranger Harry Power, played by an Orson Welles-like Russell Crowe). As an adult, Kelly actively becomes the author of his own fate as he passionately embraces the outlaw label during the gang's years on the run from the law after shooting three policemen.
Sign up for Flicks updates
Yet aside from its striking visual style and undeniable punk rock spirit, what makes Kurzel's telling of the Kelly legend so compelling is his attention to the women in Ned's life. While his sister Kate is yet again little more than a footnote, Ellen is second only to Ned as a central character. As one of Australia's strongest actors, Davis is of course undeniably a monumental force on screen, but even an actor of her calibre is given a run for her money by comparative newcomer Thomasin McKenzie. Receiving international acclaim for her starring role in Debra Granik's 2018 film Leave No Trace, the New Zealand actor's depiction of Ned's partner Mary is one of the most memorable in a film packed to the brim with solid performances.
Of these, particular note must be made of Earl Cave. He plays gang member and Ned's brother, Dan, whose physical similarity to his father Nick Cave is overshadowed by the young actor's grace and confidence in front of the camera. The combined talents of cinematographer Ari Wegner and editor Nick Fenton add to the pounding rhythm of the film, driven by a haunting score by Kurzel's brother and long-time collaborator, composer Jed Kurzel.
True History of the Kelly Gang issues a sharp bolt of electricity directly into the heart of this well-worn legend, granting it an intoxicating energy that speaks well beyond the hackneyed 'wild colonial boys' clichés of yore.