The exhilarating Adam Goodes documentary The Final Quarter is a must-see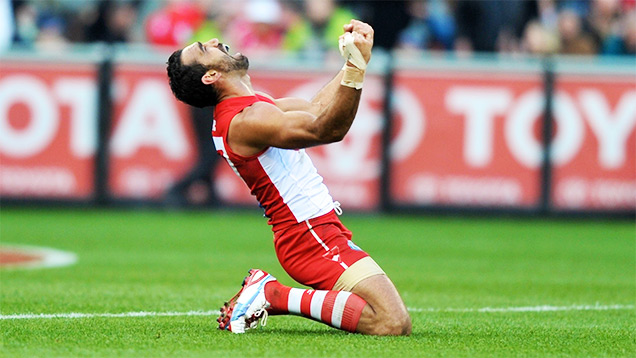 The Final Quarter explores the final years in Adam Goodes' AFL career. You'll squirm, you'll curse, you'll cheer. This confronting documentary is not to be missed, says critic Blake Howard.
Director Ian Darling's archival documentary The Final Quarter weaponises the final three years of Adam Goodes' AFL career, turning it into an explosive indictment of Australia's systemic racism.
For those unfamiliar, in 2013 Goodes − a Sydney Swans player held in the highest esteem − called out an incident of racial vilification during a game. Goodes treated the perpetrator, a 13-year-oldd girl, graciously and pleaded for her to be spared from reprisal. He utilised the momentum from this to lobby for change, confronting racism in the game, and the country. After being named Australian of the Year in 2014, Goodes became a symbol for Indigenous pride and racial equality. But powerful forces in the AFL, conservative (and overwhelmingly white) media and defiantly ignorant fans conjured a storm of scrutiny and boos, expediting the great athete's retirement from the sport.
Darling remixes the national dialogue for clarity using archival footage, photos and interviews from television, radio and newspapers, demonstrating astute pattern recognition. The Final Quarter shows the maddening cycle. Step one: ritualistic abuse in the form of deafening boos for Goodes' courageous displays of pride or calls for equality. Step Two: Goodes delivers thoughtful responses with grace. Step Three: propagandist shills embedded throughout all levels of Australian media and sporting coverage create a sound bite storm from a chorus of undeniably racist totemic figures in the media, reinforcing the status quo and squashing minorities for stepping out of their place.
The Final Quarter is an abject viewing experience. You'll squirm with shame, you'll find yourself cursing at the screen (perhaps even booing moments featuring Eddie McGuire, Sam Newman or the names of Andrew Bolt or Miranda Devine), you'll shed tears of frustration for the deplorable treatment of Goodes' in the twilight of his storied career.
And you'll cheer. You'll cheer for the voices of reason; you'll cheers for those journalistic figures with the integrity to try and steer the conversation from fear to facts and reflection. This is cinematic napalm. It's hard while you're viewing to not draw the connection between Goodes and NFL star turned activist Colin Kaepernick, who knelt during the national anthem as a form of protest for African American rights − and paid for his gesture with his career.
Sign up for Flicks updates
Such is the power of The Final Quarter that, in the immediate wake of its premiere, the AFL and all 18 clubs issued a joint apology. This apology included the words: "The game did not do enough to stand with him [Adam], and call it out. We apologise unreservedly for our failures during this period…"
The Final Quarter triggered in my mind words spoken by comedian Dave Chapelle in his special The Bird Revelation. He says of Colin Kaepernick: "That motherfucker's life was going great…he took a knee during that anthem for us." In Goodes' case, he took a stand for racial equality in this country − not only for his people but for the betterment of the nation.
Here's how Chapelle continued. He said that Kaepernick (though he could be referring to Goodes, for that matter) "thought about us when things were going good, when his belly was full…Every fucking person that takes a stand for somebody else always gets beat down. And we watch. Over and over and over again, we watch it…they make our lives better, and we could change the narrative. We could make one motherfucker have a good outcome for doing the right thing. And that would make another motherfucker brave enough to do the right thing."