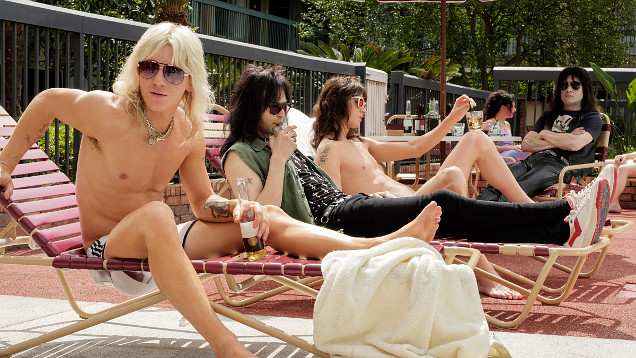 Motley Crüe biopic The Dirt captures the ecstatic truth of '80s hair metal

---
The new Netflix film The Dirt traces the early career of Motley Crüe.  It's rude, crude, wilfully offensive and yet aware of its own inherent ridiculousness, writes critic Travis Johnson.
Isn't it strangely appropriate that just as Queen's well-polished biopic, Bohemian Rhapsody, is basking in the afterglow of a very successful awards season, The Dirt, an account of the early career of LA hair metal icons Motley Crüe, is crawling, hungover and dishevelled, onto Netflix?
Comparing the two is irresistible. They're both acts of hagiography – all autobiographies are, and rock bios more than most – but with different aims. Queen are shooting for respectability – they're elder statesmen of symphonic rock. Crüe, a quartet of metal musos who graduated from Sunset Strip's infamous Whisky-a-Go-Go to stadiums around the world, never got within a parsec of respectability, even when they were selling millions of albums.
And so The Dirt, adapted from the book of the same name authored by the band and journalist Neil Strauss and directed, appropriately enough, by Jackass auteur Jeff Tremaine, embraces notoriety. Rude, crude, wilfully offensive, shamelessly self-aggrandising and yet aware of its own inherent ridiculousness, the film is a non-stop laundry list of debauchery, opening with a scene of drummer Tommy Lee (rapper Machine Gun Kelly) bringing a girl to a squirting orgasm in front of a crowd at a raucous party, and ending 15 years later with he and his bandmates – bassist Nikki Six (Douglas Booth), guitarist Mick Mars (Iwan Rheon), and singer Vince Neil (Daniel Webber), mounting the stage for yet another sell out show. How we get from A to B is a ride.
Everything that should work against The Dirt actually contributes to its sense of fidelity. It feels cheaply made, but it possesses a relentless sense of urgency, as though the cut corners and occasional clumsy formal fumbles are in service to a desperate need to get the story out. The cast are below-the-line workhorses – Iwan Rheon is probably the most high profile thanks to his role as Ramsey Bolton in Game of Thrones – but that allows them to inhabit their characters more fully, and to push themselves to extremes of behaviour that perhaps A-listers with more to lose would balk at.
Sign up for Flicks updates
The script by necessity condenses reams of history into a succinct Greatest Hits package. Plenty of controversies don't make the cut, but that works with the film's overlapping, multi-voice narration (a direct lift from the book's structure) and rapid pace to invest it with manic energy. And as for what was cut? This is a film where Ozzy Osbourne (Tony Cavalero) laps urine from the ground to prove he's more perverse than the Crüe – be more worried about what was left in.
And that, in the shell of a nut, is the appeal of The Dirt even to the non-fan – it pulls so very few punches in a genre dominated by self-serving hyperbole and weighty musings on art and genius. Nobody is a genius here, and they know it. They're not even smart enough to learn many lessons from their countless tragedies and near misses – the film falters every time it tries to get too sombre, such as when it deals with the car crash death of Hanoi Rocks drummer Razzle Dingley (Max Millner), the cancer death of Vince Neil's young daughter, or even Nikki Sixx's well-documented heroin habit. And yet, counter-intuitively, that lack of self-reflection seems somehow truer and more real than the pointed pontificating of every other music biography.
Its what Werner Herzog called "ecstatic truth" – the idea that even if the actual details are changed or omitted, a film can capture the ineffable essence of its subject, something purer and more real than the rote recitation of facts. The Dirt, for all its flaws, manages that. It's the story of four white trash rebels who partied hard, badly hurt themselves and others, almost died, learned absolutely nothing, and made some killer music along the way. Rock on.