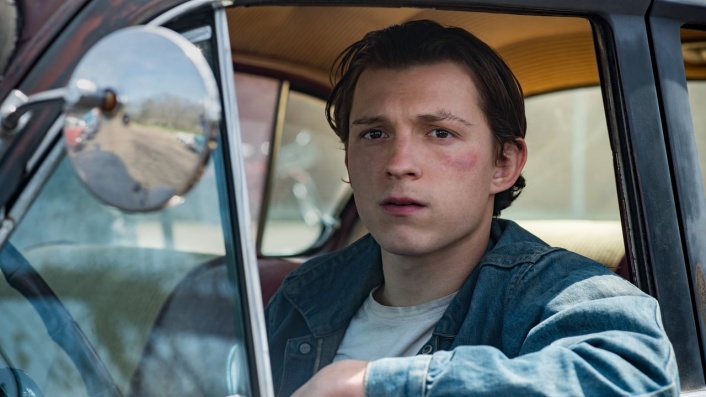 The Devil All the Time is an entertaining but limited Southern Gothic potboiler

---
Adapted from the acclaimed novel of the same name, following the fates of various secret-holding characters whose lives intersect, The Devil All the Time (now on Netflix) is entertaining enough but fails to meets its ambitions, writes critic Travis Johnson.

The central thematic image of The Devil All the Time is presented to us early on. Serving in the Pacific theatre of World war II, marine Willard Russell (Bill Skarsgård) comes across another marine who has been crucified and scalped by the Japanese. The man is still alive; Willard gives him a quick death. The strikingly ugly sight of the man on the cross, bloody and suffering, informs the rest of the film; the sacred and the profane, faith and violence, horror and grace.
See also
* All new movies & series on Netflix Australia
* All new streaming movies & series
From there we decamp to the backwoods town of Knockemstiff, Ohio (great name, all other considerations aside). Willard settles and, in the grip of a kind of primitive religious mania, raises a son, Arvin (Tom Holland), who inherits his father's capacity for violence, if not his crippling psychological scars. He's our actual protagonist, and his goals are simple: protect his family—chiefly his stepsister—the innocent Lenora (Eliza Scanlen), from any harm. But the story begins to sprawl, encompassing a predatory revival preacher (Robert Pattinson), a pair of serial killers (Jason Clarke and Riley Keough), a corrupt sheriff (Sebastian Stan), and more, all twisted together in a labyrinthine tangle of secrets, lies, and sins.
Which sounds like more fun than it is. The Devil All the Time was adapted from the acclaimed debut novel of the same name by Donald Ray Pollock, but in trying to retain the book's convoluted, multi-strand plot, director and co-writer Antonio Campos has done it a disservice. By and large, screen narratives demand a more disciplined approach, zeroing in on core characters, ideas and action. Which isn't to say that a more complex and challenging plot can't work, simply that it doesn't work here.
Sign up for Flicks updates
The Devil All the Time should feel dense and textured; instead it feels scattered and rushed, even at two hours and twenty minutes, and every scene spent fleshing out yet another member of its huge ensemble is time better spent getting inside Arvin so we can understand our nominal hero. Stitched together with a laconic voice over, the film feels like a shaggy dog story: this happened, and then this happened, and then this happened…until the credits roll.
Still, there's fun to be had, especially if you're fond of William Faulkner/Flannery O'Connor Southern Gothic potboilers. The film is exquisitely mounted, with almost every shot presenting a striking tableau, and the overheated, lurid atmosphere works a treat. The cast is fantastic and packed with big names in even the smallest parts—yes, that is Mia Wasikowska showing up for about ten minutes, and yes, that is Harry "Dudley Dursley" Melling along with her. The frequent scenes of violence are simply arresting in their quotidian depravity, and the sense of predestined tragedy that permeates the proceedings is palpable.
All those elements are personified in Robert Pattinson's Reverend Preston Teagardin, a character who passes through cliché and out the other side into genuinely off-the-map territory thanks to the actor's complete willingness to commit to the bit. A charismatic fire and brimstone preacher who inveigles himself into Knockemstiff society, Teagardin quickly demonstrates a predilection for teenage girls and no moral objection to forcible seduction.
If acting is all about making choices, then Pattinson here is Making Choices; the not-so-good Reverend is a creature of carefully composed mannerisms and affectations, character traits that let Pattinson really go for broke. From his posture and gestures to his already-internet-famous Southern drawl, this is a fearlessly weird performance from one of our boldest stars. Uncharitably, you could say that this is RPats doing Nicolas Cage, substituting cultivated eccentricity for craft, but hey—even that sounds like a pretty good time.
However, the film is less than the sum of its parts, and you can feel Campos straining to encompass all of the books plotlines and themes in the time and space the form allows him and, sadly, failing. Scene by scene and moment by moment, The Devil All the Time is entertaining enough, but the work itself fails to meet its obvious ambitions. Given the prevalence of prestige streaming series right now it's surprising this didn't reach us in the shape of a miniseries instead of an overstuffed feature film, which might have allowed Campos to fully immerse us in the story. As it stands, what we've got here is decent enough, but falls short of greatness.