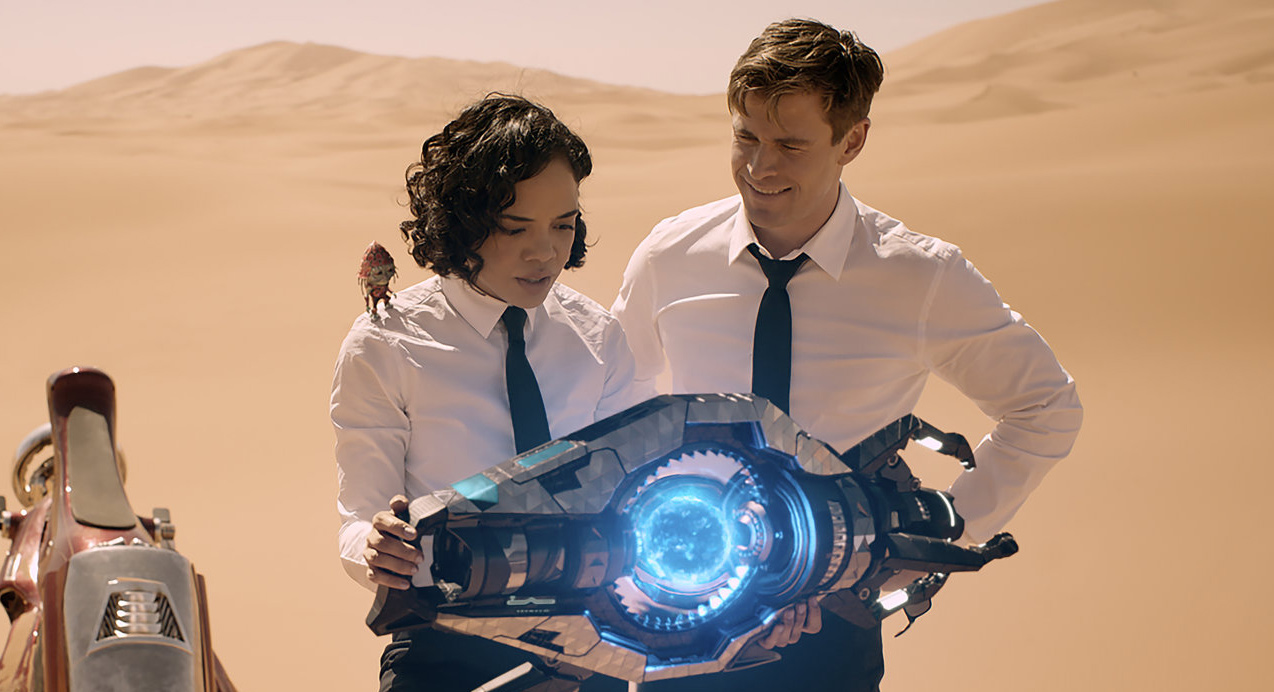 There's barely a hint of fun in the charmless Men in Black: International

---
Most the necessary parts are present in Men in Black: International, but they rarely fit into an enjoyable shape as the fourth edition of the science-fiction adventure fumbles around for ideas, writes critic Craig Mathieson.
Like stars in a galaxy, there are multiple choices for where a reworking of the Men in Black franchise could prosper, but innocuous is definitely not one of them. Shiny but simplistic, F. Gary Gray's contemporary reboot of the alien-imbued action-comedy lacks both weirdness and wonder. In a time of over-processed blockbusters, this should be a knowing diversion: flippant, unexpected, gruesome even. You keep waiting for the story to put down a marker and set the characters free, but it never happens. There's definitely a problem when a cheap Notebook gag gets one of the biggest laughs.
Tessa Thompson breaks several Hollywood barriers to play Molly, a driven young woman from Brooklyn who spied the mysterious Men In Black and their quarry as a child and has spent the subsequent 20 years searching for the off the books agency tasked with handling the Earth's interactions with a bountifully populated universe. "I found you," Molly tells Agent O (Emma Thompson) when she finally gets her foot in the door, but that obsessive desire falls away once Molly becomes Agent M and is dispatched to the London office, which is run by High T (Liam Neeson) and his unconventional top agent, H (Liam Hemsworth).
Thompson and Hemsworth had terrific chemistry – flinty, challenging, and physical – in Thor: Ragnarok, but that film also had Taika Waititi's imprint. Here Art Marcum and Matt Holloway's screenplay avoids the idea of an attraction between these two very beautiful people in matching black suits, but their dynamic is mostly reactive, with a confusing plot about threatening alien arrivals seeking a prince from another planet, Vungus (Kayvan Novak), the agents are assigned to protect. Hemsworth gets a self-deprecating sense of entitlement, with a fizzy insurgency to Thompson's turn, but mostly their characters respond to the latest twist or escalation. It's rarely as amusing as the prickly détente Will Smith and Tommy Lee Jones showcased in 1997's original movie.
Sign up for Flicks updates
I'm not convinced that Gray, who tends to muscular spectacle when unconnected to the material, is that interested in the franchise's signature menagerie of alien species. Most of the off-word characters M and H encounter are essentially humanoid and prone to very human clichés. The original trilogy's director, Barry Sonnenfeld, had a feel for the macabre, but Gray is most comfortable with shiny space guns and high-tech vehicles. It's not entirely coincidental that his previous feature was Fast & Furious 8. There's barely a hint of otherworldly goo or transformative delight.
You do get Pawny, a pint-sized alien voiced by Kumail Nanjiani, who looks fantastic as a pocket square on M's suit but mostly supplies retrograde sidekick affirmation. "Now that's what I'm talking about," he exclaims after one confrontation, but the action scenes are tepid and short of excitement. An early scene involving H, some lowlifes around a card table, and a poisonous creature soon to exit its cage is mostly a reminder of how Steven Spielberg's Indiana Jones set-pieces are immaculate and inventive. That's indicative of a film that in fundamental ways is just disappointing. Hopefully Thompson and Hemsworth get another chance to team up, because Men in Black: International stymies them.