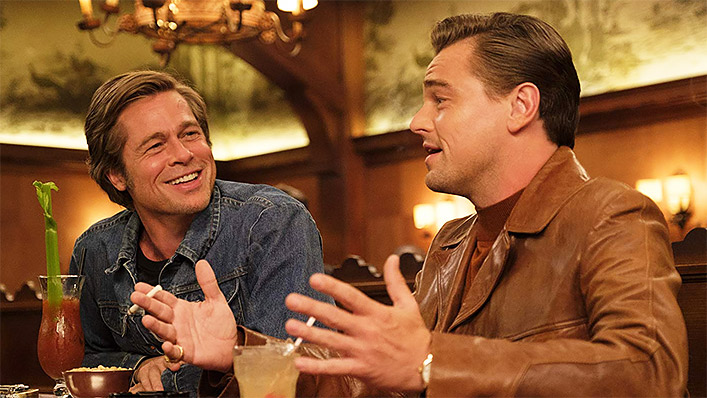 Once Upon a Time … in Hollywood is a hang out adventure about how everything comes to an end

---
With terrific complementary performances from Brad Pitt and Leonardo DiCaprio, Quentin Tarantino criss-crosses 1969 Los Angeles to create an enjoyable hang out adventure. Maybe it should have stuck with that approach, writes critic Craig Mathieson.
"I never had a chance." That line is spoken twice, each time by a different character, in Quentin Tarantino's new film. One is referring to a possible love interest and the other to a lead role in a hit Hollywood release, but in this Los Angeles-set flashback to the end of the 1960s the intent – and the regret – is the same.
Lasting possibility is a pipedream in this detail-laden drama, because everything has to end: careers, industries, traditions, lives, and worst of all, friendships. The make believe of making movies is constantly emphasised in Once Upon a Time … in Hollywood, as backdrops are wheeled away and the same few sets house shoots for endless television westerns. The film – in a very casual way and then an extremely violent way – is ultimately about what you can and can't hold onto.
It's told primarily through the union of Rick Dalton (Leonardo DiCaprio) and Cliff Booth (Brad Pitt), which operates on multiple levels, all smoothly visualised by Robert Richardson's rich cinematography. The former is a television star who chased movie star acclaim and didn't quite make it, while the latter is his stunt double of nearly a decade.
Cliff does what Rick can't, which not only means controlled falls and car crashes, but applying self-confidence in the face of despair and providing a reliable sounding-board. When a Hollywood producer, Marvin Schwarz (Al Pacino), dispenses some straight talk to Rick about his fading status, all in the name of shifting his focus to spaghetti westerns, the actor is left close to tears. It's Cliff who doesn't so much pick up the pieces but refuse to accept that anything is broken.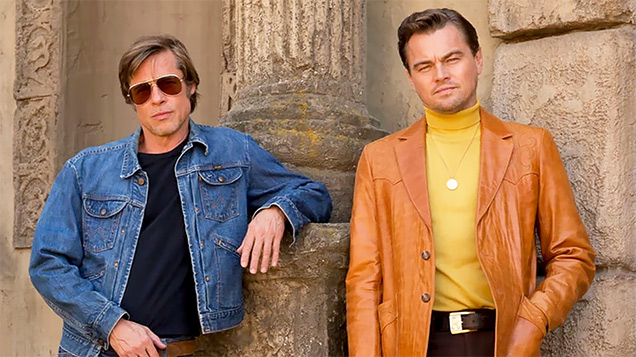 The film isn't exactly nostalgic for the era (its radio and television broadcasts are a different matter), but its willingness to roll with these two characters is a pleasurable obsession. It uses movie stars to address self-doubt, which is both daft, and in Tarantino's cinematic realm, obvious. DiCaprio finds all the nerve ends and guilt Rick has – listen carefully and you can hear the hint of a stutter that the Missouri transplant worked hard to batten down – and salts them through a portrayal of a lesser performer.
Pitt is a model of movie star cool, economical but sure in every movement, and unwilling to back down. Naturally he's playing someone who thinks the idea of being a movie star is ludicrous. Then there's Margot Robbie as Rick's neighbour Sharon Tate, the model and actress who nervously watches a session of her new film, the Dean Martin vehicle The Wrecking Crew, with a paying afternoon audience, riding their every reaction to her scenes.
Tate, who is introduced alongside her seen but not heard husband Roman Polanski (Rafal Zawierucha), is one of numerous historic figures that circulate alongside the fictional Rick and Cliff. Tarantino has repeatedly used the fault lines of American history to animate his characters, letting their excess provide brazen entertainment and some illumination. But with Hollywood as the setting, as opposed to the Antebellum South of Django Unchained or the stylised World War II of Inglourious Basterds, he's initially content to unfold their daily rhythms; the narrative has flashbacks and daydreams, but they don't rupture the storytelling as Tarantino once did.
Sign up for Flicks updates
This is the birthplace of Tarantino's cultural history (he turned six in 1969), and even as offers a glimpse of cult leader Charles Manson (Damon Herriman), the main characters have their days unfold. This is the loosest plot the writer-director has authored, and it's both enjoyable and telling. As Rick tries to pull himself together for a crucial scene as part of western he's guesting on, Cliff finds himself in a showdown that builds with menacing politeness after he gives a ride to 'Pussycat' (an electrifying Margaret Qualley), one of the many young women circulating through the city's counterculture scene.
What Rick pretends to do and what Cliff is willing to do, including throwing down on a backlot with a preening Bruce Lee (Mike Moh), is the fulcrum of Once Upon a Time … in Hollywood. "People died that day," says an actor (Timothy Olyphant) shooting a saloon scene with Rick. "But we had a good time," is his role's reply, and that's Tarantino's worldview encapsulated.
Perhaps Tarantino could have left it at that, basking in the widescreen glory of Cliff driving down another boulevard, but by introducing Charles Manson and Sharon Tate, who is bait without ever providing Margot Robbie with a decent part, he makes clear that he will confront the historic crimes that rocked the city. Real-life violence begets fictional violence in Tarantino's movies, and it comes with a delicious build and a shocking engagement. It's the climax of the film, and yet it's deflating, because there's nowhere to go after it's been unleashed. The majority of Once Upon a Time … in Hollywood suggests a more radical nuanced movie than the finale's gore, but that change is just not going to happen. We never had a chance.