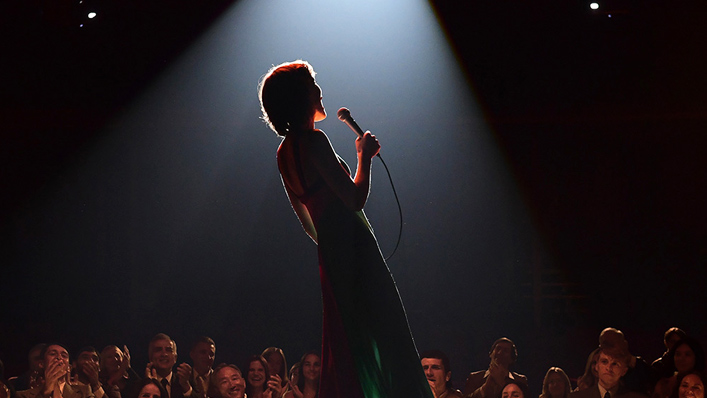 Helen Reddy biopic I Am Woman is a well acted exercise in box-ticking

---
Australian singer and feminist icon Helen Reddy has inspired generations of women. But sadly the film about her life (now streaming on Stan) becomes an exercise in ticking boxes, writes critic Sarah Ward.

For a genre that shares the true stories behind famous musicians, their songs and their stardom, music biopics too often tell the same tale. The names change, and the tunes, but the troubles behind the glamour remain oh-so recognisable. From striving to get a start, to putting in the hard work to record an album and secure radio play, then navigating the woes of fame (some combination of drugs, bad managers and bad relationships, usually), the genre frequently reduces the lives of acclaimed talent down to a formula.
See also
* All new movies & series on Stan
* All new streaming movies & series
I Am Woman is no different. In exploring the career of Australian singer Helen Reddy, Emma Jensen's (Mary Shelley) script is filled with music biopic clichés. And, despite Reddy's status as a feminist icon, plus a strong and engaging portrayal of her by Tilda Cobham-Hervey, that adherence to a well-worn template constantly taints this celebratory film.
Sign up for Flicks updates
As the feature's title reminds audiences, Reddy is best known for her early '70s single I Am Woman—a song inspired by her own plight, released as the women's liberation movement took flight, and immortalised as the latter's unofficial anthem. Mid-film, a Capitol executive calls it "angry" and "man-hating", but as the movie shows, the response from women was overwhelming. They roared, in numbers too big to ignore. The track made Reddy a feminist hero, just six years after she moved to New York at 25 after winning a TV talent contest. To most who didn't live through the era, it's the reason that Reddy's name still rings a bell five decades on.
Of course, her story encompasses more than one song that was initially sparked by scrawling the words 'strong' and 'invincible' in texta, at least in the film's depiction. Before I Am Woman, Reddy already had a hit with a cover of Jesus Christ Superstar's I Don't Know How to Love Him. Afterwards, she kept notching up top 40 tracks, appeared on The Muppets, hosted her own variety show, and starred in Pete's Dragon and Airport 1975. Alice Cooper dubbed her "the queen of housewife rock", and she won a Grammy over Barbara Streisand, Aretha Franklin, Carly Simon and Roberta Flack. I Am Woman recreates Reddy's speech, the singer thanking god "because she makes everything possible".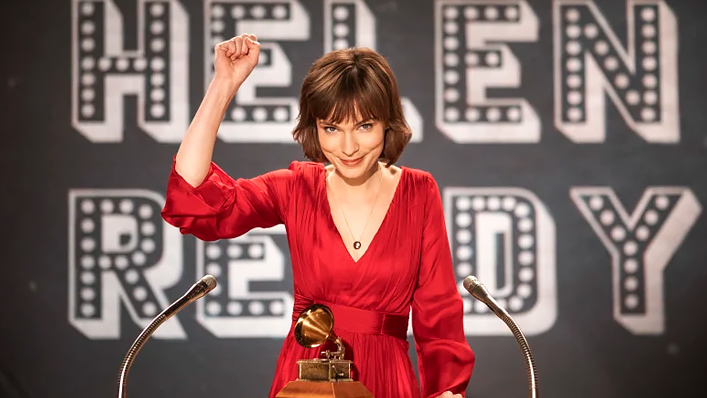 These are exceptional achievements. In I Am Woman, however, Reddy's tale becomes an exercise in ticking boxes. Many musicians' stories follow comparable beats, but first-time feature director Unjoo Moon (documentary The Zen of Bennett) forcefully hits them all. Starting with the singer's arrival in the US with her toddler daughter, showing her time crooning in cabaret bars to pay the bills, and exploring her friendship with Aussie journalist Lillian Roxon (Danielle MacDonald), the film first favours all the 'struggling muso' tropes.
Then, when Reddy falls for aspiring manager Jeff Wald (Evan Peters) and the pair move to Los Angeles—she'll be "the show" and he'll be "the business", he pitches—it cycles through the 'stars in their eyes' section. Wald unsurprisingly proves a destructive force, signalling the 'personal disharmony' chapter. His pronounced sniff, noticeable long before he's snorting cocaine off of shag carpets, says plenty.
As I Am Woman chronicles all of the above, Moon continually contextualises Reddy's rise to stardom and her resonance with women against the feminist movement. Dismissive ad slogans, misogynist record execs, the struggles of being a single mother and the horrors of being screamed at to clean the house sit alongside mass-attended women's marches, heated footage from the period and the quest to get women's equality legislated in the US. It's a worthy angle and, sadly in 2020, still a timely one. And yet, this too readily plays as schematic as well. Reddy's experiences are powerful, as is the way that her work spoke to women. Here, they somehow feel both passionate and perfunctory at once.
Thank goodness, then, for Cobham-Hervey. Earnest yet unflappable in NY scenes filmed on unconvincing sets, and unwavering in her determination in LA scenes that contrastingly overflow with period detail, the star playing I Am Woman's star is the movie's best asset. Indeed, when Cobham-Hervey's version of Reddy takes to the microphone—as she does often; Reddy's back catalogue is sizeable—Moon's film reminds viewers why even average music biopics strike a chord. Evocative and rousing performance scenes go a long way in this genre, as Bohemian Rhapsody illustrated as well. However the songs end, and the rest of I Am Woman can't reach their heights.