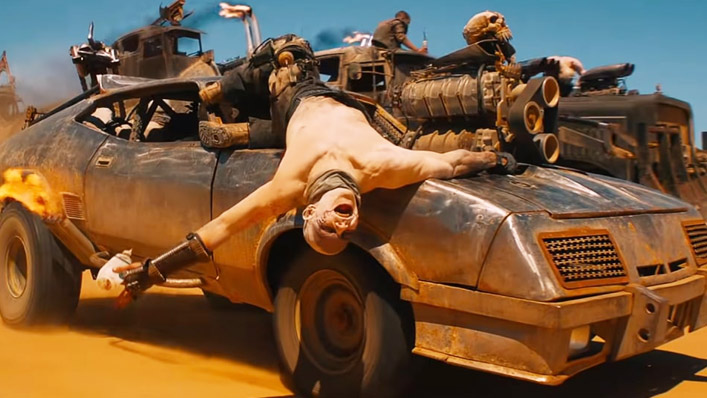 Witness this: 13 of the cars from Mad Max: Fury Road are up for auction

---
It can feel like the end times George Miller prophesied are already here: but there's no need to apply for Pimp My Post-Apocalyptic Ride just yet.
An upcoming auction will sell off 13 iconic vehicles made for Mad Max: Fury Road—you can pick up a gnarly, screen-ready ride there. Very shiny and chrome indeed.
On September 25 and 26, Lloyds Auctioneers and Valuers are auctioning a selection of epic movie cars from the Oscar-nominated 2015 action sequel, all heavily modified to fit a guzzolene-starved, dusty desert world.

Yes, the Doof Warrior's ludicrous Doof Wagon is amongst the items being sold, with speakers stacked on all its sides. So is the Cirque Du Soleil-esque Pole Car, a Pontiac with a 20″ pole for aerial combat on top, and an F250 tow truck with harpoon in the front and claw in the back.
But there's also Furiosa's heroic War Rig, practically a main character of Fury Road in itself. As if I didn't yearn to own this thing already, Lloyds has listed the truck's epic attributes as such: "Mutant lovechild of semi-trailer and hot rod, twin V8s end to end, six-wheel-drive, eighteen-wheeled leviathan charged with the barter of fluids and firearms that binds the three city-states of the Wasteland in tenuous alliance."
I neeeeeed it. Even if only to go through the drive-thru in style.
The above video shows some of these modded monsters in action, hooning into Sydney's Opera House plaza to show off for press around the time of the film's release. Mad Max: Fury Road won Best Sound Mixing and Best Sound Editing at the the 88th Academy Awards…but here, the War Boys yell and rev their engines somewhat awkwardly. Even Immortan Joe's most fiendish minions can't beat Circular Quay's fearsome breeze I guess.
If you have the cash and the cajones to bid on one of these vehicles, Lloyds Online is kicking off the auction from September 25. They're inviting "expressions of madness" now.