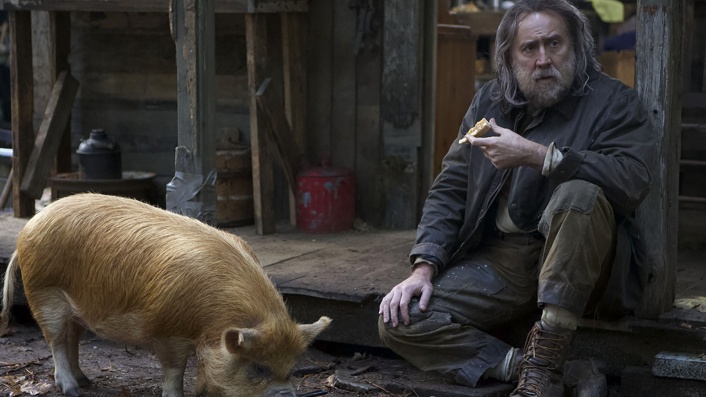 How to watch the gastronomical Nicolas Cage movie Pig in Australia

---
None of us are under the impression that Nicolas Cage isn't a staggeringly talented actor. It's just that, since being hit with massive tax liens from the IRS, his selection of roles in recent years has been…less than impressive.
But! For every high-concept mockbuster and phoned-in foreign language cameo, there's a gem like Mandy or Willy's Wonderland. Or Pig, Cage's latest lead role, now available to watch in select cinemas around Australia.
Directed by Michael Sarnoski, the simple story kicks off when Cage's beloved truffle-hunting swine is stolen from right under his nose. Once an illustrious gourmet chef in the big city, Cage's character Rob Feld has grown used to live on the fringes of society, leading a simple existence with his cute companion pig.
In the emotive, brown-tinted trailer below, we can already see how much it agonises Feld to return to the callous urban environment he abandoned, all in order to rescue his porky friend.
Pig has been selected as part of the Melbourne International Film Festival's lineup for 2021, meaning Melbourne foodies and rural hermits alike should come into the city to catch the movie before the rest of Australia can, upon the film's broader release on September 16, when it opens in cinemas. All dependent on your region's COVID regulations, of course: use our handy session-time finder to check if there are safe screenings near you.
Our critic Luke Buckmaster has already stuck in a fork into Pig's "richly textured, skillfully shot" delicacy, celebrating the lead performance: "Cage is the man of the hour, the main feature, the special effect…Viva La Cage!" If the trailer above and all that positive buzz has left you squealing for more, find tickets below from when Pig arrives in cinemas this September 16, or try to steal your way into a screening at MIFF.