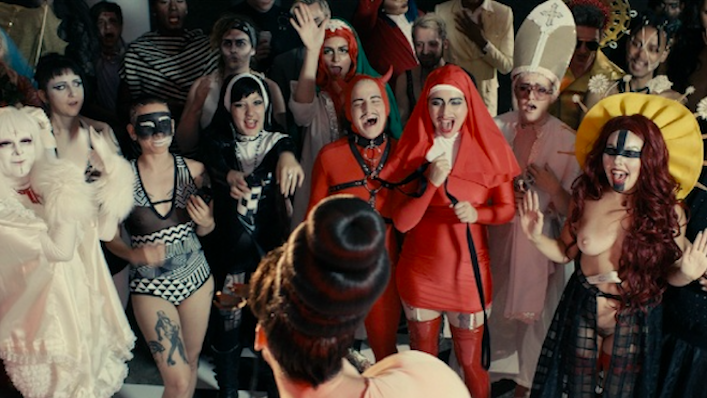 What to expect from the 2020 Queer Screen Film Fest

---
From September 17 to 27, you can turn your quarantined abode into a totally joyful queer-antine cinema, with the 2020 iteration of the Queer Screen Film Fest. Despite the havoc COVIC-19 has wreaked on other IRL festivals, QSFF has made a simple switch to online and on-demand, making itself available from anywhere in Australia.
The 8th annual Queer Screen Film Fest features over 40 feature films this year, 29 of which are exclusive Aussie premieres, as well as an impressive slew of docos and shorts.
Sign up for Flicks updates
In fact, three short film packages have been made gloriously and generously free, so that the Festival's loyal audience can still check out the best of LGBTQIA+ storytelling on the most reasonable budget possible. Those three packages each represent different facets of the festival's broad representation: gay shorts, lesbian shorts and trans and gender diverse shorts.
You can check out the entire line-up of films here, including Berlinale favourite Cocoon, gay Muslim romance Breaking Fast, and eighties trans fable Gossamer Folds. And Sydney audiences can even partake in two very special, socially-distanced events the Festival is spearheading—a drag double feature at the Skyline Drive-In (Stage Mother and The Adventures of Priscilla, Queen of the Desert) on Saturday 26 September and two screenings of the powerful documentary, Welcome To Chechnya on Saturday 19 and Sunday 20 September at Palace's Chauvel Cinema, in partnership with Antenna Documentary Film Festival.
But if none of those titles appeal to you (which is kind of unthinkable, but anyways), why not pitch your own terrific project at the festival's celebrated Queer Screen Pitch Off, which awards $10,000 towards the funding of the most promising short queer film concept?
Information about the Pitch Off and all of 2020's Queer Screen highlights can be found via the festival's website.