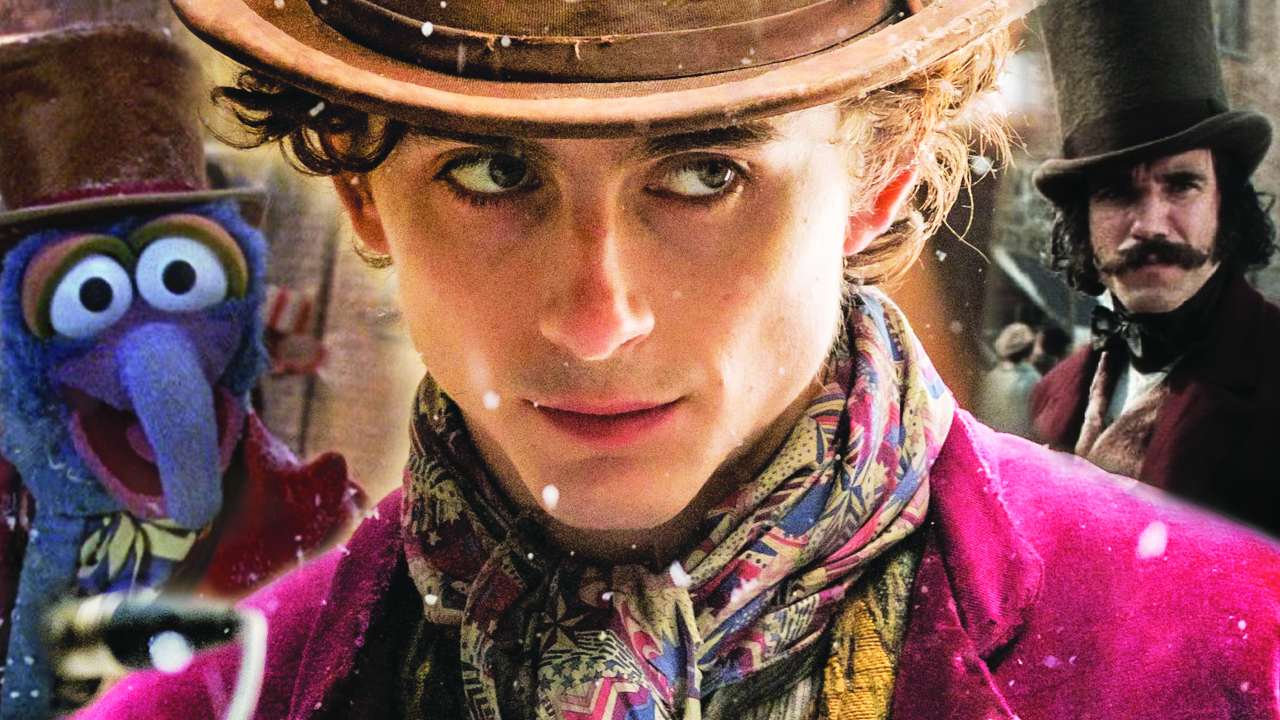 We don't know how to feel about Timothée Chalamet as a young Willy Wonka

---
As you can tell from our glorious header image, Timothée Chalamet has taken some style tips from both Gonzo and Bill 'The Butcher' Cutting for his upcoming role as Willy Wonka.
Surprised? So were we. Some fresh adaptation of Roald Dahl's Charlie and the Chocolate Factory has been in the works for some time, with Donald Glover, Ryan Gosling, and Tom Holland all considered as options to play the whimsical/sadistic chocolatier.
But now, the Call Me By Your Name star has been confirmed as the lead in an origin story titled simply 'Wonka'—even posting pics from the set, and being spotted singing atop a truck in rural England.
Is this casting a Golden Ticket to family-fantasy perfection? Let's see what The Internet has to say, in our round-up of reactions both sweet and sour.
The Sweet
View this post on Instagram
After some winning romantic roles and a blockbuster turn as the hero of Dune, Timmy has accumulated an enthusiastic fan base. The young folk are stoked that Wonka is hot now, etc.
But the cast and crew supporting Chalamet might heighten your expectations, too. The film will be helmed by Paddington and Mighty Boosh director Paul King, and its cast is stacked with UK talent. Oscar winner Olivia Colman! Oscar nominee Sally Hawkins! Mr Bean! (Mr cacao bean? whatever)
Who knows: the musical sneak peek below could signal a return to Dahl's world of pure imagination, sweeping original songs and all.
theydies and gentlethems, without further ado, the main event… THEE timothée chalamet on my doorstep recording a musical number for wonka ! and i am living ! timmy nation rise !!! pic.twitter.com/LswcIBSca9

— art (@_ARTSARTSARTS) October 12, 2021
Whoa wait a minute the wonka cast is kinda stacked tho?? pic.twitter.com/NsfvhyiT1R

— beep beep anna (@ammanartin) October 12, 2021
Additionally, a Guardian article thirsting over Chalamet's Willy (ugh, sorry) pointed out that other beloved franchises have turned back time to great success. "Remember Christian Bale in Batman Begins? Remember Daniel Craig in Casino Royale?", Stuart Heritage implored. "Both those films took beloved, established characters and dragged you back to when they were lean and hungry, vulnerable and full of desire. That's the sort of Wonka we're going to get."
i'm so in love with timothée as willy wonka pic.twitter.com/51p8nOaBf9

— potter (@louistfIeur) October 12, 2021
The Sour
I just accept the characters you give me. You tell me Wonka is horny for chocolate, he's horny for chocolate. I don't need a whole "why" movie.

— Robby Slowik (@RobbySlowik) October 10, 2021
Don't know why they cast Timothee Chalamet as Willy Wonka. It's completely unbelievable — nobody who runs a chocolate factory would be that skinny

— Christos (@christos_ioa) October 11, 2021
Do we need another trip to the chocolate factory? After the enduring magic of Gene Wilder's original portrayal, and 2005's less charming Johnny Depp interpretation? Some critics are against the very notion. Celebitchy complained, "I hate it! But I hate the whole idea of everything about this…to take the Wonka character and give him a tragic-comic backstory in what appears to be Victorian England? Nope."
ScreenRant have cautioned against any prequel that might make Wonka too deep and disturbed, pleading for the filmmakers to "avoid the mistake of following in Joker's path of exploring society's role in crafting dark, weird personalities." Why so scrumdiddlyumptious?
oh………………………………..oh no pic.twitter.com/a7AFO8WvLN

— Sarah McGonagall (@gothspiderbitch) October 11, 2021
Then there's news that the prequel will illuminate the Oompa Loompas' colonialist subjugation as Wonka's indentured servants. A native people being paid solely in chocolate…yikes.
While we still don't know quite how to feel about Timmy Wonka, the prequel only arrived in cinemas in early 2023—so audiences will have a long time to make up their minds. Perhaps there'll even be a heap of other Dahl adaptations to get excited/mad about while we wait.
Gene Wilder = Willy Wonka.
The End. pic.twitter.com/WqCLSsZBOJ

— ✌️ (@muchlovemax) October 11, 2021