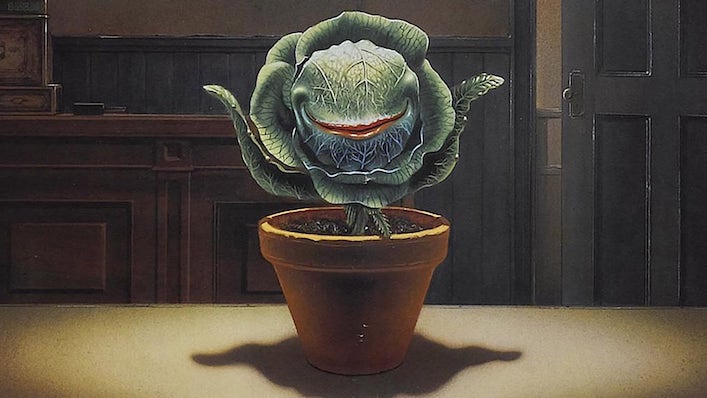 Scarlett Johansson and Taron Egerton could star in the Little Shop Of Horrors remake

---
File this one under 'Truly Don't Know How To Feel About This', because Frank Oz's 1986 adaptation of Howard Ashman and Alan Menken's brilliant 1950s B-Movie pastiche Little Shop Of Horrors is one of my favourite screen musicals of all time. But! Times are dire, and with the last attempt to adapt a mega-musical to the screen ending up a dire cat-astrophe, maybe a Little Shop Of Horrors remake could actually be totally great?
Rumours have been swirling for a while now that there's a reboot of the classic, corny masterpiece in the works, with Love, Simon director Greg Berlanti interested as of two years ago. And Emmy-award winner Billy Porter has been perfectly nominated to play Audrey II, the musical's antagonistic force. Porter's rich vocals and fierce attitude make him the perfect voice behind the evil alien plant that develops a thirst for human blood.
But here's the big (potential) news. Celebrated Rocketman star Taron Egerton and the unstoppable Scarlett Johansson have been pegged to play the musical's leads, nerdy florist Seymour and his ditzy, masochistic love interest Audrey. Hmm.
Maybe I'm just feeling a little torn between my love for the original, ideal casting of Ellen Greene and Rick Moranis, and a sad despair over what might've been. Let me direct your attention to the lauded performances by Jonathon Groff and Jake Gyllenhaal in the Seymour role only months ago. Egerton was truly impressive, both vocally and otherwise as Elton John, but he's maybe a little young to play a desperate, down-on-his-luck loser. Too green, if you'll pardon the pun. And there was buzz of Lady Gaga making Audrey her next role after A Star Is Born. Why don't we live in that reality??
Of course, the news is still developing, as Egerton and Johansson have only been put forth as two of the names that have been asked, and I'm sure both could pull off a horrifyingly fun musical with aplomb. Now, we wait to see who gets cast as sadistic dentist Orin Scrivello…could they just get Steve Martin to do it again? Is that an option?