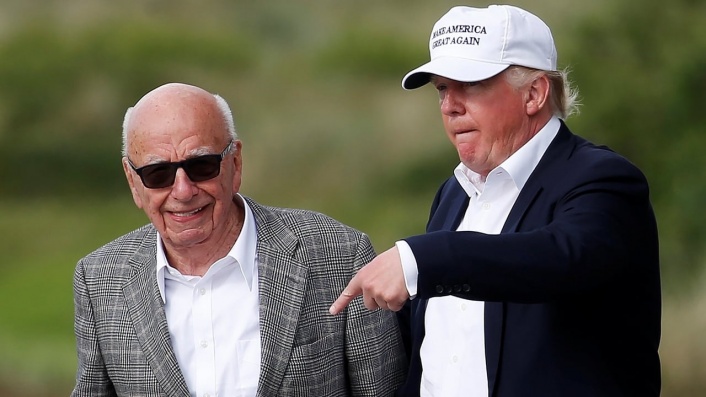 New 3 part doco The Rise of the Murdoch Dynasty is now on ABC iview

---
The father of the terrifyingly omnipotent News Corp media empire, Rupert Murdoch, is certainly one of the most intimidating and influential figures in the media landscape—if not the worlds of politics, too.
Murdoch and his legacy are in fact so powerful, there was some doubt as to whether the three-part documentary series The Rise of the Murdoch Dynasty would even premiere in Australia. When News Corp controls such a significant portion of Australian TV, entertainment and journalism, would they really air a self-expose?
Luckily, the ABC has confirmed it would air the anticipated documentary event, with all three episodes currently available to stream on ABCiview.
Sign up for Flicks updates
Produced by the UK's 72 Films and directed by Jamie Roberts, the special documentary event follows Murdoch from his earliest ambitions, to the news hacking scandal that felled Murdoch's News of the World, to his present-day influence in the White House.
Check out the trailer below for a sense of the illustrious talking heads, from fellow magnates like former president of the Fédération Internationale de l'Automobile, Max Mosley, Murdoch's long-time collaborator Les Hinton, and even Hugh Grant.
If you loved Succession, it might be worth tuning into this revelatory and highly topical portrait of the real thing: a staggeringly powerful and cunning figure pulling the strings behind everything. What's more, the documentary has built significant buzz after its premiere in the UK, with some branding it a 'must-see'.
@ABCTV I note with surprise AND gladness ABC is going to air 'The Rise of the Murdoch Dynasty' a must watch by every Australian. This man's only purpose, wealth & power & damn the rest of us. He has dictated governments in Australia, USA & UK & diminished us all. Spread the word

— 💧Mickey Blue (@poornhonest) September 15, 2020
ABC confirms the hugely anticipated and widely discussed documentary series The Rise Of The Murdoch Dynasty will air from Sept 20, all eps dropping on iView at once.

— Scott Ellis (@blahblahellis) September 8, 2020
The Rise of The Murdoch Dynasty is the most important TV i've seen in so long. Laid out as it is each of the three parts staggered me. Our government (Tories & Labour party) are spineless. And episode 3 revealing that Ivanka is Trustee to Murdoch's daughters fortune. It's endless

— DLW (@dannyleewynter) August 5, 2020