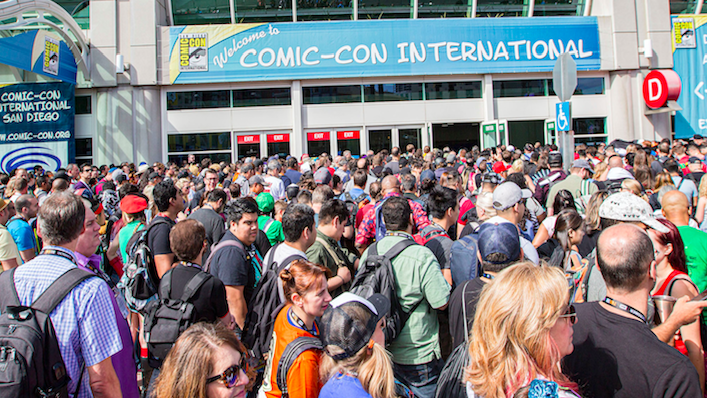 Nerds rejoice! The 2020 San Diego Comic Con's panels and events are available online

---
Since its first convention held in 1970, San Diego Comic Con became the Mecca of the nerd world, its focus ballooning way past mere comics and into film, TV, merchandise, pop culture and of course cosplay. As the ubiquity of superhero films has made nerd culture into mainstream culture itself, the Con is increasingly seen as the place to announce juicy casting news, or to drop trailers that will make fanboys go weak at the knees.
This year, sadly, it looked like anyone working on the final touches to their elaborate Khaleesi costume might be forced to wait until Comic Con's 2021 iteration, since the coronavirus has made huge festivals and events such as SDCC no-go zones. But the convention has made an exciting pivot to a digital format, making its industry panels and merchandise displays available online!
Sign up for Flicks updates
This of course means that geeks and culture vultures from around the world may participate via SDCC's Youtube page, not just the lucky San Diegans and visitors who make it to the convention hall every year.
A glance at the most recent exclusives uploaded to SDCC's Youtube page reveals interviews with comic creators such as Todd MacFarlane and Robert Kirkman, as well as panel discussions on diversity in gaming and a Zoom call with the voice cast of Bob's Burgers. A video concerning The Psychology of Star Trek vs. Star Wars could be a great place to first awaken your inner sci-fi geek, before heading to SDCC's virtual merchandise hall to check out wares from all the boutique vendors who might have otherwise missed out on connecting directly with their fanboy customers.
See the best of the best cosplay at the #ComicConAtHomeMasquerade happening NOW on @tumblr! Winners will be crowned tomorrow. https://t.co/hGxwlduagw pic.twitter.com/WrqGLoXh79

— San Diego Comic-Con (@Comic_Con) July 24, 2020
And, as is clear from the above tweet, even a global pandemic can't discourage superfans from putting in the blood, sweat, and tears required to make some truly transporting cosplay outfits. The Con ends in a few days time but its' video content will be available on the Youtube channel indefinitely, for a much larger audience than usual to appreciate.
Further info and details on the upcoming panels and videos is available on the official San Diego Comic Con website. For today's top pick, why not listen in on a chat with Charlize Theron, looking back at her evolution into an action-movie icon?