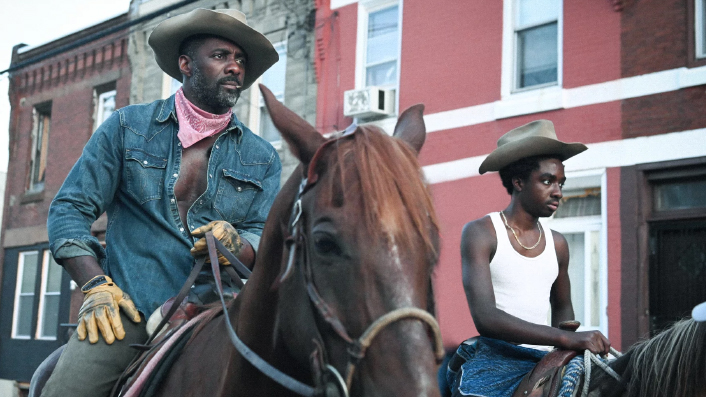 Saddle up for Idris Elba and Caleb Laughlin in Netflix's Concrete Cowboy

---
Not to be a corny old auntie or anything, but Caleb Laughlin has grown up soOOoO fast! Since playing a baby-faced Lucas in Stranger Things' first season, the young actor has also impressed in Steven Soderbergh's High Flying Bird.
And now, his coming-of-age is being helped along by Concrete Cowboy, Netflix's feature film about fatherhood and belonging in Philadelphia's undersung black cowboy scene. Goddamnit, I wish Idris Elba was around to help me wear cowboy hats and come of age.
Currently streaming on Netflix, Concrete Cowboy is based on G. Neri's novel Ghetto Cowboy, which illuminates the unlikely renaissance of western and horse culture in Philadelphia's Black communities. Looks awesome to us, but Caleb's character is not so impressed when he arrives to live with estranged dad Harp: "There's a horse in the house."
If you're not already a Netflix subscriber or haven't given this charming drama a watch yet, rest assured that it will lasso your heart with its simple story of fractured parenthood, and earthy performances from the leads and supporting actors such as Jerrel Jerome, Lorraine Touissant and Wu-Tang's Method Man.
Concrete Cowboy is currently streaming on Netflix for subscribers: yee, and I cannot stress this enough, haw.