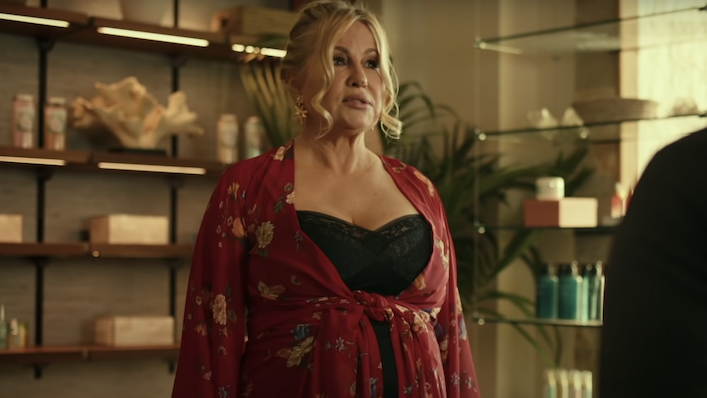 How to watch tropical black comedy series The White Lotus in Australia

---
Maybe it's just because Aussie viewers are coming out of a long, cold winter stuck indoors, but TV series depicting blissful tropical escapes couldn't be more tempting right now. Even when the vacation in question goes dramatically, horribly wrong.
Our critics ate up the wacky wellness thriller Nine Perfect Strangers, and viewers are equally obsessed with The White Lotus, a black comedy series from writer and director Mike White. If you're not already a guest of this glitzy but twisted establishment, you'll want to check in via BINGE, where all six episodes are currently available to stream.
White is probably best known as the writer of Richard Linklater's School of Rock, in which he also played Jack Black's meek roommate Ed Schneebly (sometimes pronounced "Schnayblay"). Whiteness, in fact, shows up a lot in this runaway success of a TV show: in the title, the show-runner's surname, and the show's critique of upper-class, clueless, white American tourism, and the quietly destructive effect it can have.
The White Lotus features an all-star cast of comedy talent: from queen Jennifer Coolidge, to Steve Zahn and Connie Britton as a rich couple, Jake Lacy and Alexandra Daddario as newlyweds joined by overbearing mother-in-law Molly Shannon, and Sydney Sweeney and Brittany O'Grady as a pair of spoiled college friends. Trying to wrangle together this circus of eclectic guests is Aussie hotel manager Armond (Murray Bartlett), who lets his feelings out in the trailer below: "Fuck this place!"
Based on the sleeper popularity of season 1, it has been announced that further seasons of The White Lotus will take the form of an anthology series, plonking us into different locations of the hotel chain with totally new batches of staff and unbearable guests.
BINGE is the streaming home of The White Lotus, one of 2021's most talked-about and critically acclaimed miniseries. You can check out any time you like, but you can never leave the Jennifer Coolidge fanclub.