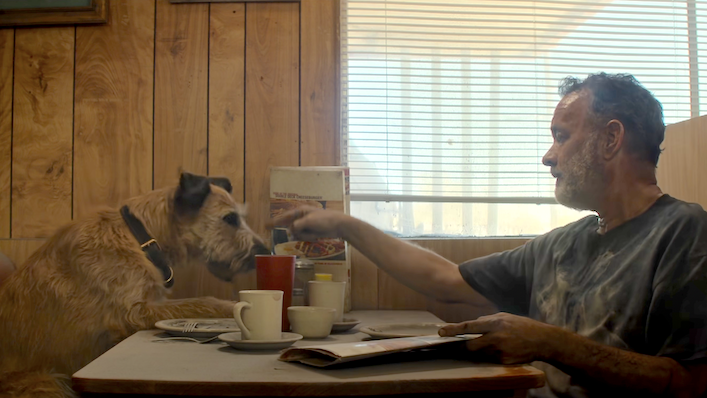 How to watch Tom Hanks' post-apocalyptic journey Finch in Australia

---
A heartfelt science-fiction dramedy coming soon to Apple TV+ seeks to answer that ancient, burning question: who's a good boy? Who's a good boy??!!
Is it Tom Hanks, renowned Nice Guy who has previously been a great onscreen dog dad in Turner and Hooch? Is it Goodyear, the last dog on a post-apocalyptic earth? Or is it Caleb Landry-Jones, as the voice of a kindly robot? Finch has now arrived on Apple TV+ for subscribers seeking a friend at the end of the world.
Finch (Hanks) is an ageing engineer, one of the only survivors of a devastating solar event that has left earth unliveable. With a huge storm approaching, Finch isn't so worried about his own survival—but who will look after his scruffy pet dog once he's gone, either from fierce radiation or at the hands of other, ominous human survivors?
Fresh off his Cannes Best Actor win for Nitram, Landry-Jones voices the gangly robot that Finch creates as the ultimate doomsday dogsitter. The trailer below suggests big elemental set-pieces, but also some gentle buddy comedy, as this unusual trio travels across the last vestiges of civilization.
We know that the film's cast also includes Samira Wiley, Samantha Harrier, and Skeet Ulrich, but they don't surface in the first trailer above: will they be kindly helpers and potential carers for Goodyear, or some Mad Max-style villains for Finch to avoid?
We can find out on Apple TV+ from November 5, now that this sci-fi-buddy-dramedy (??) is streaming. While the tech giant service hasn't put out too many feature-length blockbusters like this in the past, Finch does kinda resemble the big scale and spectacle of Foundation—another Apple TV+ title, that our reviewer applauded for its ambition and intelligence.