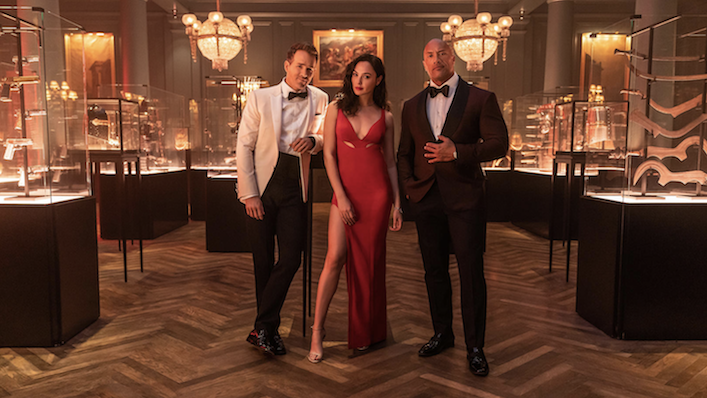 First look at Netflix's Red Notice, starring Ryan Reynolds, Gal Gadot and The Rock

---
Way back in January, we got a saucy sizzle reel from Netflix presented by Ryan Reynolds, Gal Gadot and Dwayne 'The Rock' Johnson, inarguably three of contemporary blockbuster cinema's biggest stars.
At the time, it just seemed like a trio of insanely rich and attractive pals meeting up to discuss the world's most popular streaming service's 2021 production slate. But now? We know we were actually witnessing the stars of upcoming thriller Red Notice.
The crime-action flick arrives on Netflix on November 12 all around the world, with no big explosion-filled trailer to check out yet. All we have for you is the following crisp, star-powered sneak peek image, and a tantalising plot description.
The titular Red Notice is a global alert, sent from Interpol to hunt down the world's most wanted criminals. In this case, it looks as though Gal Gadot's art thief and Ryan Reynold's con artist are the wanted, and FBI profiler Dwayne 'The Rock' Johnson is the guy chasing them down.
But a "daring heist" may just bring the three together in the name of cold hard cash. With all that celebrity and a fun heist concept, Red Notice is a blockbuster hole-in-one, and it kind of sounds like the real money heist may have happened off-camera. Gal Gadot's role in the film confirmed her as the third-highest-paid actress in the world, and Johnson got paid a cool $20 million for his producing and acting part.
Watch Reynolds, Gadot and Johnson make money moves on November 12, when Red Notice becomes available for Netflix subscribers everywhere.