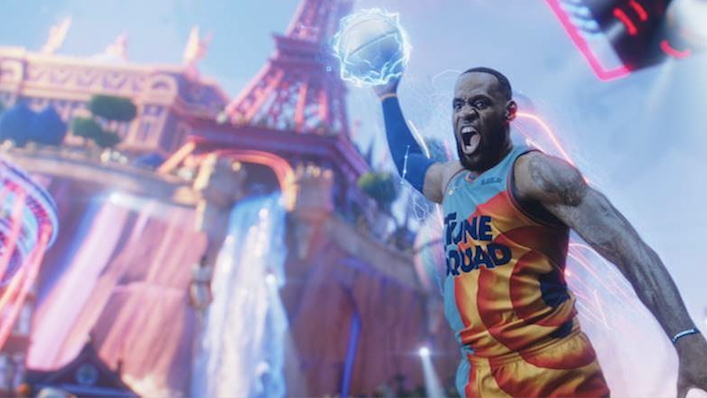 First look at Lebron James (and Bugs Bunny) in Space Jam: A New Legacy

---
A live-action/animation hybrid about an intergalactic basketball game, starring GOAT Michael Jordan and the entire cast of Looney Tunes; was Space Jam one of the oddest blockbusters of the 90s?
Odd or not, Space Jam was a cartoonishly huge success, raking in $320 million worldwide and sending its hip-hop-inspired soundtrack 6x platinum. It's been about 25 years or so since then, making now the perfect time for an all-new Jam: this time starring Laker legend Lebron James, who has been frequently compared to MJ as the greatest basketball player of all time.
While WB hasn't released a full trailer yet, Space Jam: A New Legacy is already causing excitement online with the below sneak-peek images, introducing us to both James' film family and villain Don Cheadle, as sinister AI Al G Rhythm.
These first look images are a slam dunk 🏀 Space Jam: A New Legacy is in theaters and streaming exclusively on HBO Max this summer. pic.twitter.com/UT86Yoj7g3

— HBO Max (@hbomax) March 9, 2021
If you're willing to scour through roughly a million horny posts conflicted about how hot Lola Bunny is and "how come the new Lola Bunny doesn't look anything like my DeviantArt fanart", online fan reception of the Looney Toons' slick new designs is mostly positive.
Characters like Daffy Duck, Tweety Bird, and of course Bugs Bunny already looked pretty great in the 1996 film, but with advances in CGI, they now appear even more plush and hyperreal against the backdrop of our live-action world.
Part of me thinks that the Looney Tunes being primarily CG in Space Jam 2 is a test by WB to see both how the characters fare in this style for possible future feature films and if ILM will be WAG's animation provider for other LT movies like Coyote Vs. Acme. pic.twitter.com/GuorWpEp6N

— Weird-O (@Wierd_o78033920) March 10, 2021
Space Jam: A New Legacy will be lacing up and hitting the court (translation: arriving in Australian cinemas) on 15 July, 2021. Which gives us all plenty of time to get reacquainted with these beloved characters before seeing them join Lebron in a wholly new, goofy toon tale.
View this post on Instagram