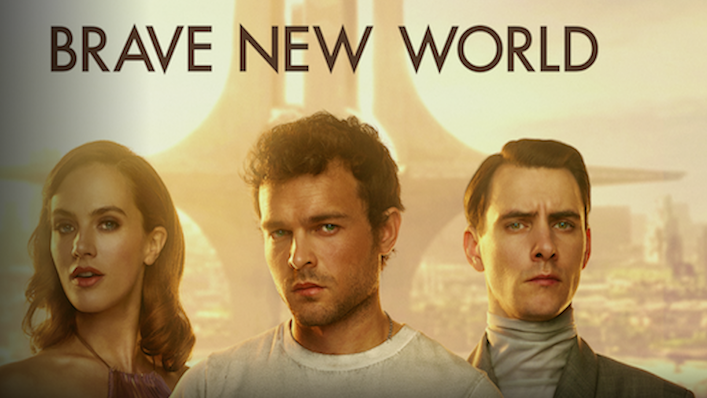 Enter a Brave New World, in Stan's nine-part adaptation of the dystopian classic

---
When you hear the word 'dystopia', you don't tend to think of a society that looks like the one in the trailer below: the official trailer for Stan's exclusive series Brave New World, based on the groundbreaking 1932 novel by Aldous Huxley. Like, look at all that gorgeous tech, those attractive people, that soothing neutral colour palette!
Surely that's got to be our utopian future, should everything go to plan. Right?
WRONG, because that's just the problem the series' protagonists Bernard (Game of Thrones' Harry Lloyd) and Lenina Crowne (Jessica Brown Findlay, Downton Abbey) face; how do you escape a twisted, dystopic world when it seems to be working perfectly and giving you everything you've ever wanted?
Sign up for Flicks updates
The first Peacock Original Series to arrive on Stan, Brave New World is a brave new nine-part series, bringing Huxley's vision of a tranquilized, amoral society to life. Its ensemble cast stars Alden Ehrenreich as the rebel John the Savage, as well as Demi Moore and Hannah John-Kamen, all of whom look fly as hell dressed all 2032 in the sleek trailer below.
All episodes of the show are available on Friday, October 16, so you'll then be able to check out how Huxley's original text has been adapted  for our times. One notable difference is the series' addition of an artificial intelligence named Indra, a sinister Siri-esque entity who will no doubt cause trouble for our indoctrinated heroes.
Even if the future looks eerie and dim, at least your immediate future is pretty neat; after all, you've only got a few weeks to wait before checking out Brave New World on October 16.