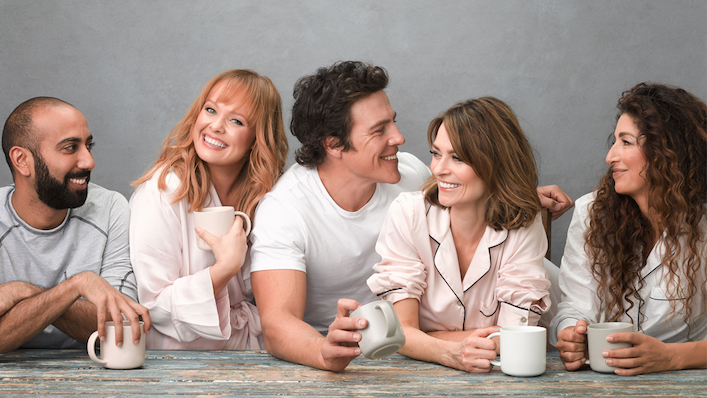 Aussie drama Five Bedrooms moves into Paramount+ for its new season

---
The Melbourne housing market is such a bloody rollercoaster these days, even a highly charming and photogenic bunch of professionals have to pick up their stuff and find new digs.
Luckily for the characters of Aussie drama Five Bedrooms, their latest home is the exciting new streaming platform Paramount+, an unexpected move from their original place on Channel 10. If you loved season one, you'll need to subscribe to Paramount+ for the next heartwarming season of housemate shenanigans.
Kat Stewart, Stephen Peacocke, Doris Younane, Katie Robertson, Roy Joseph, Kate Jenkinson and Hugh Sheridan pick up the keys on August 11, with all new episodes chronicling an unlikely household of messy and relatable Melburnians.
In the brand new trailer below, Stewart's stressed-out character admits that while she's happy to be buying a large family home in the suburbs, she always expected it to be with her family, rather than such a mismatched adult assembly of gay best friends/cougars/pregnant 'randoms'.
Paramount+ lists out all the exciting new developments of season two as follows:"a DIY renovation. A DIY renovation injury. Two pregnancies. An ex-husband. A workplace bullying complaint. An unexpected tragedy. Love found and love lost." Fans of Five Bedrooms season one should quickly adjust to the new platform as long as it continues with all the humour and melancholy of the original network episodes.
Going to be interesting to see (if any figures are ever released) how Five Bedrooms goes when it drops on Paramount+ on August 11. Channel 10 sacrificing main channel ratings for streaming subscribers. pic.twitter.com/Ek0q0Tfyxp

— Colin Vickery (@Colvick) July 13, 2021
We've previously covered just what Paramount+ is and how much it should cost Aussie subscribers, consolidating together the best of Channel 10 and its abandoned streaming service All Access. Aside from the return of Five Bedrooms, the new platform includes a brand new Spongebob prequel series, a promising amount of local true crime and feature content, and Dexter rebooted.
Wednesday August 11 is your first chance to reconnect with the Five Bedrooms residents, in their fresh new home on Paramount+. It's a big move, sure, but no cardboard boxes and packing tape are required this time.