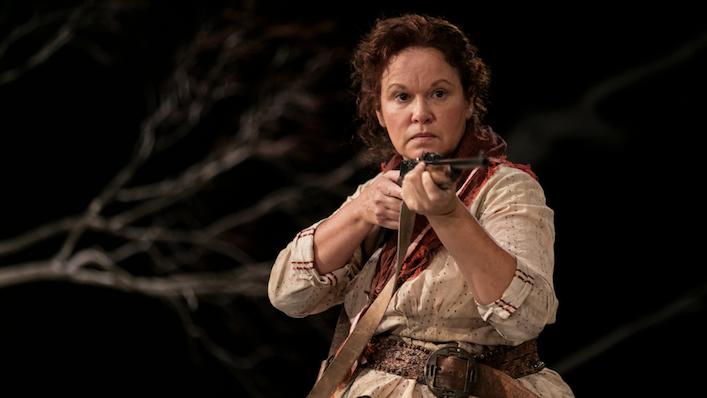 The Drover's Wife: The Legend of Molly Johnson will open this year's Melbourne International Film Festival

---
Some Aussie yarns never get old: Henry Lawson's short story The Drover's Wife is one such tale, elevating a simple story of woman versus nature to mythic extent.
First published in 1892, the outback saga is well-deserving of some 21st century revision, and Leah Purcell has already done so in a Helpmann-winning stage play and a 2019 novel. What's left to do but adapt it to the big screen?
With Purcell as its writer, director and star, The Drover's Wife: The Legend of Molly Johnson will have its Australian premiere at this year's Melbourne International Film Festival, where it will play as the Opening Night film. The festival runs from August 5 to August 22.
Later this year, The Drover's Wife will arrive in Australian cinemas on October 14.
Set in a remote Snowy Mountains township in 1893, the film stars Purcell as a heavily pregnant Indigenous woman. Molly is left to raise her four children alone, protecting the family homestead from floodwaters, intruders and deadly creatures while her drover husband Joe works away for months at a time. It's notable that Lawson's story doesn't even give its titular character a name, where Purcell's film adaptation centres Molly right there in the title.
We don't have a trailer yet for the screen adaptation, but in the below Penguin Publishing video, Purcell speaks to the enduring "pull" of Lawson's original text, which she grew up hearing as a bedtime story.
The Drover's Wife: The Legend of Molly Johnson had its illustrious world premiere at Texas' South By Southwest film festival, where ScreenDaily claimed that the movie "both earns its boldness and wears it as a badge of honour."
Australian cinema tends to really nail the revisionist western, with recent hits like The Rover and True History of the Kelly Gang turning sunburnt country and its bad men into the stuff of modern legend. But Purcell's clear and personal passion for this particular western yarn will make The Drover's Wife: The Legend of Molly Johnson an entirely new experience, with a rare eye for the intersection of race, gender and historical memory.
Keep your eyes peeled for more info and the first trailer for Purcell's reimagined vision, which we can finally witness later in the year.