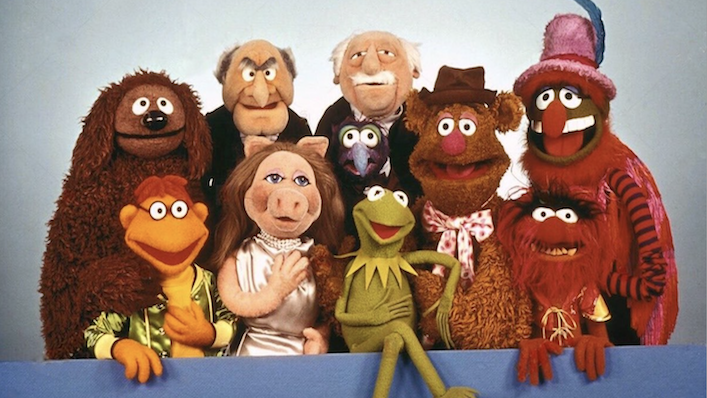 All seasons of the celebrational, muppetational The Muppet Show are coming to Disney+

---
From 1976 to 1981, The Muppet Show was an anarchic family-friendly blast of fun, casting a zany crew of puppets as the stars of an out-of-control variety show.
Huge stars of the era got caught up in the muppetational chaos: Steve Martin, Elton John, Liza Minnelli, Alice Cooper, Julie Andrews, Bernadette Peters, Diana Ross, Gladys Knight, Gene Kelly and Mark Hamill all made appearances. Just to name a few.
And now, The Muppet Show in all its puppeteered glory is coming to Disney +, including the final seasons 4 and 5, which have never previously been available for home entertainment.
Sign up for Flicks updates
Disney+ subscribers have always had access to plenty of Muppet content, like the recent (and decent) films with Oscar-winning songs by Bret McKenzie, and the savvy streaming-era reboot Muppets Now. But I know for those who grew up with the OG variety show, nothing can beat its fuzzy, somewhat old-timey vaudevillian appeal. Watch the original 1976 theme song below for a pure hit of sunny nostalgia.
Nervous ringleader Kermit the Frog even gave a statement about the possibilities of the streaming release to "give a new generation of fans a chance to see how we got our start, how Miss Piggy became a star and so much more…Today, I'm proud to say: 'It's time to play the music, light the lights and meet the Muppets on Disney + tonight!'  And as for Statler and Waldorf, the two old guys in the balcony, I can only add: 'Sorry, guys, but….here we go again."
Yes it's quite strange hearing the words "Disney Plus" come out of Kermit's little green mouth, but that's the place to be for Muppet fans these days. Subscribers can watch all five seasons from February 19, with some commenters already getting excited about this newfound availability.
The Best part about the Muppet Show coming to Disney+ is that we get to see Mark Hamill with the Muppets again! pic.twitter.com/sS8VxxpOAO

— Sparks the Echidna – Jr Sol Knight (@SparksEchidna) January 19, 2021
Even though some of us have seen the Harry Belafonte or Rita Moreno or Star Wars episodes a hundred times, every episode is new to SOMEONE. Scores of Muppet fans will be created or leveled-up thanks to its inclusion on Disney+. (4/8)

— ToughPigs: Muppet Fans Who Grew Up (@ToughPigs) January 19, 2021
while i am wholly overjoyed by this development, may i also say *extremely steely dan voice* mickey, don't crop my visual gags https://t.co/rtI4gGhvFN

— Aimee Knight (@siraimeeknight) January 19, 2021
And here's an early example of the show at its culture-spoofing best, proving that Henson and his felt-covered cast were way ahead of their time even in the very pitch for The Muppet Show. Some things never change.
The final minute of The Muppet Show Pitch Reel is the perfect example of just how genius Jim Henson and his team were. pic.twitter.com/sj37M4djga

— Muppet History (@HistoryMuppet) January 16, 2021