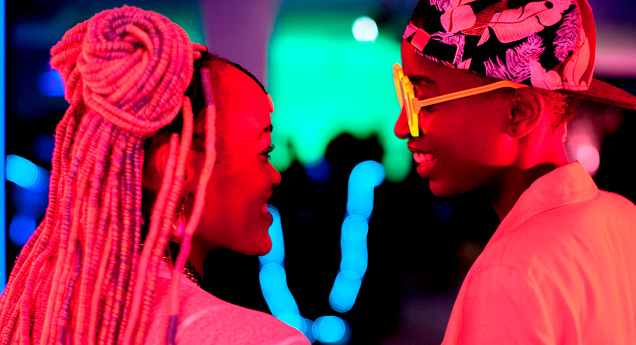 The Sydney Film Festival has declared 2018 its biggest ever year for lesbian cinema. The program for this year's SFF, which runs from June 6 to June 17, features the largest collection of lesbian cinema so far in the festival's 63 year history.
There are 11 films on the program starring or about women who love women. These include the Closing Night film, Hearts Beat Loud, the Kenyan film Rafiki (banned in its home country) and the Canadian rural psycho-thriller What Keeps You Alive.
We've included, below, 10 LGBT films to see at this year's festival, with quotes from what the program has to say about them and links to the official Sydney Film Festival website.
"A lesbian couple contemplate parenthood in this funny and free-wheeling comic drama by rising Spanish filmmaker Carlos Marques-Marcet."
"Oscar-winner (A Fantastic Woman, SFF 2017) Sebastián Lelio's new film is about the love affair between two women (Rachel Weisz and Rachel McAdams) in an Orthodox Jewish community."
"The werewolf movie comes alive again in a classy, scary and seductive Brazilian outing that won the Special Jury Prize at Locarno and the Critics' Award at Sitges."
"In this joyous, heart-warming indie comedy, one-time musician Frank (Nick Offerman) forms an unlikely band with his daughter Sam before she leaves for college."
"In this unconventional coming-of-age story, sexual tension and the conflict between desire and reason drives a wedge between a young woman, her family and community."
"A hip, romantic and daring lesbian love story from Kenya, the first Kenyan film selected for Cannes – banned in its home country."
"The winner of two awards in Berlin, this complex relationship drama takes an unusual look at class and privilege through the relationship of a lesbian couple in Paraguay."
"The story of John Curry, dubbed the 'greatest ice skater in the world', and the first openly gay Olympian at a time when homosexuality was not even fully legal."
"An unusual love triangle plays out in the shadow of the Kosovo War. A superb debut film about an impending marriage jeopardised by the arrival of a former lover."
"Jackie and her wife Jules are celebrating their anniversary in a lakeside cabin. But something's very, very wrong. A riveting rural psycho-thriller and SXSW Midnighter selection."
For the full program for this year's Sydney Film Festival, head to the official website.