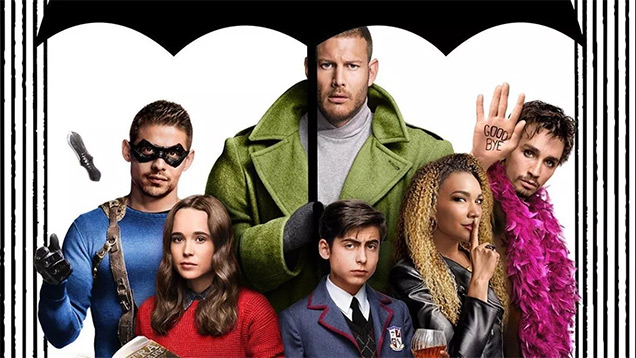 Why The Umbrella Academy might beat your superhero fatigue

---
The current glut of superhero stories can be a little exhausting. That's where The Umbrella Academy comes in. The Netflix show captures a different way to explore superheroes and is an excellent palette cleanser, writes Jenna Guillaume. 
Netflix's The Umbrella Academy has officially been renewed for a second season, which means if you haven't jumped on board already with season one, now is the perfect time to do so.
The series follows a group of superhumans who were all adopted by an eccentric old man and trained to become heroes in order to save the world from the apocalypse. You know, cheery stuff. Now, the old man is dead and the apocalypse is here, so the estranged siblings have to come together and sort out their differences before literally everyone dies.
If the plot sounds a bit too familiar to you – or you're totally over superheroes – you might be surprised at, well, just how surprising The Umbrella Academy is. In a genre that is completely overstuffed, it offers something fresh and compelling. Here are some of the reasons you might like to give it a try…
Sign up for Flicks updates
A whole new world
As much as I love the Marvel Cinematic Universe, there's no doubt its sprawling cast of characters and multi-movie plot arcs are intimidating and, at times, exhausting. That's without even taking into account the DC Extended Universe, or the X-Men series, or the multiple cycles of Spider-Man movies we've been through in the last two decades, or the whole network of TV shows these franchises have also created. And don't even get me started on the decades and decades of comics they're all based on.
Yeah. It's A Lot. But what's great about The Umbrella Academy is presents a whole new cast of characters in a new world we haven't seen approximately 1067 times already. The show is based on comics by Gerard Way (yes, THAT Gerard Way) and Gabriel Bá, which currently only consist in a very manageable three volumes if you want to dive in.
The show, like the comics, is deeply weird, and dark without being gritty. Though it's emotional and heartfelt at times, there's a sense of humour and quirkiness to the whole thing that sets it apart, but importantly it doesn't become grating. In short, it's a lot of fun.
A standout cast
There are a few new faces in The Umbrella Academy and a few "where have I seen them before?" And then, of course, there's Ellen Page. She plays Vanya, the sibling without powers who has been an outcast in a family of misfits her whole life. If you're a fan of Ellen Page, you'll enjoy her here, but the show is really stolen by two other cast members – Robert Sheehan (of Misfits fame) and newcomer Aidan Gallagher. Sheehan plays Klaus, who can communicate with the dead and uses drugs to numb the trauma associated with his power and the abuse he suffered at the hands of his father. Sheehan strikes the perfect balance of dark humour and raw emotion. If he's not your favourite by the end of the show, I'd question if you actually watched it.
That is unless, of course, you're hooked in by Five (Aidan Gallagher), a time-traveller who, for reasons I won't go into here but which make perfect sense (mostly) in the show, is an old man trapped inside a teenager's body. Gallagher embodies a world-weariness and dry humour so perfectly he legitimately seems like said pubescent old man. His performance is really wonderful.
The family ensemble is rounded out by Tom Hopper as the hulking strongman Luther, David Casteneda as knife-wielding vigilante Diego, Justin H Min as the unfortunately deceased Ben, and Emmy Raver-Lampman as truth-manipulator Allison. There's also Mary J. Blige and Cameron Britton playing time-hopping assassins, and Kate Walsh as the mysterious figure the Handler.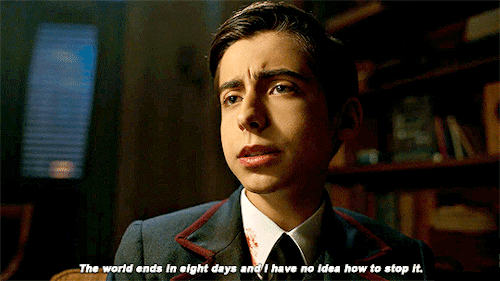 A family saga
In the same way The House on Haunted Hill is a family drama wrapped up in a ghost story, The Umbrella Academy is a family drama disguised as a superhero adventure. Sure, the apocalypse is happening, but what's really at stake is the fraught relationships the siblings have. For various reasons that become apparent over the course of the series, none of them are in touch as adults, only coming together again because of the death of their father. Yet running through each of them is a palpable loneliness, and a need for each other they can't quite acknowledge – at least, not yet.
There are several mysteries that begin to unravel over the course of the first season, and they're incredibly interesting. But watching the siblings tentatively reforge their relationships is undoubtedly the highlight of the show. The superhero genre is at its best when it's telling very human stories within its heightened reality. And what's more human than extremely messy and complicated families?
A stellar soundtrack
The Umbrella Academy uses music in a way that almost makes it a character in itself. There's a moment in the very first episode that's set to Tiffany's I Think We're Alone Now that is a pure delight, setting the tone for the rest of the series. The action sequences are all strong musical set-pieces – and then there's the fact that Page's character, Vanya, plays the violin, and her musical ability becomes entrenched in her character's journey and her relationship with her siblings. Combined with its distinct visual aesthetic, the soundtrack of The Umbrella Academy helps to establish the show as a stand-out and one that is well worth watching – even if you're over the whole superhero thing.
Catch The Umbrella Academy season one on Netflix now.