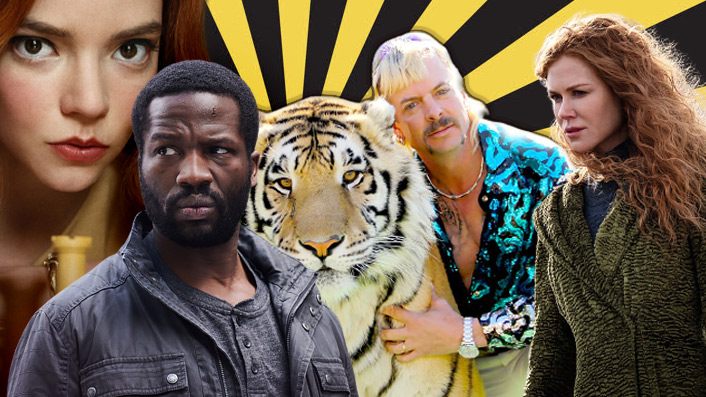 The TV shows everybody was talking about in 2020

---
It was year in which we were glued to our TV screens—even more than most. Travis Johnson surveys the greatest watercooler shows of 2020.
Look, we've already established that we all watched a heck of a lot of Netflix movies this year but, all things being equal, we probably watched more TV, yeah? If there was ever a time to indulge our basest binging instincts, it was 2020, and you—like me—probably hammered through season after season, one episode blurring into the next, as we tried to fill the endless droning, dragging hours of lockdown.
See also
* All new movies in cinemas
* All new streaming movies & series
Oh, that's a bit grim, really. Let's accentuate the positive, then: we got some awesome new shows this year (and thank Christ for that) which deserve a nod, from engrossing documentaries to gripping drama, high-flying fantasy and skin-crawling horror. So, without further ado, here are the shows everyone was talking about in 2020.
Where to watch
The Big Bang Theory's Kaley Cuoco is Cassie Bowden, a boozy, promiscuous, high-flying stewardess who gets plunged into a labyrinthine world off murder and intrigue when her latest blackout-drunk conquest (Michiel Huisman) turns up dead. Based on the novel by Chris Bohjalian, this is brisk, glib and glamourous: a murder mystery that puts the emphasis on fun rather than funereal.
Where to watch
The London underworld explodes into violence after an Irish mob boss (Colm Meaney) is murdered and his son (Joe Cole) tears apart the city looking for the killer. Meanwhile, a low level thug with a secret (Sope Dirisu) sees an opportunity. This hyperviolent crime saga comes to us courtesy of The Raid's Gareth Evans, who personally shoots every single fight scene, resulting in a blistering action series that combines gritty criminal trappings with kinetic, addictive violence. Contains the single best action sequence of the entire year.
Where to watch
Following on from the hugely popular The Haunting of Hill House, this follow-up adapts Henry James' The Turn of the Screw. Several of the Hill House cast return, including Victoria Pedretti as the young pair hired to care for two children at the titular stately home, Henry Thomas as the solicitor who hires her, and Carla Gugino as the narrator. As you might expect, one or more of these people may or may not be dead, to begin with. The UK setting freshens things up a bit and creator Mike Flanagan continues to prove he's one of the most important voices in modern horror. If this one slipped past you, it's a perfect Christmas Eve ghost story.
Where to watch
Small city cop Ben Mendelsohn nabs Jason Bateman's little league coach for the murder of a child, only to discover that there is simply no way he could have committed the crime. With Bateman's character soon dead by vigilante justice, Mendo must delve further into the case with the aid of Cynthia Erivo's near-psychic detective, uncovering an ancient supernatural threat that must be destroyed. This is derived from Stephen King's novel of the same name, and the combination of King and Mendo is a winning one—even if attentive viewers will solve the case well before the characters do.
Where to watch
A combination of reboot and origin story, this handsome miniseries sees Matthew Rhys as the future world-beating lawyer, currently a private detective in pre-WWII L.A. and embroiled in case involving a kidnaping gone wrong, a dead baby and a mother looking at the death penalty. Rhys makes a perfect soiled knight errant and is ably supported by a cast that includes John Lithgow, Shea Whigham and Tatiana Maslany.
Where to watch
Big-eyed, elfin Anya Taylor Joy is an orphaned chess prodigy who rises through the ranks to the world stage while battling her addictions and the psychological damage wrought by her tragic past. The series that made chess cool again, this is a rare femme-centered series that combines deft characterisation, lush period detail, sex, drugs, and, er, chess to provide a rich experience that is more soapy than it is smart, but takes the day nonetheless.
Where to watch
Sir Ridley Scott's first TV directorial effort (he helmed the first two episodes). In the far-flung future, two androids (Abubakar Salim and Amanda Collin) struggle to raise a colony of human children on an alien planet, only for the religious war they fled to intrude in the form of soldiers Travis Fimmel and Niamh Algar. Honestly a little too oblique for its own good and more focused on design and concepts than character and action, this is nonetheless the most unique SF series of the year.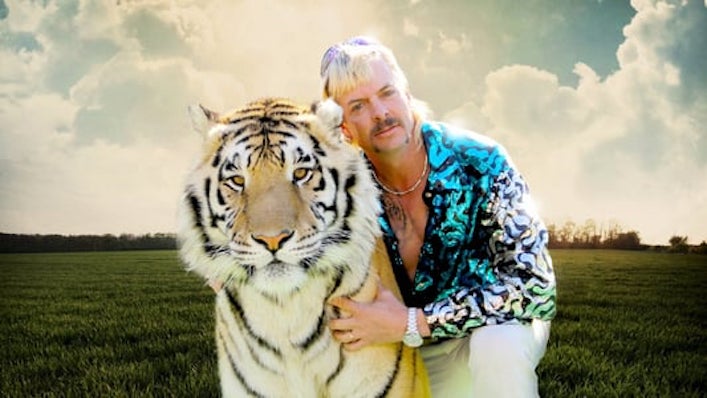 Where to watch
Hark to the story of Joe Exotic, flamboyant private zoo owner, lover of tigers and several men, amphetamine fan and subject of this trashtastic but addictive documentary series, which takes us into the weird world of private exotic animal ownership in the US, where it seems to right to bear arms and the right to own bears are of similar import. Simply must be seen to be believed and, thanks to being the breakthrough series of the early pandemic, it seen and believed by millions.
Where to watch
TV legend David E. Kelley (Ally McBeal, Boston Legal) adapts Jean Hanff Korelitz's novel You Should Have Known, casting our Nicole Kidman as the New York socialite psychologist who begins to suspect her oncologist husband (Hugh Grant) of skullduggery after the dead body of a disturbed young woman is discovered. A sleek and slippery mystery whose solution isn't as much fun as the journey along the way, this nonetheless boasts precises, engrossing performances from Kidman and a well-and-truly back on form Grant.
Where to watch
The notion of a multi-Level marketing sex cult may sound comical, but the story of convicted cult leader Keith Raniere is anything but. As revealed here, Raniere is a master manipulator who somehow convinced dozens of women that he was the second coming through a weird combination of motivational speaking, social isolation, grooming and straight-up woo lunacy. The presence of third tier celebs like Allison Mack (Smallville) and Nicki Clyne (Battlestar Galactica) add a frisson of Hollywood style and sleaze to this already sordid story, the second season of which is coming in 2021.