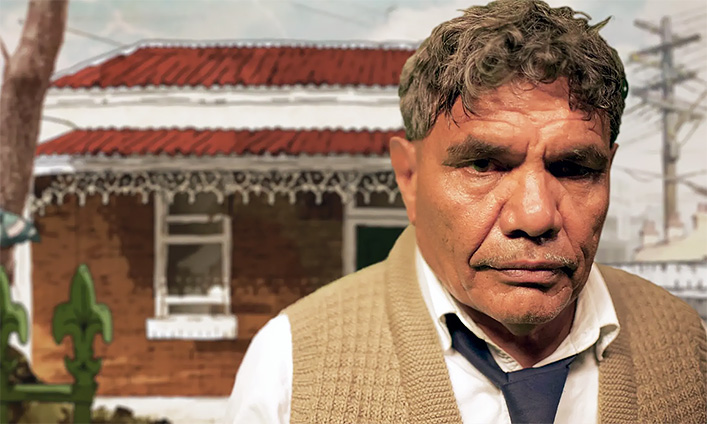 The Skin of Others is an important documentary about Indigenous Australian veteran and activist Douglas Grant

---
Documenting the life of the historically neglected Douglas Grant, an Indigenous Australian war veteran and activist, The Skin of Others is a key title in this year's online-only Sydney Film Festival. It's important viewing, writes critic Sarah Ward.

In The Skin of Others, Balang Lewis (previously known as Tom E. Lewis) plays Indigenous Australian activist and World War I veteran Douglas Grant. The documentary marks the great Indigenous actor's final on-screen appearance before his sudden death in 2018, and it's as vital as anything else on his resume. Grant is hardly a household name in Australia. His story isn't widely known, and it certainly isn't taught to schoolchildren. As directed by Tom Murray (Dhakiyarr vs the King), The Skin of Others endeavours to correct this, premiering as one of the key titles of this year's online-only Sydney Film Festival, and making an educative and impassioned investigation into Grant's life.
Sign up for Flicks updates
In his third project dedicated to the real-life figure, Murray explores how Grant's lived experience speaks volumes about this nation. Aided by recreations starring Lewis, The Skin of Others brings Grant's plight to the screen, while making two points plain. Although focused on one man, this is an essential and revealing overview of Australia's past—and, as it steps surveys Grant's life, it demonstrates why this tale has remained unknown to much of the country.
Born into pre-federation Australia, and transplanted into a white family courtesy of the frontier wars, Grant's story is the story of colonial Australia. It's one in which an Indigenous boy is taken from his slaughtered family and given what's badged as a "better life", treated equally and kindly by his Scottish adoptive parents, yet faces discrimination and cruelty elsewhere—when enlisting with the Anzacs, upon his return after being held prisoner in Germany's Halbmondlager camp, and when openly advocating for the rights of Aboriginal Australians.
Stepping through Grant's life story in a linear fashion, The Skin of Others isn't short on details to cover. Grant was well-educated, reportedly gifted at taxidermy—his adoptive father worked at Sydney's Australian Museum—and considered an intellectual. He was a draughtsman and a radio journalist, could play the bagpipes and sport a Scottish accent, and crossed paths with both Austrian Archduke Franz Ferdinand and Australian poet Henry Lawson. He penned newspaper editorials about the treatment of Indigenous Australians, which didn't go unnoticed. And he was targeted by others, especially when post-war alcoholism affected his mental health and led to an extended hospital stint, with some offensive articles badging his upbringing "an experiment".
All of the above feeds into Murray's film, painting a potent portrait that's fleshed out in multiple ways. The Skin of Others also features the talking heads of historians, Grant's surviving adoptive relatives and other interested parties, as well as audio clips from a 1950s radio production about him. Most importantly, it's enlivened by Lewis' often energetic, always thoughtful segments. With poise and enough polish in what's clearly a labour of love, the film champions its subject. And while the documentary's cutesy multi-screen interview format sometimes proves distancing, nothing can distract from Grant's powerful story.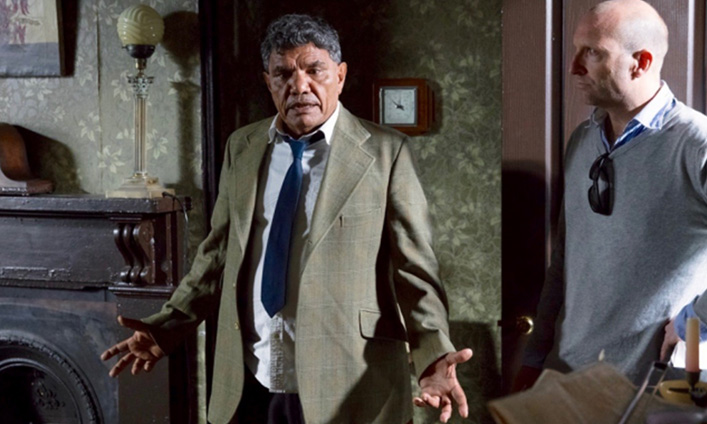 Nothing can erase The Skin of Others' statement about Australia either, which is immediately evident but solidifies with each passing moment. This is a work of interrogation and unearthing, revealing a narrative that the country might've otherwise happily forgotten.
It is also an impressive swansong for Lewis, whose career doubles as a snapshot of Australian film and television across the late 20th and early 21st centuries. His filmography includes influential TV programs A Town Like Alice, The Flying Doctors and The Circuit, alongside big-screen standouts We of the Never Never, The Proposition, Spear and Goldstone. Of course, he'll always be known for The Chant of Jimmy Blacksmith, the only part he held in the same esteem as his work here. When Murray shares that detail via voiceover, it's a touching moment, and it gives The Skin of Others added weight.
As Lewis clearly recognised, to explore Grant's experiences is to confront the attitudes and actions this nation is built on, which still echo today. Indeed, it's no wonder that the actor was so proud to be involved. Lewis and Murray intended to make a feature film about Grant's life, before Lewis' unexpected passing. We'll never see that movie, but the documentary that sprang in its place shares a crucial historical tale that demands attention.
The Skin of Others is available to rent via the Sydney Film Festival website