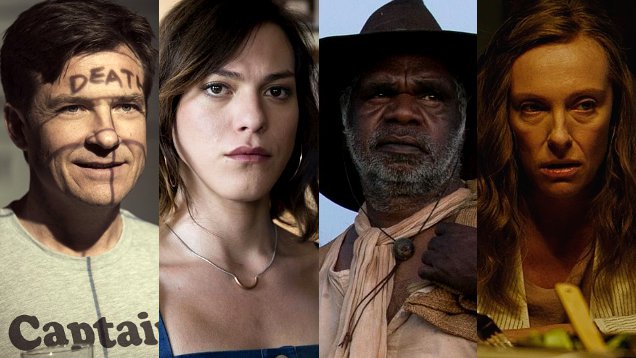 Now that we're half way through the year, it's a good a time to take stock on the best cinema releases so far in 2018. Critic Luke Buckmaster picks his top 11 films.
The first two and a half minutes of Game Night – which show Max (Jason Bateman) and Annie (Rachel McAdams) meeting, falling in love, marrying and flexing their ultra-competitive instincts – could have consumed an entire act. Instead co-directors John Francis Daley and Jonathan Goldstein bolt out of the gates with dazzling narrative thrust, using time-crunching montages and scenes that literally (through creative transitions) fold into each other.
If Game Night's marketing materials suggest a toothless star-driven comedy, this fabulously shrewd and entertaining film – based on a terrific screenplay from Mark Perez – is the year's great surprise. The story of a group of friends' weekly game night getting out of hand – following a kidnapping that may or may not be real – is one of few pictures to reflect, and even match, the work of the greatest comedy writer/director of the sound era: Preston Sturges. Commentary on a blasé middle class is present but not overt, the jokes are regular and hilarious, and the film's core themes are shrewdly reiterated in its aesthetic. Keep an eye out for long exterior shots styled to resemble board games.
This delightful Oscar-nominated documentary is about the process of creation: for literal art, and for decisions that make up the narratives of our lives. Legendary filmmaker Agnès Varda travels across French countryside with her much younger co-director and protégé, JR, who owns a van that doubles as a printing lab. From it the pair produce building-sized, Banksy-esque posters they erect in small towns and industrial areas. With a structural playfulness more common in fiction (particularly films from the French New Wave, which Varda's work majorly influenced) Faces Places is slight but profound; a big picture full of small and exquisite details.
Many positive words have been written about director Warwick Thornton's second narrative feature film, following his 2009 masterpiece Samson and Delilah. At this point in time I'm not sure I can add much to the discussion, beyond acknowledging that what the critics have been saying – along with the general feeling that this marks some kind of milestone for Australian cinema – is correct. Sweet Country is a profound film but also quite a simple one, with crystal clear emotional clarity and no question as to which direction Thornton's revisionist ideologies point, contrasting the Australian history he would like with the one we have.
Despite only recently arriving on screens, something about Sweet Country feels like it has always been with us. That feeling is partly associated with its period setting; the film is based in the NT in the 1920s and follows the story of an Aboriginal farmhand who kills a violent white bigot. But The Guardian critic Peter Bradshaw's description of Sweet Country as a 'biblical western' takes us closer to the truth, acknowledging the timelessness of the story and its core sentiments: compassion, justice, faith in government and faith in self. All of which are examined to various degrees in the context of being squandered.
The selection of this film breaks the rule adhered by the others – that to be eligible for this list a film needs to have had a national theatrical release – for the simple reason that Terror Nullius is almost certainly never coming to a cinema near you. Running for 55 minutes and screening at Melbourne's Australian Centre for the Moving Image gallery, then later at Sydney Film Festival, it is a sensationally mishmashed and rabble-rousing work of political satire from Soda_Jerk, a two-person collective comprising Sydney-born siblings Dan and Dominique Angeloro.
Sign up for Flicks updates
The pair describe their style as existing "at the intersection of documentary and speculative fiction", meshing together pop culture bits and pieces in order to create "a form of rogue historiography". The film plays like a kind of 21st century Beat poetry, with an electric, freewheeling energy obsessed with messing with craft and structure. Terror Nullius is arthouse and grindhouse; high art and low art; avant-garde and kitsch. Here's hoping it finds a home online.
Stripping away all labels and definitions, there are really only two types of films: the films we watch and the films we remember. This rich and unpretentiously insightful Chilean character drama, about a trans woman whose older lover dies in ambiguous circumstances, comes with a feeling that it will never really leave you. Director Sebastián Lelio finds a melodic pace – like a piece of music – for a story about dealing with grief in an unjust world. Daniela Vega's supremely moving performance is inseparable from every element of the experience.
Like the brilliant 2016 German comedy Toni Erdmann, Swedish writer/director Ruben Östlund's Palme d'Or-winning art world satire The Square is long (142 minutes) but uses its running time to space out interactions between characters, so when key moments occur the long slabs in between have changed the context of their relationships. The story of a egotistic but not unlikeable modern museum curator (Claes Bang) has a keen sense of irony and social conscience. At times its messages are a little on the nose, but when Östlund hits his stride boy does the film snap and crackle. The centrepiece scene will go down as one for the ages, involving a fancy dinner party interrupted by a topless performer pretending to a wild primate.
The highly distinctive, if not inimitable British writer/director Armando Iannucci makes films that improve on repeat viewing. I've watched his zinger-slinging 2009 snark fest In the Loop six or seven times, and I'm already up to three viewings of the auteur's similarly bone-dry comedy The Death of Stalin. This ferociously sharp satire explores power-grabbing among top level Russian ministers in the aftermath of the titular event. Droll to-and-fro permeates the script (co-written by Iannucci, David Schneider and Ian Martin), which is tightly focused around a group of conniving politicians. Iannucci combines fast words with a small number of sets. The film is unusual in its devotion to individual scenes; the big moments feel like entire acts.
If The Death of Stalin captured a small number of big moments, The Ritual captures one initially small moment in a very big way. The entire film is an emotional extension of a traumatic introductory sequence, using horror and lost in the wilderness tropes to illustrate the festering guilt experienced by the protagonist Luke (Rafe Spall) after the death of his friend. Returning to this moment late in the running time in a most interesting way – distilling in visual terms the thematic essence of the film – director David Bruckner has made a deceptively clever piece of work that both satisfies and transcends genre expectations. The Ritual was scooped up by Netflix and badged as a 'Netflix original'.
At its core writer/director Ari Aster's bone-chilling debut explores the inability to escape ourselves and our ancestry: our DNA, our blood, our genetic makeup. The lasting impression weirdly combines mental and physiological, as if psychology runs through our veins. Toni Collette (in the best performance in a horror movie since fellow Australian Essie Davis was sent through the wringer in 2014's The Babadook) delivers a spellbinding performance as a distraught mother trying to hold her family together.
It takes about 20 minutes for the first vision to arrive of what may or may not be a ghost, but this is far from a standard scary movie a la jump scares and creaky floorboards. Instead it is a film that counteracts loud moments with quiet dread. Aster's story unfolds in the opposite direction of most character-driven narratives, in that it is about suffering fate rather than pursuing destiny. Integrating visions of doll houses (constructed by Collette's character) was a masterful touch, warping our sense of scale and spatial awareness.
A superhero movie with a genuinely interesting concept…is that even allowed? The premise underpinning Incredibles 2 is that superheroes, in these dark and complicated times, can no longer rely on presumed valiance to sustain favour with the public. They require – as the filthy rich, superhero-supporting entrepreneur Winston Deavor (Bob Odenkirk) successfully pitches – some serious rebranding. An equally media savvy villain called the Screenslaver also understands this and returns fire, making writer/director Brad Bird's belated sequel to his 2004 hit a hyper-coloured Gruen fantasy.
Like Hereditary and Faces Places, the latest film from Wes Anderson – who is one of the most distinctive directors in contemporary cinema – is a work of visual bravado. You can take or leave Isle of Dogs' cutesy story about a boy searching for his lost canine, and the characters – pooch and people alike – are quickly forgotten. But the personality of the film itself prevails, with its excessive kitsch and tooth-achingly pedantic aesthetic.
The director manipulates the frame with machine-like precision, coupled with boyish enthusiasm for the simplest things: moving images up, down, left, right. This enthralled me on first viewing but in hindsight feels a little cold and mechanical. For Anderson, who prefers mise-en-scène over method and content over technique, the what is always more important than the why. This is the reason we remember his films for how they look and feel, not what they think or say.