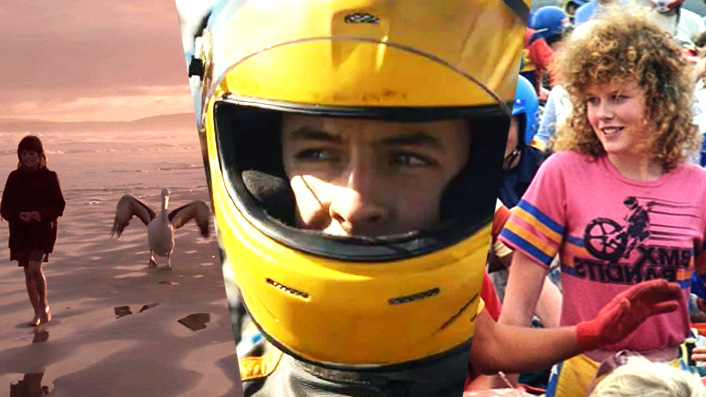 The 12 best Australian kids movies

---
The go karting movie Go! (now in cinemas) joins a long line of highly memorable Australian kids films. Critic Travis Johnson embraces his inner child to come up with this list of a dozen of the very best.
The new Aussie family film Go! is rocketing into cinemas this week, telling the tale of newcomer Jack's (William Lodder) campaign to prove himself on the go-karting track in regional Busselton, Western Australia. He hopes to beat bully Dean (Cooper van Grootel) and win the heart of tomboy mechanic Mandy (Anastasia Bampos) in the process.
Go! is the latest in a proud legacy of Australian cinematic kids' fare. Here are a dozen of the very best kids movies Australian film has to offer.
Sign up for Flicks updates
Adapted from Colin Thiele's immortal coming of age novel and probably the best film on this list. When young Mike (Greg Rowe), who lives on a remote spit of beach with his hermit father (Peter Cummins), finds three orphaned pelican chicks, he resolves to raise them himself, which prompts eventually heart-rending lessons on the cycle of life. Featuring an early turn from the great David Gulpilil (as Fingerbone Bill) and stunning work by veteran Australian cinematographer Geoff Burton (Dead Calm, Flirting), this is a genuine classic of Australian cinema. Skip the remake.
Yoram Gross, the father of Australian animation, is responsible for this one: a live action/cartoon adaptation of Ethel Pedley's children's book, in which a little girl lost in the bush (voiced by Barbara Frawley) is saved by a red kangaroo (Joan Bruce) and taken on an adventure before returning safely home. A little rough around the edges by modern standards, this is still a delightful little kids' adventure that spawned no less than eight sequels, made up until 1994. Also, Spike Milligan turns up as a platypus – you gotta love that.
Made at the height of the BMX craze, this one sees three bike-riding teens – Angelo D'Angelo, James Lugton, and a pre-fame Nicole Kidman – take on a gang of bank robbers with the help of some stolen walkie talkies and their rad bikes. The film is notable for our Nicole, some quite impressive bike stunts, OTT use of famous Sydney locations, and the fact that it's directed by the man behind Turkey Shoot and Dead End Drive-In: Brian Trenchard-Smith.
American import Henry Thomas (E.T. and, most recently, Doctor Sleep) plays American import Cody, newly orphaned and packed off to Australia where he runs smack into the Indigenous myth of the bunyip and other mystical ephemera in this "kids on bikes" adventure from, once again,  Ozploitation mainstay Brian Trenchard-Smith. Packing a strong environmental message, Frog Dreaming sort of feels like a home grown precursor to Stranger Things, if you squint a bit.
Yes, the sheep-pig movie. Combining live action with Jim Henson Creature Shop puppetry and cutting edge CGI, director Chris Noonan and producer George Miller (they both co-wrote) adapt Dick King-Smith's novel about a piglet who has a talent for corralling sheep. The whole thing is kind of a riff on Charlotte's Web. Crusty old James Cromwell is Babe's crotchety owner, with Magda Szubanski as his wife and Hugo Weaving the voice of a sheepdog. It's adorable.
Mad Max maestro George Miller brings us this all-singing (mostly) CGI-animated extravaganza, in which cute lil' penguin Mumbles (Elijah Wood), who can't sing to attract a mate, tap dances his way into our hearts. With a voice cast featuring Robin Williams, Brittany Murphy, Hugh Jackman, Nicole Kidman, Hugo Weaving, Steve Irwin, Magda Szubanski and more, top notch animation from Sydney outfit Animal Logic, and a big heart, this one's a real winner. Skip the sequel, though.
Kriv Stenders brings the legend of the far-travelling Pilbara cattle dog to the big screen in a winning film that launched a successful franchise. Both Red Dog: True Blue (2015) and Koko: A Red Dog Story (2019) are also worth a gander, but the original film – in which the titular dog's wanderings are explained as him looking high and low for his deceased master (Josh Lucas) – is the best. Bittersweet, heartwarming, and likely to get you thinking about every Good Boy who's been a part of your life.
When a mining company threatens to raze the abandoned drive-in where he lives with his grandfather (David Gulpilil), Indigenous kid Pete (Cameron Wallaby) and his tearaway mate Kalmain (Joseph Pedley) resolve to ride their bikes from the remote desert to the city, to appeal directly to the head office. Writer and director Catriona McKenzie mixes a rollicking outback adventure with Australian Indigenous walkabout traditions to excellent and moving effect, exploring how modern and traditional lifestyles intersect.
Biologist Emily (Sarah Snook) and her estranged chook farmer dad, Swampy (Shane Jacobson) heal familial rifts and save countless cute lil' fairy penguins when they hit upon the idea of setting Swampy's Maremma Sheepdog Oddball to guard the bird colonies from foxes on Victoria's Middle Island. Based on a true story (more or less), this animal adventure is an absolute heart-warmer.
Robert "Balibo" Connolly, of all people, directs this crowd-pleaser from Go! scribe Steve Worland. Schoolkid Dylan's (Ed Oxenbould) talent for making paper planes take him all the way  to the World Paper Plane Championships in Japan – healing the heart of his grieving single father (Sam Worthington) along the way. Like Dylan's papercraft creations, Paper Planes is machine-engineered to be uplifting and breezy.
After three seasons on TV, the internationally acclaimed Australian youth series pirouetted onto the big screen for a last hurrah, sending ballet hopeful Tara (Xenia Goodwin) and the gang off to New York City to realise their dreams of toe-tapping success. Fans were well-served by a satisfying denouement to the popular series, but even those not au fait with the world of the show will find this a spirited, surprisingly mature take on the old Fame model.
Fashion model Cora (Disney diva Debby Ryan) decamps to Australia after a social media disaster, bunking in with aunt Margot (Genevieve Hegney) in the beachside hamlet of Tea Tree, finding love with surfer Tom (Andrew Creer) and taking to the waves herself. This is a tween dramedy/romance squarely aimed at the distaff half of the audience, and more power to it. Ryan gives a winning performance, sophomore director Rhiannon Bannenberg coats everything in a bright poppy sheen, and as soon as a few life lessons are learned, a happy ending is guaranteed.