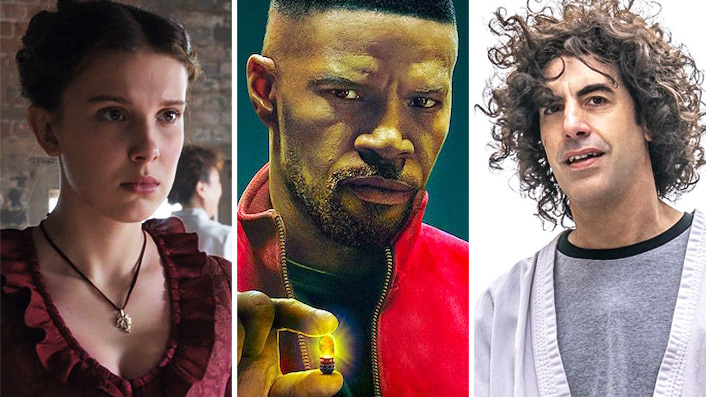 The 10 best Netflix Original movies from 2020

---
Watch a lot of Netflix this year? Of course you did. Critic Travis Johnson picks the top 10 Netflix Original movies of 2020.

I bet you folks have watched a lot of Netflix this year. Me too, me too. The streaming giant has done its damnedest to keep us well fed, in the audio-visual sense, while we crawl through the Hell Year that has been 2020.
TV series aside, Netflix has really doubled down on building their brand as a kind of disruptor studio, offering big name auteurs like Spike Lee, David Fincher and Charlie Kaufman the money and freedom to pursue their wild muse, while still offering up plenty of fun pulp for the less high-minded viewer.
It's been a stacked menu of Netflix Original flicks, to the point where some narrowly missed out on a mention (Extraction, aka White Man on Fire, comes to mind), while others didn't make the grade because I simply didn't have time to see 'em (apologies, Lost Girls—we'll catch up soon). Of the films I did see, these are the 10 best, listed in alphabetical order (but if you really need to know my number one, it's a coin flip between Da 5 Bloods and Mank).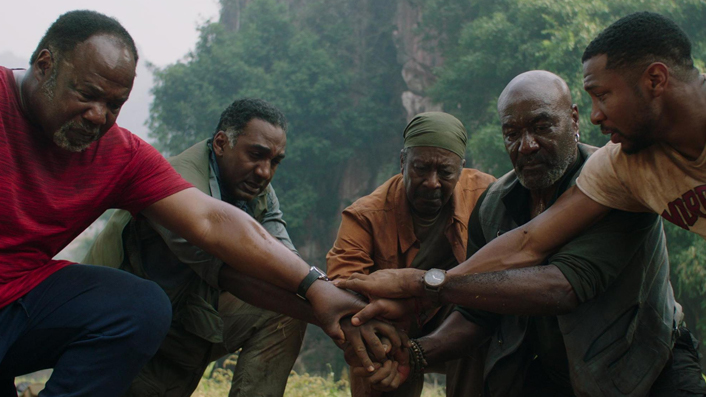 Four veterans—including Delroy Lindo, Isiah Whitlock Jr., Norm Lewis and Clarke Peters—return to Vietnam to track down a secret shipment of gold bars they hid back during the war, and also the field grave of their commanding officer (Chadwick Boseman) who was killed in the attempt. What starts as a rote back-to-'Nam/guys-on-a-mission movie becomes, in the hands of mater filmmaker and polemicist Spike Lee, a rousing and moving look at the intertwined nature of African-American culture and military life.
Well, not quite, but sort of. Documentarian Kristen Johnson puts the camera on her elderly father and together they act out and record possible death scenarios for him, both knowing that his dementia will soon result in the real deal. Blackly funny and quite poignant, this is a daughter's beautiful paean to her ailing father, celebrating his life but still indulging in the off-beat humour that was clearly core to their interpersonal dynamic.
The titular teenage sister (Millie Bobby Brown) of Sherlock (Henry Cavill) and Mycroft (Sam Claflin) has to put the familial knack for solving mysteries to use when her mother (Helena Bonham Carter) disappears and the elder brothers don't seem to be up to the task. Based on the popular YA novels by Nancy Springer, this is a brisk, buoyant, markedly feminist take on the old Victorian mystery format, and should give the charismatic Brown another franchise to jump to once Stranger Things inevitably winds down.
Will Ferrell and Rachel McAdams are delusional Icelanders who dream of representing their country in the eponymous song contest. Inevitably they get their wish—and that is pretty much all the plot you get. Yet the Fire Saga is so specific in its aims, nailing the camp but epic flavour of Eurovision so precisely, that the result is one of the best comedies of the year—and a reminder in this time of lockdowns and social distancing that the rest of the world is still out there. Ya Ya Ding Dong indeed.
On a long drive to meet her boyfriend's (Jesse Plemons) parents (Toni Collette and David Thewlis), a young woman (Jessie Buckley) contemplates calling off their relationship. And then things get weirder, because this is a Charlie Kaufman joint; the writer of Adaptation and Being John Malkovich is not going to make things easy on us. This is another of Kaufman's deeply metaphorical musings on the meaning of it all. There's a better than even chance you'll be annoyed by the whole thing, as Kaufman eschews such fripperies as "narrative causality" and "catharsis," but if you can pick up what he's laying down, this is a must.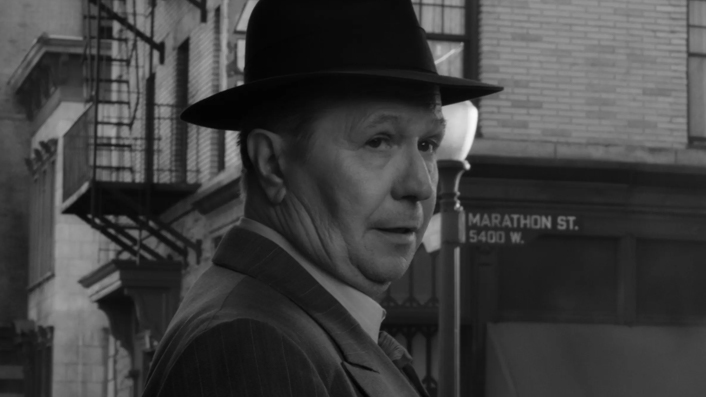 Alcoholic screenwriter Herman Mankiewicz (Gary Oldman) uses his own experiences with magnate W.R. Hearst (Charles Dance) and starlet Marion Davies (Amanda Seyfried) to write the first draft (or so—the controversy is real) of Citizen Kane, which goes on to be the greatest movie ever made. Mank, for his part, gets to tile at the windmills of power—but at what cost? David Fincher's glossy black and white biopic is less interested in the "Who wrote Kane?" argument than in depicting Mank's ethical awakening, and it's all to the betterment of the film.
Freediving in a South African kelp forest, documentarian Craig Foster forms a bond with a young octopus and spends a year in her company, getting to know her life and world. A fascinating look at interspecies empathy and arguably an account of communication with a genuine alien intelligence (when you start Googling "cephalopod intelligence" you are in for a wild time), My Octopus Teacher starts out as mesmerizing and ends up being genuinely moving.
Charlize Theron is Andromache of Scythia (look it up), now the leader of a band of immortal mercenaries who fight ugly little wars in the shadows of the modern world. When an ex-CIA agent (Chiwetel Ejiofor) and a pharma CEO (Harry Melling) shanghai the gang to find out how come they don't die, it becomes a rare fight for survival in a life that should be endless. Based on the comic by Greg Rucka and Leandro Fernandez, this is basically Highlander with the serial numbers filed off—but given the sorry state of the official franchiser, bootleg Highlander is pretty good by comparison. Obviously a franchise starter; the upcoming sequel will decide if it was successful as such.
Jamie Foxx's Delta Force operator teams up with Joseph Gordon-Levitt's New Orleans cop and Dominique Fishback's streetwise dealer to try and discover who's behind a new drug that gives its users random superpowers.  This is a lo-fi, gritty, street level brand of superheroics—think Jumper (2008) or Push (2009) rather than any of the big MCU/DCEU tentpoles—and as such comes as something of a refreshing change of pace. Foxx and Gordon-Levitt in particular acquit themselves now, and it's only the nigh-inevitable attempt to hold back story resolution in hopes of teeing up a sequel that really lets the whole enterprise down.
Following the riots that attended the 1968 Chicago Democratic National Convention, seven anti-war activists get their day in court in what would be not just a pivotal moment in the anti-war movement, but protest politics in the late 20th century as a whole. Written and directed by The West Wing's Aaron Sorkin, this loses points for uber-liberal Sorkin's unshakable belief that all right thinking people speak and think like him (Abbie Hoffman would have despised him) and its failure to centre the disgraceful treatment of Black Panther Bobby Seale (Yahya Abdul-Mateen II).
However deft writing and a stacked cast—including Sacha Baron Cohen, Daniel Flaherty, Joseph Gordon-Levitt, Michael Keaton, Frank Langella, John Carroll Lynch, Eddie Redmayne, Noah Robbins, Mark Rylance, Alex Sharp, and Jeremy Strong—go a long way to alleviating its sometimes stultifying self-seriousness.