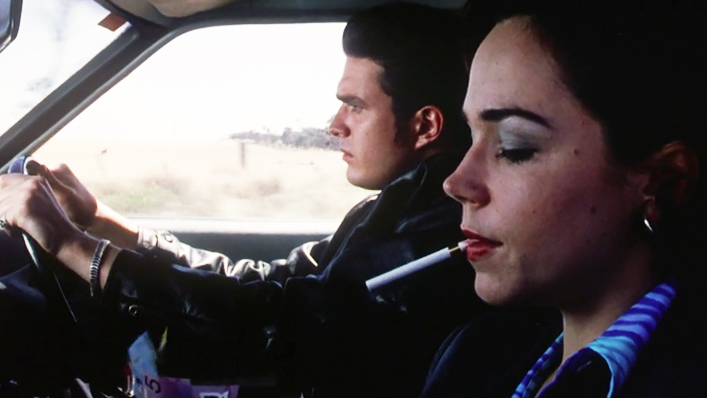 Rediscovering Kiss or Kill, Australia's forgotten noir classic

---
For a long time unavailable in its home country, the 1997 neo-noir classic Kiss or Kill is now, finally, available to stream via Stan. Travis Johnson dives into this forgotten Australian gem.

Australia has a rich tradition of crime cinema, stretching all the way back to Charles Tait's 1906 banger The Story of the Kelly Gang—the first ever full-length feature film (suck it, yanks). Since then, we've had Money Movers, Two Hands, Chopper, Animal Kingdom, Mystery Road and more: a rich legacy of cops 'n' crooks capers. Hell, having started our modern existence as prison colony, it's fair to say that crime stories are part of our national myth.
See also
* The best 50 movies on Stan
* Best new movies & series on Stan
* All new streaming movies & series
But some crime flicks that deserve recognition occasionally slip through the cracks. One of these, writer and director Bill Bennett's lovers-on-the-lam road movie Kiss or Kill, has been hard to track down for years, but has suddenly cropped up on streaming service Stan. Here's why that's a good thing.
Bloody oath, it's outback noir
Kiss or Kill stars Frances O'Connor (Love and Other Catastrophes, Go!) as Nikki and Matt Day (every second Australian film, A Country Practice) as Al, two petty criminals who specialise in drugging and mugging straying businessmen. Targeting married men (they're less likely to call the cops), Nikki prowls hotel bars looking for prey, spiking their drinks when they take her back to their room. That's when Al shows up to help rifling the poor sap's luggage for valuables.
Things go astray when their latest victim dies under the influence and among his possessions they find a videotape showing retired football hero Zipper Doyle (Frank Langrishe) engaged in a particularly heinous sex act. The pair light out from Adelaide, heading across the unforgiving Nullarbor Plain to Perth. In pursuit: two cops (Chris Haywood and Andrew S. Gilbert), who have questions about that dead businessman; and Zipper, who really wants that tape back…
However, things get more interesting (for the viewer) and more fraught (for our desperate duo) when fresh bodies start turning up at every stop they make on their cross country flight. Is Nikki a serial killer? Is Al? How well do they really know each other? And who can we, the audience, trust?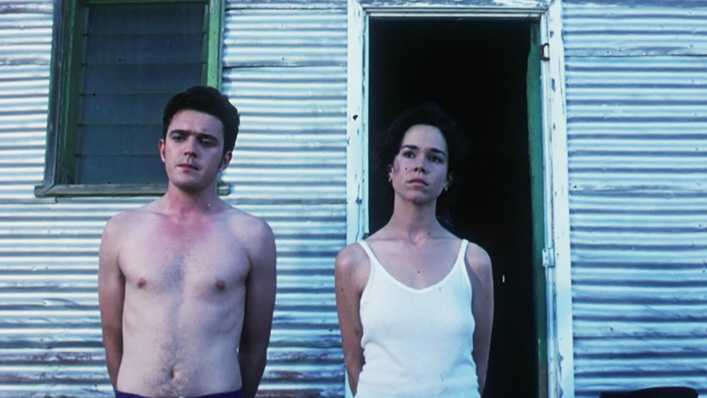 Keeping the viewer off-kilter

Writer and director Bennett had made a number of well received Australian films, including A Street to Die (1985), Malpractice (1989) and Spider & Rose (1993) when he got the call from Hollywood to step up to the big leagues. The result, the unloved Sandra Bullock/Denis Leary rom-com Two If By Sea (1996), failed to set the world on fire, and Bennett was soon back in Australia and looking at an old, as-yet-unproduced project about two criminals on the run.
Shooting in South Australia with a limited budget and tiny crew presented challenges, but also opportunities to experiment. Bennett worked closely with his cast to improvise almost all of the dialogue in the film. Conventional notions such as "continuity" and "coverage" are paid lip service at most; jump cuts abound, dialogue is often out of synch, and while the headlong rush to Western Australia gives us some sense of structure, the story unfolds in an oblique, covert manner, only giving us enough information about the characters to keep us hooked in. Crucially, there's no music score: the background soundtrack is the rustling wind of the desert, the lonely hum of motel lightbulbs and air conditioners.
In lesser hands this could come across as amateurish, but instead Kiss or Kill keeps the viewer off-kilter but fully engaged. There's a sense of wrongness, of evil scarcely concealed under a thin skein of normality, that is somewhat reminiscent of David Lynch on a less surreal day. At any given moment you feel that something terrible could happen—or is happening, just out of sight. We just don't know who's doing it, or why.
The femme fatale and the James Dean incarnate

But Bennett's bold craft wouldn't add up to much if the central pair weren't perfectly cast and fully committed to the project. As Nikki, O'Connor is a broken doll: a slinky, sexy seductress clearly carrying a surfeit of trauma: the opening scene shows her, as a child, watching her mother being doused in petrol and set alight by someone we assume is her father. In voice-over, she monotones that she doesn't trust men—it's plain to see why. It's a deceptively precise performance, evoking the femme fatales of classical film noir without tipping over into unwitting parody.
Day, for his part, is taciturn but fascinating as Al. His role as the James Dean-fixated Julian 'Luke' Ross in popular soap A Country Practice made his name in Australia, and here he cleverly subverts the character, retaining the iconic leather jacket and slick hair, but imbuing him with a capacity for violence—and possibly murder?—that is both alluring and repellent.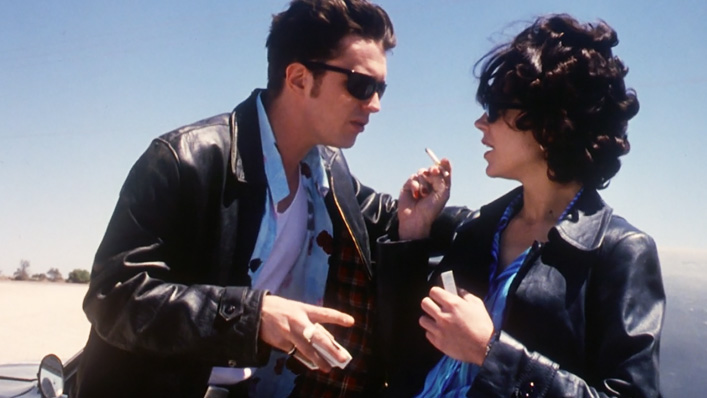 It's the dynamic between the two that really sizzles. We're told the pair have known each other since they were children and their relationship has the reckless abandon of young love, but we also sense they're holding things back from each other—a wary tone underpinning their increasingly tense exchanges as the film progresses and the bodies pile up. Day and O'Connor manage to make us root for the pair and care about what happens to them, while at the same time never fully trusting them. It's a powerful, complex double act.
They're abetted by a great supporting cast. Chris Haywood and Andrew S. Gilbert provide dry comedic relief as the seen-it-all cops on their trail, and Australian screen veterans Max Cullen and Barry Otto show up as two eccentrics our antiheroes encounter at different times on their journey, while Frank Langrishe is suitably menacing as the malevolent Zipper. However, Bennett smartly keeps a tight focus on his central couple, drawing us into their world while not quite giving us access to their inner lives, a tantalising directorial decision.
At last, Kiss or Kill finds an audience

Long unavailable on home release, Kiss or Kill is at last finding a new audience thanks to festival screenings and now streaming availability. While it may lack the polish of some of its genre mates, it is defiantly its own thing: an experimental, confronting riff on a well-worn genre trope, dripping with atmosphere, and packed with excellent performances. Old hands will be happy to revisit this unjustly ignored gem, while newcomers are in for quite a trip.