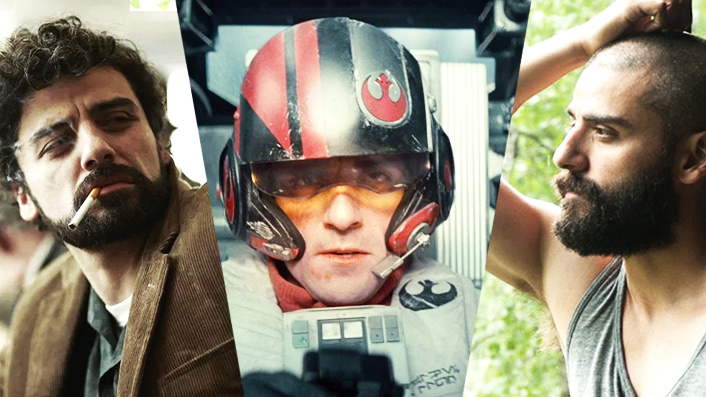 Oscar Isaac's 10 best roles, from Star Wars to Inside Llewyn Davis

---
Ten years ago few people had heard of Oscar Isaac. Now he's everywhere, appearing in art films and blockbusters alike. Critic Sarah Ward picks Isaac's 10 best roles.
The most difficult part of Inside Llewyn Davis, the Coen brothers' sublime 2013 dramedy set in the early 60s folk scene, is believing that any singer played by Oscar Isaac wouldn't be a star. The Guatemalan-born, US-raised actor oozes melancholy while crooning songs with the exact same flavour. He's such a weighty presence – even with all of the increasingly despondent musician's many flaws – that it always feels like success should naturally follow. It doesn't.
Thankfully, Isaac's career trajectory hasn't matched that of his famous character – even if, just a decade ago, he wasn't considered one of the best actors in the world. His on-screen resume dates back to 1996, and he has worked solidly since the mid-2000s. However his last ten years have been especially kind, playing everyone from Nobel Peace Prize winner José Ramos-Horta and Yonkers' youngest-ever mayor Nick Wasicsko to Star Wars pilot Poe Dameron.
Sign up for Flicks updates
When Balibo begins, Anthony LaPaglia is its star. When it ends, he's given fierce competition by Isaac. They both won Australian Film Institute Awards for their excellent performances – for lead and supporting actor respectively – however Isaac threatens to steal this astute and moving thriller.
Based on real-life events, Robert Connelly's film charts the story of the Australian journalists known as the Balibo Five after they were captured and killed while reporting on Indonesia's 1975 invasion of East Timor. As José Ramos-Horta, who was the country's president at the time of the movie's release, Isaac is at his complex best.
Like Paul Rudd in Romeo + Juliet, Drive casts Isaac as something that might now seem to defy belief: the undesired romantic alternative. He plays Standard, the just-out-of-jail husband to Irene (Carey Mulligan) and neighbour to the film's unnamed stunt driver protagonist (Ryan Gosling). Jis return home dampens a budding romance.
Nicolas Winding Refn knew what he was doing, though, with Isaac making a hefty imprint in a modest role among a sizeable roster of talent. Of course, Drive's charms are many – its gorgeous neon-hued frames and intoxicating score, for example – but that one piece of casting ranks firmly among them.
It'll never cease to amuse that, long before Isaac and Adam Driver would head to outer space in the Star Wars franchise, they'd sing together in Inside Llewyn Davis. The novelty song in question, entitled Please Mr. Kennedy, is a turning point for Isaac's eponymous folk singer.
It's not what he'd like to put his talents to, but he needs money for his friend and fellow folk singer Jean (Carey Mulligan) – which is just the latest in his long string of woes. Life keeps beating him down and struggles to secure gigs, while of chasing a ginger cat around New York. Isaac sings the bulk of soundtrack one soulful word at a time.
Isaac makes an alluring third wheel in The Two Faces of January, his second collaboration with Drive screenwriter Hossein Amini. Based on Patricia Highsmith's 1964 book of the same name, the film places scamming tour guide Rydal Keener (Isaac) between American con man Chester MacFarland (Viggo Mortensen) and his younger wife Colette (Kirsten Dunst).
The trio cross paths when the MacFarlands sojourn to Greece – flouting their wealth, but with something sinister lurking behind their glitzy facade. The layered thrills that result make the most of Isaac's charms.
One of the best crime dramas of the past decade hones its focus on Abel Morales (Oscar Isaac) and the heating oil empire he's endeavouring to build in 80s New York. Alas, his competitors have other ideas, hijackings are plaguing his trucks, and an Assistant District Attorney (David Oyelowo) is investigating his business.
Co-starring Jessica Chastain as Morales' wife Anna, J.C. Chandor's A Most Violent Year takes its time to unravel its murky depths, but every second is gripping. The same description applies to Isaac's performance, as well as his compelling back-and-forth with the also-stellar Chastain.
The darkness lingering inside Nathan, Ex Machina's technology company CEO, suits Isaac. He wears it arrogantly but nonchalantly, as search engine programmer Caleb (Domhnall Gleeson) discovers when he wins an office contest to spend a week in Nathan's home.
In what plays like Alex Garland's thoroughly modern (and excellent) version of Mary Shelley's Frankenstein, the film then unleashes its true point of interest: artificially intelligent android Ava (Alicia Vikander), who Caleb has been summoned to test. The task calls into question everything Caleb thinks he knows about humanity, all with Isaac's Nathan prowling around the edges. From start to finish, this is a smart, engrossing sci-fi with performances to match.
Co-written by The Wire's David Simon and William F. Zorzi, and directed by two-time Oscar winner Paul Haggis, Show Me a Hero is a television masterpiece. And while he has ample help from a cast that also includes Winona Ryder, Catherine Keener, Alfred Molina, Jim Belushi and Bob Balaban, the six-part 2015 mini-series wouldn't be as masterful without Isaac as Nick Wasicsko.
The late-80s Yonkers mayor's story is a thorny one, involving the city's attempted desegregation of its public housing. Like all of Simon's work, this is a show that doesn't just unfurl an exceptional dramatic tale, but has something to say. Unsurprisingly given all of the above, Isaac is the perfect person to sit at Show Me a Hero's complicated centre.
Isaac has co-starred in three Star Wars films: The Force Awakens, The Last Jedi and The Rise of Skywalker. Resistance X-wing fighter Poe Dameron pilot isn't the centrepiece of the franchise's seventh, eight and ninth episodes, but he's a crucial, charismatic part of the team.
Isaac performs with aplomb. The actor's strong rapport with co-star John Boyega as reformed First Order stormtrooper Finn also ranks among the film and the entire space saga's strong highlights.
If Alex Garland's second stint behind the camera belongs to any one actor, it's Natalie Portman. But as Isaac so often demonstrates, he's especially talented at doing the utmost with smaller roles; he doesn't always need to lead the charge to make an impact.
In Annihilation, his character is pivotal. His performance as army soldier Kane, husband to Portman's cellular biology professor Lena and the reason that she agrees to follow in his footsteps to a crashed meteor site, is just as influential. Indeed, Isaac is an essential, memorable part of Garland's intelligent and astonishing sci-fi film.
Against one of Willem Dafoe's all-time great performances, it takes a lot to make an impression in At Eternity's Gate. Isaac achieves that feat as then-underappreciated, now-celebrated but controversial artist Paul Gauguin.
This is always Dafoe's film and Vincent van Gogh's story. It's Julian Schnabel's film too, with the painter and filmmaker crafting a vivid and expressive rendering of van Gogh's final years. But the time that van Gogh and Gaugin spend together casts a distinctive shadow over everything that follows and, in addition to its real-life basis, much of that stems from the interplay of two fantastic actors at the top of their game.