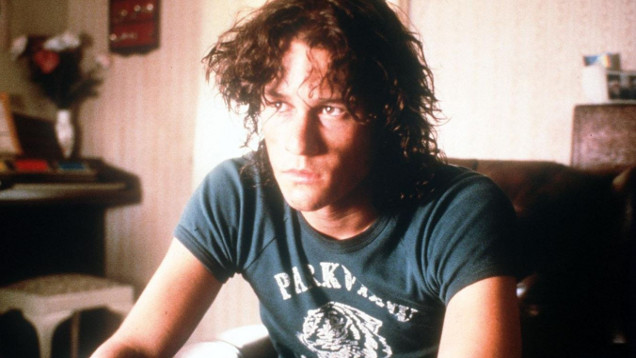 Happy 20th birthday Two Hands! Why this Australian classic is better than ever

---
Now twenty years old, the Australian film Two Hands was one of the first demonstrations of Heath Ledger's awesome talent. Blake Howard unpacks this crime classic, which keeps getting better with time. 
Alex (Rose Byrne) is wandering around the sun-drenched Kings Cross streets armed with a camera. In the late nineties, Sydney's infamously sleazy nightspot had cemented its soiled cesspool status. Walking through the Cross during the day, however, is like walking over the body of a gigantic, heavy, sleeping, nocturnal beast. In the cover of darkness, the imperfections are veiled by all sorts of sordid distractions. With the sun beating down, the cockroaches have scattered into the cracks, and it has a rare empty feeling.
It's at this moment that Jimmy (Heath Ledger) happens upon her. Jimmy has one instruction for his future job for Cross' footy-short wearing crime king Pando (Brown Brown): don't be late. Alex inspires a diversion. It's a loaded and awkward encounter – taking place twelve minutes into this classic movie, Two Hands – which blooms when Jimmy discusses her camera (a serious piece of Minolta SLR machinery for 1999).
Jimmy gets in a fight stance; Alex takes a snap and gives a little appreciative chuckle. Jimmy begs Alex to let him take one of her, with the following reassurance: "I promise I'm not going to run off with your camera, ayyy." Ledger's smile punctuates that line. It's in that moment Australia's most dynamic, charming, and downright prodigiously talented actor of a generation truly announced his arrival. Ledger had graced our screens before, but not like this.
Alex hands Jimmy the camera; he readies the lens. Jimmy asks Alex to do something, but neither of them knows what that should be. Director Gregor Jordan then flexes his Hitchcock film muscle and homages Rear Window. Jimmy nurses Alex's SLR, the camera presses in. The aching score swells and just like Jimmy Stewart, our Jimmy raises his eyes from the viewfinder to the subject in disbelief. Alex stares. Rose Byrne's alluring beauty is staggering. The exchange is mesmerising. Byrne's effortless, hypnotic appeal is encased in an ambivalent mystique. It's a profound potential for another life that would not be accessible without the camera. Ledger pivots from oozing charm to distracted and shaken.
This exchange is a sustained lightning strike. Two Hands, Gregor Jordan's kick-the-fucking-door-down directorial debut, scorched Australian cinematic soil irrevocably with Ledger and Byrne's star power.
A hilariously absurd Sydney crime tale, Two Hands follows Jimmy, a nightclub bouncer turned potential courier for the king of Sydney's King's Cross, Pando. Jimmy's first delivery fails miserably, resulting in him being relieved of $10,000 of Pando's money and evading head henchman Acko's (David Field). With the help of his brother's old flame Deidre (Susie Porter), he lines up an armed robbery to get his hands on enough money to pay back the debt and save his life.
Sign up for Flicks updates
Thumbs Up and Down – Ying and Yang
When you talk about the critical reception for Two Hands, two names immediately jump to mind from that point in Australia: Margaret Pomeranz and David Stratton. The Movie Show was a fixture on SBS, and their reception of Australian movies were "make or break" at the local box-office. Their mostly glowing reviews only struggled with the spiritual storyline of the film, and that's something that deserves more focus. Jimmy's brother 'The Man' (played by Steven Vidler) was derided as "silly."
But in this essential portrayal of Australia, Jordan posits dark blemishes in the past that, as much as we attempt to bury them, refuse to lay low. Jordan's manifestations of karma make light of unease in the hidden layer of the Australian consciousness. It feels like Jordan began to tap into a vein of emerging thought. The Australian New Wave in the 1970s tackled the haunting reality of Australia's past overtly in films like The Last Wave. Two Hands stitches it into the fabric of the city with Indigenous eccentrics pausing from day drinking to be photographed or homeless, abandoned children discarded from society (some also Indigenous) always hustling in and around these tourist icons. Two Hands shows the dirt under the fingernails of this city on the precipice of Olympic status.
Just too good to be true
Australian movie consumers are fickle bastards. Despite producing talent like Ledger and being privy to his star power in advance of the world in Two Hands, Australia needed international audiences to legitimise him, which came through the success of 10 Things I Hate About You. 
The industry recognised Two Hands and that translated into a slew of Australian Academy of Film and Television Arts (AACTA) and the Australian Film Institute (AFI) awards in 1999. The film won Best Picture, Director, Original Screenplay, Editing (for the Academy Award-winning Lee Smith) and Supporting Actor (Bryan Brown). The dual-edged tragedy is that Byrne wasn't nominated and Ledger lost out to Russell Dystra's first performance in Soft Fruit. With due respect to Mr Dystra, Ledger's transcendent legacy was elevated to the rarified James Dean and River Phoenix status. That nomination is one that got away.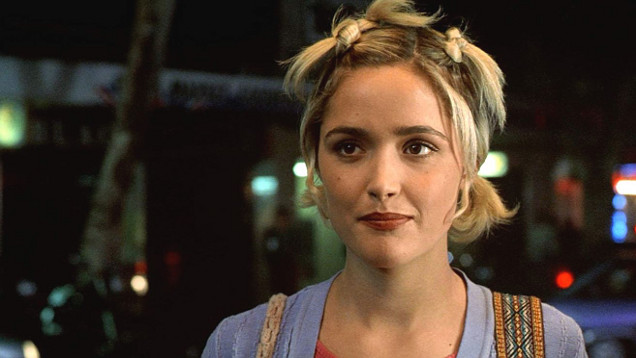 Cough Cough, Bang Crash
Jimmy's attempted courier drop-off feels like another homage from Jordan; this time to the absurd black comedy of the Coen Brothers. If you remember the savage hilarity in Fargo – when, for instance, Jean Lundegard (Kristin Rudrüd) ran through her home, draped with a shower curtain and crashing into walls like a pinball to evade a pair of kidnappers – you'll recognise the DNA in Jimmy's attempted delivery to Sharon (Jacquy Phillips). Walking through her apartment spluttering, Sharon tries to curtail a stubborn, persistent cough with a cigarette. Inhaling seconds before Jimmy arrives, the puff is debilitating, floundering, suffocating: emphysema has never been so funny. Instead of distress, you're cackling and howling at Jimmy's predicament.
Great action heists need anticipation: an inference that there are things that can (and will likely) go wrong. Timing is everything. The heist in Two Hands is a delight. The planning phase unfolds in what can only be described as every suburban nan's lounge room. It's designed and orchestrated by the matter-of-fact Deidre (Susie Porter) and emphatically approved by the aggressive mullet-wearing bogan (Steve LaMarquand).
Jimmy makes the severe error to visit Alex in the city, resulting in a kidnapping by Pando, Acko and co. His escape comes with the harsh truth that his brother's entanglement with Pando was fatal. No sleep, timetables interrupted, this great bait and switch has us sure that Jimmy is ready to implode. There may be nothing better than Wozza's (LaMarquand) graceless tumble from the counter to unconsciousness. The time that Jordan allows us to simmer in the moment and the confusion of driver Craig (Kieran Darcy-Smith) as Jimmy delicately knocks on the window never gets old.
And now, before we continue, we interrupt normal programming for a very special news bulletin, which we can call:
Ten Nineties Australian-isms To Love About Two Hands
1. Tucking your singlet (aka tank top) into tracky-dacks (tracksuit pants).
2. Going for a swim in your undies at Bondi Beach.
3. Four Holden Commodores parked in your front yard.
4. Steve LaMarquand's "skullet". Not to be confused with a mullet (business out front and party on top), a skullet is tight shaven head on the top, and a party splayed out the back. It's the latest iconic haircut for rugby league players in Australia.
5. "Black Thunder" utes – Australia radio promo vehicles, driving the expanse of Sydney for increasingly elaborate and incomprehensible commercial radio promotion.
6. The Sydney Monorail (may she rest in peace).
7. Footy shorts as the preferred attire for every occasion.
8. Calling "013" directory assistance.
9. The word "dero." As in: "How can you be a dero and a history teacher?"
10. Every word out of Bryan Brown's mouth.
Bloody Hell, This Bastard's Just Summed it All Up
At the end of Two Hands, a simmering karmic power passed to Helen (Mariel McClorey). After Acko's sociopathic callousness inflicting the death of Pete (Evan Sheaves), the universe had received a debt that required payment. With righteous flames in her eyes, this displaced child stalks into the den of one of Sydney's most ruthless criminals and stamps him – and his cronies – out of existence. It's powerful, cathartic and essential. But that is not actually where we leave these characters.
Jimmy and Alex are buying tickets to get out of Sydney. The clerk asks a question for the type of payment – this results in Alex (Byrne) chuckling at Jimmy's confusion. It's an exhale; it's a confession that Jimmy doesn't know. How could he? The final words from Heath Ledger  are: "I don't know, I've never been on an aeroplane before." While we don't need to see Jimmy and Alex take flight, it's clear, as we reflect on the success of Rose Byrne's eclectic career and Heath Ledger's enduring legacy, that these were one-way tickets. Two Hands is a souvenir. They don't make them like this anymore; they can't.