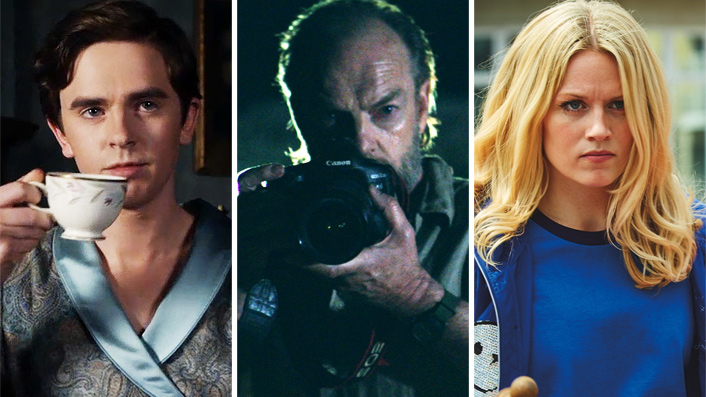 Best new movies and TV series on Stan: July 2020

---
Each month, lots of new films and TV shows are added to Stan's library. Critic Craig Mathieson surveys each month's selections and picks for titles mostworth watching. For the full list of everything arriving on the platform, scroll down.
Top Picks: TV
The latest American true crime deep dive is this Showtime documentary that looks into the case of Greg Kelley, a star high school football player from Texas—a state where star high football players are treated as minor deities—who in 2014 was charged and convicted with the sexual abuse of a four-year-old boy. Aided by a vocal support network advocating for him, Kelley has maintained his innocence, and Emmy-winning filmmaker Pat Kondelis (Disgraced, The Scheme) digs into both sides of the case, while hopefully remembering that besides a question of guilt there's a victim and their family to consider.
Bates Motel seasons one to five (July 10)
Alfred Hitchcock's 1960 classic Psycho is psychologically durable enough to foster all kinds of spin-offs and remakes, with the most enduring being the five seasons of this prequel about the life of a teenage Norman Bates (Freddie Highmore). While the first season is somewhat timid— what do you do with a young Norman Bates?—the show found a sharper foothold as episodes passed, becoming a pulpy study of mental illness and the maternal bond as the focus swung to Norman's mother, Norma (Vera Farmiga), who loves her son but also recognises the danger he bears to others. Bonus: if you stick with it till the final season, you get Rihanna recreating a famous character from the film.
Adapted by playwright Katori Hall from her own theatre work Pussy Valley, this Mississippi Delta-set drama uses a small strip club as the fulcrum to examine an ensemble cast of complex African American characters, including those who are non-binary and queer, with a noir-like mood and a soundtrack of trap music. The show could go a lot of ways, but hopefully like a previous Stan success, Claws, it will prove to be a fresh look at a misunderstood milieu. Hall has already put one clichéd depiction of strip club life aside, shelving the male gaze by only hiring female directors.
If you can't make it through another screening of Shaun of the Dead but still need a fix of zombie apocalypse satire, this British comedy about the unlikely survivors of an undead uprising may hit the spot. Set in Birmingham, it puts a handful of survivors on a puttering canal boat, which can't outpace the lurching zombie hordes but at least keeps them at a distance—until the invariable docking to satisfy a plot point. There are just six episodes, which should prove to be enough to both send up and celebrate the genre.
Top Picks: movies + specials

Playing contradictory characters forced into an initially uneasy alliance, Kristin Scott Thomas and Sharon Horgan are the drawcards in this feel-good British comic drama directed by Peter Cattaneo, who previously struck upon more than a few of the same cheery gags and empowering emotions with his 1997 breakthrough hit The Full Monty. Fresh from a coronavirus-interrupted cinema run, it's the story of a group of soldiers' spouses at a military base, who start a choir in a bid to maintain spirits when their husbands are deployed to Afghanistan. It hits all the notes you expect, and one or two more.
Having played the Sundance Film Festival in January, this Australian horror film goes straight to streaming as a Stan exclusive. Co-writer and director Natalie Erika James updates the haunted house genre with the story of a mother (Emily Mortimer) and daughter (Bella Heathcote) who rush to the rural home of their family matriarch (Robyn Nevin) when she's reported missing, only to discover something altogether more worrying. It's an impressive cast, allowing for generation discord and the worries of ageing to take hold, instead of the horror genre's usual callow youth.
After the acclaimed local documentary Ghosthunter, filmmaker Ben Lawrence returns to scripted drama with this quietly nuanced study of the friendship between a famous Sydney photojournalist (Hugo Weaving) who carries the burden of too many conflict zones and a cab driver from South Sudan (Andrew Luri), who initially asks him to photograph his community choir. As with Ghosthunter, the suppression of trauma and the pain of acknowledging it are central to the film, with a dynamic between the two leads that is understated but involved.
---
All titles arriving on Stan in July
July 1
Werq the World: Season 2, Episode 4
Lassie (2005)
Dead Pixels: Season 1
Spy Kids 4: All the Time in the World
Any Questions for Ben?
Sully
Dukes of Hazzard
Shaun the Sheep: Season 5
July 2
Brooklyn
The Illusionist
I Stand Alone
You Will Die at 20
July 3
The Bold Type: Season 4, Episode 14
Canada's Drag Race: Season 1, Episode 1
Military Wives
Apocalypto
Import Export
Claire's Knee
July 4
RuPaul's Drag Race All Stars: Season 5, Episode 5
RuPaul's Drag Race All Stars Untucked: Season 5, Episode 5
Steven Universe Future: Season 1, Episodes 15 & 16
Goosebumps
July 5
Black Monday: Season 2, Episode 8
Outcry: Season 1 -Premiere
Fame (2009)
Hurricane Man
Steven Universe Future: Season 1, Episodes 17 & 18
July 6
Yellowstone: Season 3, Episode 3
Desus & Mero: Season 2, Episode 30 -Midseason premiere
Killing Time: Season 1
Getaway Of Love
July 7
A Single Man
Sing Street
Heart of Glass (Herzog)
July 8
Werqthe World: Season 2, Episode 5
Olivia Newton John: Hopelessly Devoted To You (Miniseries)
Marlina the Murderer in Four Acts
Champion
July 9
Belle
The Edge of Seventeen
The Dinner
July 10
Relic
The Bold Type: Season 4, Episode 15
Desus & Mero: Season 2, Episode 31
Canada's Drag Race: Season 1, Episode 2
Bates Motel: Season 1 -5
Flea Bitten S1
Aniara
July 11
RuPaul's Drag Race All Stars: Season 5, Episode 6
RuPaul's Drag Race All Stars
Untucked: Season 5, Episode 6
Death Defying Acts
Steven Universe Future: Season 1, Episodes 19 & 20
Mao Mao: Heroes of Pure Heart: Season 1, Episode 31 & 32
July 12
Hightown: Season 1, Episode 8
Black Monday: Season 2, Episode 9
P-Valley: Season 1, Episode 1
Mao Mao: Heroes of Pure Heart: Season 1, Episode 33 & 34
July 13
Yellowstone: Season 3, Episode 4
Desus& Mero: Season 2, Episode 32
12 Years a Slave
The Hunger Games
The Hunger Games: Catching Fire
The Hunger Games: Mocking Jay Pt1
The Hunger Games: Mocking Jay Pt2
July 14
Point Break (2016)
Sami Blood
July 15
Werq the World: Season 2, Episode 6
Mary and Max
The Spiderwick Chronicles
July 16
The Returned (US): Season 1
Witching And Bitching
July 17
The Bold Type: Season 4, Episode 16
Canada's Drag Race: Season 1, Episode 3
Valley Girl
Desus & Mero: Season 2, Episode 33
The Piano
The Quietude
July 18
RuPaul's Drag Race All Stars: Season 5, Episode 7
RuPaul's Drag Race All Stars Untucked: Season 5, Episode 7
Pavarotti
Mao Mao: Heroes of Pure Heart: Season 1, Episode 35 & 36
July 19
P-Valley: Season 1, Episode 2
Black Monday: Season 2, Episode 10
Love & Mercy
Mao Mao: Heroes of Pure Heart: Season 1, Episode 37 & 38
July 20
Yellowstone: Season 3, Episode 5
Desus & Mero: Season 2, Episode 34
Dark Shadows
Donkey Skin
A Room in Town
July 21
The Passion of the Christ
Natural World: Pangolins -The World's Most Wanted Animal
The Desert Bride
July 22
Werq the World: Season 2, Episode 7
Devil's Dust (Miniseries
July 23
The Diving Bell & the Butterfly
Wonderland: Seasons 1 -3
July 24
Zomboat: Season 1
Desus & Mero: Season 2, Episode 35
Canada's Drag Race: Season 1, Episode 4
Spin City: Seasons 1 -6
Ratchet & Clank
July 25
RuPaul's Drag Race All Stars: Season 5, Episode 8
RuPaul's Drag Race All Stars Untucked: Season 5, Episode 8
Mao Mao: Heroes of Pure Heart: Season 1, Episode 39 & 40
Out Stealing Horses
July 26
P-Valley: Season 1, Episode 3
Hearts and Bones
Blaze and the Monster Machines: Season 4
Drowning in Plastic
July 27
Yellowstone: Season 3, Episode 6
Desus & Mero: Season 2, Episode 36
The Bling Ring
Hopelessly Devout
July 28
Finke: There and Back Again
Sleepwalkers
July 29
Werq the World: Season 2, Episode 8
Chloe
July 30
Jennifer Lopez: Dance Again
A Blast
July 31
Paul Hollywood Eats Japan: Season 1
Canada's Drag Race: Season 1, Episode 5
Desus & Mero: Season 2, Episode 37
Middle School: The Worst Years of My Life
The Trip to Greece
---
See also
* Best new movies and TV series on Netflix Austalia
* Best new movies and TV series on Amazon Prime
* Best new movies and TV series on Disney+
* All new streaming movies & series