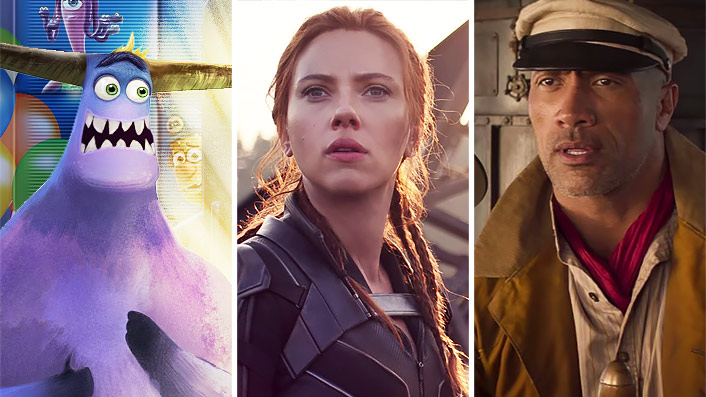 Best new movies and TV series on Disney+ Australia: July 2021

---
Each month, new films and TV shows are added to Disney+'s Australian library. Here's Eliza Janssen's recommendations for the titles most worth watching. Scroll down for the full list of everything arriving on the platform.
Top picks

To borrow some clunky exposition from another huge Disney+ franchise: "the dead speak!" Firstly Loki and now in this long-awaited Scarlett Johansson vehicle, tragically deceased Marvel characters don't seem to stay dead for long, still earning standalone stories from beyond the grave.
Spy, Avenger, and all-around badass Natasha Romanoff has been asking for her own adventure for ages now—and it's directed by Australian Cate Shortland, introducing us to an unlikely Russian found family. David Harbour and Rachel Weisz are mum-and-dad figures of a sort, and Florence Pugh might be the next Black Widow, bringing a youthful sisterly energy that'll bounce nicely against Johansson's ever-competent straightwoman.
Would've been cool to see The Rock play a prim and proper scientist, and have Emily Blunt as the rugged muscle-bound riverboat captain, but you can't always get what you want. Jungle Cruise takes a quaint Walt Disney World attraction and brings some life to it with a winning cast and tonnes of CGI, definitely taking a page out of the ol Pirates of the Caribbean playbook.
There aren't many straight-up adventure movies these days: the kind with rope bridges and machete-swinging. But when there are (i.e. Jumanji) you want Dwayne 'The Rock' Johnson to be your guide—a big action-hero personality to carry adults and kids alike through an accessible thrill ride for all ages.
I wonder whether Pixar's Monsters Inc was made directly to comfort its young audience's fear of monsters under the bed. After seeing the brightly coloured, fuzzy, slapstick world inhabited by those monsters, it's hard to feel quite as scared. A new sequel TV series airing on Disney+ will focus directly on that transition, with Monstropolis moving away from using children's screams as an energy source and towards a cleaner, greener, laugh-based economy.
John Goodman and Billy Crystal return as the original movie's clumsy heroes. But the protagonist of Monsters At Work is Tylor Tuskmon, a big purple-horned guy who graduates top of his class as a scary beast before learning that his entire field has gone funny overnight.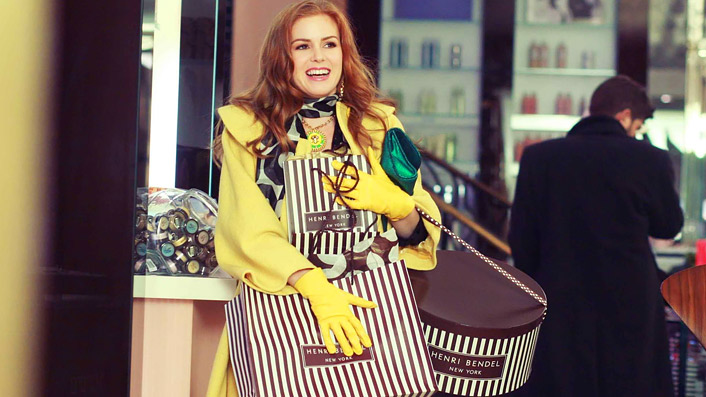 It's basically a hate crime that this delicious rom-com has a 26% Rotten score on Rotten Tomatoes. For one thing, it's directed by Aussie veteran of the genre, P.J. Hogan. For another it stars adorable Aussie Isla Fisher as a hopeless shopping addict trying not to get found out at her new job—writing an advice column for a financial magazine.
Released right after the devastation of the global financial crisis, this chick-flick applies a glossy layer of analysis into the 'why' of materialism, with evil debt collectors and aspirational Devil Wears Prada-esque fashion culture in the opposing corner. Confessions Of A Shopaholic is definitely formulaic, I admit, but why mess with the formula when it makes you feel this good?
This aquatic doco is still playing in cinemas around Australia. But if seeing all those underwater killing machines blown up on the big screen is too scary for you, Star on Disney+ is a great option. In fact, Valerie Taylor's life-long mission is to take apart our terrified understanding of sharks, a perception crafted in part by the footage Taylor herself shot that would become iconic in Jaws.
Our reviewer Travis Johnson was stunned to see how comfortably Taylor interacts with these supposed predators, visual evidence of the PR rehabilitation they deserve: "She swims with them, is jostled by them, feeds them by hand, and, in one striking sequence, allows one to bite down on her chainmail-clad arm to prove that the beast's legendary biting power is just that—legend."
---
All new titles arriving on Disney+ Australia in July
July 2
Disney Raven's Home season 4
July 7
Monsters at Work
Pikwik Pack
Air Crash Investigation season 12
American Housewife
July 9
Black Widow (Premier Access)
Shark Beach With Chris Hemsworth
Drain Alcatraz
Drain The Bermuda Triangle
Drain The Sunken Pirate City
Drain The Titanic
Miraculous World: The Legend Of Ladydragon Shanghai
July 14
Running Wild With Bear Grylls – season 6
July 16
McCartney 3,2,1
Confessions Of A Shopaholic
When In Rome
Most Wanted Sharks
Secrets Of The Bull Shark
Shark Vs Surfer
Shark Vs. Tuna
Shark Vs. Whale
Sharkatraz
Sharkcano
What The Shark?
July 21
Turner & Hooch
Behind The Attraction
Meet Spidey And His Amazing Friends (Shorts)
The Amazing Race (Australian) season 4
July 23
Stuntman
Playing With Sharks
Marvel Studios Assembled
"The Making of Loki"
Chariots Of Fire
Disney Duck The Halls: A Mickey Mouse Christmas Special (TV Special)
July 28
Chip 'n' Dale: Park Life
Turning The Tables With Robin Roberts
July 30
Jungle Cruise
---
See also
* Best new movies and TV series on Netflix
* Best new movies and TV series on Stan
* Best new movies and TV series on Prime Video
* All new streaming movies & series