As a Port Arthur survivor, here are my thoughts about the upcoming movie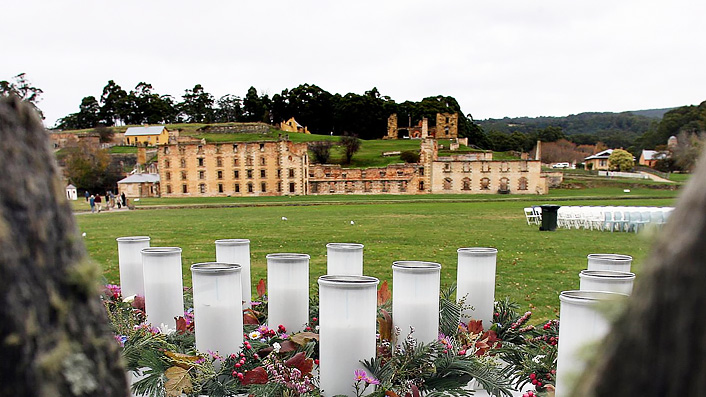 Last week news outlets reported on the production of Nitram, Justin Kurzel's upcoming Stan Original film about the Port Arthur massacre. Controversy and a debate about the ethics of making a Port Arthur movie ensued. Filmmaker Neil Triffett, a survivor of the massacre, shares his thoughts.

Like everybody else, I read about Nitram, Justin Kurzel's film about the Port Arthur gunman, when it made news headlines last week. I must admit, the news made me feel ill—but not surprised. With the massacre being such a major event in Australian history, a major work about it was bound to be made.
But like many others I wondered what the point of it was. What could Kurzel, a director known for mood pieces about murderers (particularly Snowtown and True History of the Kelly Gang) have to say about an event that was still difficult for even survivors to comprehend?
What the massacre was like for me and my family
I was eight-years-old when the massacre happened. My parents owned a general store in the area and me and my siblings, along with many customers in the store, were locked inside while my father guarded the premises with his gun. We were not in the epicentre of the attack and we got out alive, but many in our community didn't.
The massacre shaped life on the Peninsula for many years to come. Armies of counsellors swarmed the area, and government compensation was made available to victims. Tourists stopped visiting Port Arthur, squeezing hydrochloric acid into the wound that Martin had violently inflicted. My parents were stranded in a business they couldn't sell for eight years, causing long-term damage to their mental health.
Sign up for Flicks updates
When I turned 16, I began working as a tour guide at the historic site. The tours were a lot of fun, and the guides were warm and shared a lot about their lives, but there was something unspeakable that hung over the location. Tourists were constantly asking questions about this Bryant guy. Guides were not allowed to answer these questions for obvious reasons—if you've lost colleagues or loved ones in a massacre, you don't 't want to be asked questions about it by tourists every day.
But being young, and not as impacted by the event as the older workers, I did see a strange contradiction in the way the massacre was treated on our tours. The history of Port Arthur has always been brutal, beginning with the Indigenous Australian people who fled the area only to be caught up in the Black Line that swept the state, through to the harsh treatments of prisoners in the name of reform. Why was the massacre so different to other instances of violent history, which we explained to people every day? Some tourists were disrespectful (one woman reportedly wanted a map showing where each person was shot) but others seemed in search of a deeper understanding of what happened.
A moving theatre production proved this story can be told
I first became aware of how the rest of the country hungered for information about Port Arthur when I attended a 2007 play by Tom Holloway called Beyond the Neck. I found it incredibly insightful and moving, telling the story of a day when four strangers collided on the site and came to grips with the tragedy. It was heavily researched and locals were consulted during its development.
Besides the thrill of seeing a curmudgeonly guide we knew portrayed onstage, I was fascinated by a teenage girl character who had been told by the internet that the massacre was a hoax. It was through her and her journey that I understood the massacre was not just an event that happened to us; it was shared throughout Australia and everyone had their own version. Like 9-11, many Australians can remember where they were the day the massacre happened.
The question of how to portray Port Arthur has remained a sticking point for artists since then. There have been rumours of amateur films going into production about the massacre (mostly financed by conspiracy theorists) and every couple of years there is a media piece coinciding with the anniversary. I've always been disappointed that the anniversary coverage seldom shares the experience of people who live in the area. This may be because the community has chosen to remain silent, but I fear the media simply doesn't care what people from a poor community, with varying levels of education, have to say.
Here's why Nitram presents an opportunity 
In the days that have followed the announcement of Nitram I've done my best to keep an open mind. Like many people, I watch films about murderers; for instance I recently watched My Friend Dahmer and found it complex and insightful, exploring how damaged people can slip through the net of a narcissistic society. If Kurzel and screenwriter Shaun Grant find something like this to say amongst the trauma of Port Arthur, there could be space for the work to be healing.
The other opportunity the film offers is for Australians to talk about an event we've never been allowed to talk about before. There is a story in Port Arthur and we have a lot to learn from the people who live there. It's not a story about Bryant, but how a community was wounded, and how it learned to carry on. Sometimes as a group but, more often than not, as separate individuals radically different from one another. We've largely kept this story silent and it hasn't always been helpful for us. From the news coverage, it seems the community is not Kurzel's focus, but the film might open the door for someone else to tell that story.
The things Nitram should avoid
I like Kurzel and Grant's work, and have met Grant, finding him to be a decent, down-to-earth person. But I do see problems with this being the Tasmanian version of Snowtown. Snowtown allows you to experience the intensity of the event but at times this intensity overshadows your ability to understand it. The film has been praised for its realism, but it is heavily stylised and, especially towards its end, uses 'evil' almost as a short-hand to justify characters' actions. If a film about Bryant makes people viscerally uncomfortable without contributing anything further to the debate, it will feel exploitational.
The 25 year anniversary of the massacre is fast approaching in April, and I sincerely hope Stan steers away from using the event to promote the film. The Port Arthur Historic Site works hard to ensure anniversaries are about the community and not Bryant, so to have a sympathetic piece about him at such a time could be harmful to the community. There is debate around Bryant in Port Arthur, whether he was a mentally ill person in need of care or simply a monster who wanted to hurt people, but the 25 year anniversary isn't the time for it. The memorials also aren't about gun laws—these laws are part of the story, but 35 people didn't die simply to offer Americans a cautionary tale about gun control.
I also hope that Stan and Kurzel are sensitive in the way they talk about the film. Years after seeing Beyond the Neck, I met one of the actors at a party and told them about the impact the play had had on me, but the actor was disinterested—they wanted me out of the way so they could flirt with the infinitely more successful director behind me. It was a sobering experience; for me the play was about my community but for this actor it had just been a job. When dealing with real-life experiences, it really has to be more than a job.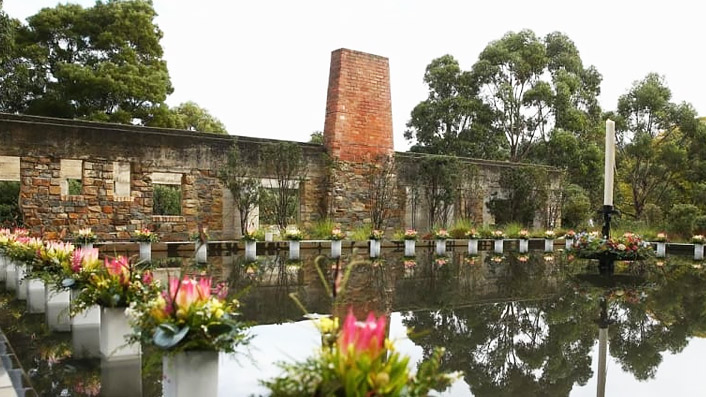 In this debate there are no easy answers
The debate around whether or not it is morally acceptable to create artwork about terrible real-life events is complex and nuanced; there are no easy answers. The jury is out until we see the work itself and I sincerely hope the team creates something of merit.
I don't speak for all of Port Arthur by any stretch of the imagination, but I accept it's not possible to keep a lid on the massacre story forever. But that doesn't mean we should neglect those who were directly impacted, and continue to be impacted by the event. This film will undoubtedly hurt these people, and my sincere hope is that they will be able to ignore the film, and, if possible, its release will be tailored in such a way so as to avoid causing them further distress and trauma.
If you or anyone you know needs support call Lifeline on 131 114, or beyondblue on 1800 512 348.