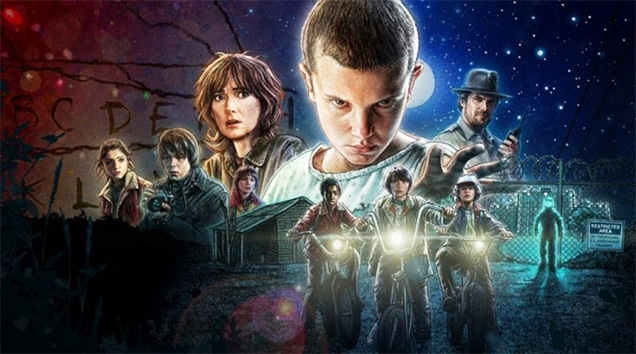 All the 80s films you should be watching after Stranger Things season 3

---
The arrival of each new season of Stranger Things brings with it a long list of '80s movies to seek out. Sarah Ward kept track of all the films referenced and compiles them in his handy guide.

Since sliding into Netflix queues everywhere back in 2016, Stranger Things has turned referencing '80s cinema into an art. Created by the Duffer Brothers, the series leans heavily on nostalgia, using three-decade-old pop culture as its foundation. This is a show about small-town kids grappling with adventure, mystery and otherworldly forces, after all.
From the outset, Stranger Things has nodded to The Goonies, E.T. the Extra Terrestrial, Poltergeist, The Thing, Evil Dead and Ghostbusters, just to name a few clear influences. With each new batch of episodes, more of its twists and turns spring from yesterday's hits, as the just-released third season illustrates.
The series' showrunners seem to favour the magpie approach, pilfering whatever shines brightest for their sci-fi/horror world – or perhaps they're taking cues from Alien screenwriter Dan O'Bannon, who noted that he didn't steal from anybody when he conjured up the iconic film; rather, he stole from everybody.
Sign up for Flicks updates
Either way, the arrival of each new season of Stranger Things doesn't simply deliver another slice of Hawkins life. It also serves up a long list of '80s movies to seek out. Set over the summer of 1985, the show's third season nods to other decades too (including Winona Ryder's '90s heyday in Reality Bites), but there's no doubting where its heart resides.
Keen to keep dwelling in the '80s with the hit series? Here are the must-see movies you should seek out after your latest binge.
Before Ferris Bueller, Matthew Broderick played a teenage hacker who almost starts a nuclear war. Set during the Cold War-era, the thriller blends US-Soviet tensions with a technology-heavy premise – and earned three Oscar nominations.
Hordes of zombies, humanity hiding in underground bunkers and widespread communication breakdowns – that's Day of the Dead, George A. Romero's 1985 sequel to Dawn of the Dead. It's the third movie in the Living Dead series.
In the '90s, Amy Heckerling probed teen life in Clueless. In 1982, she got there first with this classic. The go-to early '80s high school film, the Jennifer Jason Leigh, Phoebe Cates and Sean Penn-starring flick also set the bar for on-screen pool scenes.
Odd occurrences sweep through a small town in John Carpenter's The Fog, plunging its residents into supernatural-plagued chaos. As the horror maestro has long proven, even familiar scenarios play out in surprising ways when he's at the helm.
Believe in yourself, train hard and you can achieve anything, or so the feel-good sports film mantra goes. The Karate Kid puts this formula to work in a rousing manner – hence the three sequels and current YouTube series.
Zooming about in a box-shaped vessel isn't an everyday activity, but it sparks plenty of entertaining antics in Bill and Ted's Excellent Adventure. The Keanu Reeves and Alex Winter-starring time-travel comedy also boasts an always-appropriate message: be excellent to each other.
For three decades, the combination of cars, kids and mall parking lots has brought one film to mind. Of course, Robert Zemeckis' movie earned its place in pop culture history for many reasons – and not just because it took Michael J. Fox beyond Family Ties.
When Chuck Norris' country is under attack by outsiders, he acts. If it's a holiday and folks are at the mall, he'll do whatever it takes to keep them safe. Naturally, this action flick about an attack on the US by Cuban guerrillas is far from subtle.
Yippee ki-ay, everyone who needs to outsmart their weapon-wielding enemies! Thanks to Die Hard, crawling through air-conditioning vents will always prove an option. Bruce Willis is just be one man, but as John McClane, he can take down 12 terrorists.
Relentlessness is a powerful source of fear, with the idea that someone will keep coming after you inherently terrifying. It's also fuels James Cameron's The Terminator, packaged with sci-fi action and Arnold Schwarzenegger.
Sinister Russians, crafty teenagers and the onset of war all drive invasion thriller Red Dawn, with the original flick dialling up the Cold War tension – and taking Patrick Swayze, Charlie Sheen, Lea Thompson and Jennifer Grey along for the ride.
The first sequel to Halloween isn't the series' finest moment, but it makes creepy use of its hospital location. As Michael Myers keeps slashing through Haddonfield, the medical setting provides ample space for the unhinged killer and his victims to hide.
Not every police officer plays by the rules, with Beverly Hills Cop falling into that category. The 1984 action-comedy catapulted Eddie Murphy to fame and topped the box office, cementing a particular vision of street-smart careening cops into popular consciousness.
In Larry Cohen's 1985 film, beware strange substances suddenly oozing from ground. That's always great advice; however the sci-fi/horror satire has fun with the idea – and with society's zombie-like willingness to follow new trends.
Can you ever really relive your biggest adventure? This unofficial sequel to The Wizard of Oz ponders the notion in a variety of ways. Walter Murch's movie is better regarded now than upon release. Perhaps its bleakness was just ahead of its time.
Directed by Harold Ramis, written by John Hughes and introducing the world to the Griswold family, Vacation still remains the road-trip comedy prototype. Coop up a group of people in a car, send them on a trip and chaos will ensue, as it does here.
D.A.R.Y.L.
A ten-year-old boy isn't quite what he seems, with D.A.R.Y.L's title an acronym for 'Data-Analysing Robot Youth Lifeform'. Contemplating artificial intelligence, this 1985 film trades in era-appropriate fears about computing powers.
When it comes to catchy theme tunes, nothing beats this '80s fantasy-adventure. The spirited track sets the perfect mood for a story about an outcast kid, a magical land and the solace he finds by escaping into his imagination.
John Carpenter and Stephen King make a winning pair in horror adaptation Christine, which turns car's revving engine into a source of menace. That's to be expected given the crazed vehicle concept, which the central duo relishes.
Another Stephen King adaptation – albeit one not-so-loved by its scribe – this Drew Barrymore vehicle focuses on a young girl with otherworldly powers, as well as the secret government agency that endeavours to control her.