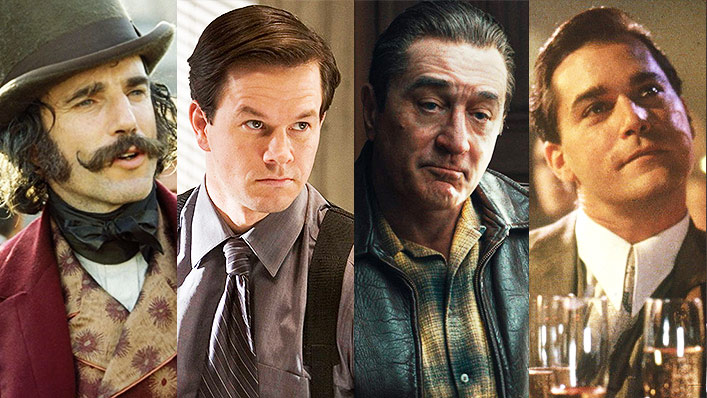 All Scorsese gangster films, ranked from worst to best

---
Old mate Marty Scorsese makes bloody good gangster films. With The Irishman now on Netflix, critic Travis Johnson revisits all the legendary director's gangster pics and ranks them from worst to best.

Martin Scorsese's The Irishman roars onto Netflix with all due ceremony and reverence. This sprawling account of the moral cost of crime and corruption marks the revered New York filmmaker's sixth look at the world of organised crime.
Yes, only sixth. While the received wisdom is that Marty only makes mafia movies, the truth of the matter is that mob flicks comprise only a small percentage of a meandering filmography that includes historical drama (The Age of Innocence), religious drama (The Passion of the Christ) and historical religious drama (Silence), plus a wealth of music documentaries.
But it's mob movies he'll be known for, if for no other reason than Marty makes exceedingly good mob movies. So here they are, definitively ranked from worst (but still great) to best (pinnacle filmmaking achievement).
Sign up for Flicks updates
Ambitious and unwieldy, Scorsese's adaptation and fictionalisation of Herbert Asbury's 1927 non-fiction tome looks at the nascent New York City organised crime world circa the U.S. Civil War through the lens of young Amsterdam Vallon's (Leonardo DiCaprio) quest for vengeance against theatrical gangster/surrogate father Bill "The Butcher" Cutting (Daniel Day Lewis with the brakelines cut) for the murder of his actual father, Irish gang boss Priest Vallon (Liam Neeson).
Colourfully violent and packed with period and cultural detail, Gangs has a lot going for it. Not the least of which is a stunning ensemble cast (Jim Broadbent, John C. Reilly, Stephen Graham, Brendan Gleeson, Henry Thomas, Edie Marsan and more show up in period finery) that marks the first collaboration between Marty and Leo. It's hampered by a badly miscast Cameron Diaz in a fairly thankless love interest role, a little too much wheel spinning in the back half, and a risible U2 song over the closing credits.
Still, the sheer scale of the production (it was filmed at Rome's Cinecitta Studios on massive custom-built sets) and DDL's roaringly unhinged turn make it worth another look or three.
A remake of cracking Hong Kong crime thriller Infernal Affairs (2002), The Departed sees Scorsese changing up a few things. Instead of Little Italy, we're in Irish mob-controlled Boston; instead of Robert De Niro, it's Jack Nicholson in the showy role of mob boss Frank Costello, modelled loosely on real life felon James "Whitey" Bulger. We also get the third of Scorsese's five (to date) collaborations with Leonardo DiCaprio, with the former teen heartthrob essaying the role of Massachusetts State Policeman Billy Costigan, sent undercover into Costello's gang, unaware that Costello has infiltrated the Staties with charming sociopath Colin Sullivan (Matt Damon).
Twisty, pulpy and buoyed by a cast happy to chew any scenery within arm's reach (Martin Sheen and Alec Baldwin are great, but Mark Wahlberg walks away with MVP for his foul-mouthed Sergeant Dignan), The Departed sees Scorsese in a playful mood, giving us a good time with the gangsters and blowing up the genre's tropes to nigh-operatic levels of excess. Also, Dropkick Murphy's' Shipping up to Boston slaps.
Ah, back where it all began. Scorsese's feature career may have begun with 1967's Who's That Knocking at my Door, but Mean Streets is the signal film of his early period, codifying many of the thematic and cultural concerns that he would return to again and again.
Based on Scorsese's own experiences growing up in New York's Little Italy, Mean Streets sees Harvey Keitel as low level bagman Charlie. Wracked with Catholic guilt over his criminal life, he seeks redemption by trying to save his reckless buddy, Johnny (Robert De Niro) from the mobster he owes money to. Raw and intimate, the film set the mold for Scorsese's meditations on personal and societal sin going forward.
Scorsese's second collaboration with crime writer Nicholas Pileggi sees the auteur expand his focus to look at organised crime on a wider scale, in particular the Mafia's influence on Las Vagas. DeNiro is gambling handicapper Ace Rothstein, dispatched to the desert to take the gambling mecca in hand, while Joe Pesci is his volatile right-hand man, Nicky Santoro, and Sharon Stone is incredible as the calculating showgirl he loves.
Is it Goodfellas 2: Cold Deck Boogaloo? That's a fair criticism, but Pileggi's galloping narrative and Scorsese's audacious direction make this arresting look at the grime beneath the glamour a stone cold classic.
Completing the loose thematic trilogy that began with Goodfellas and Casino, The Irishman sees Scorsese getting the band back together for the story of Frank Sheeran (De Niro), union heavy, hitman for mob boss Russell Bufalino (Pesci) and supposed murderer of Jimmy Hoffa (Scorsese first-timer Al Pacino).
Scorsese's most ambitious project yet, The Irishman encompasses decades and a huge cast (Harvey Keitel, Ray Romano, Bobby Cannavale, Anna Paquin, Stephen Graham, Jesse Plemons etc etc) to peel back the alleged glamour of mob life and show the real emotional and spiritual cost of doing evil. It tracks Frank from his days on the battlefields of World War II through his criminal career to his final days as a lonely old man in a nursing home, abandoned by both history and the people he loves. This is bravura filmmaking from a master director.
The crown remains in the hands of Goodfellas, Scorsese's electrifying adaptation of Nicholas Pileggi's classic true crime book Wiseguy. "As far back as I can remember, I always wanted to be a gangster," muses mob turncoat Henry hill (a never better Ray Liotta), before plunging us into a whirlwind tour of street level mafia wrongdoings.
He and childhood bud Tommy DeVito (Joe Pesci, incredible) join the ranks of neighbourhood powerbroker Paulie Cicero (Paul Sorvino) before being taken under the wing of heist man Jimmy Conway (Robert de Niro). It all comes tumbling down when Hill's penchant for cocaine gets ahead of his mob loyalties. But what a ride: delirious, intoxicating, bloody and beautiful. Not just Scorsese's best mob film, but arguably the best of his career.