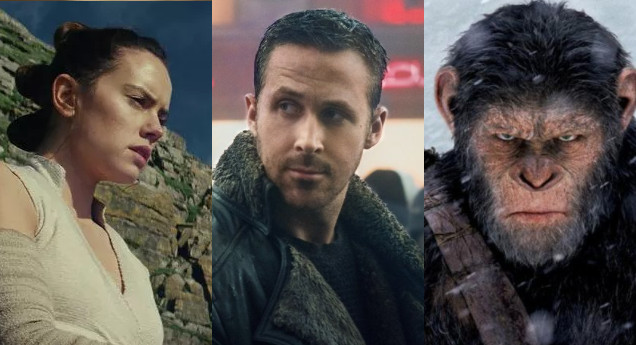 2017 blockbusters: the best and worst, and what they meant for cinema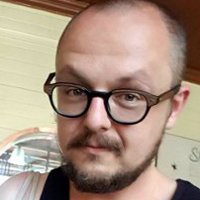 ---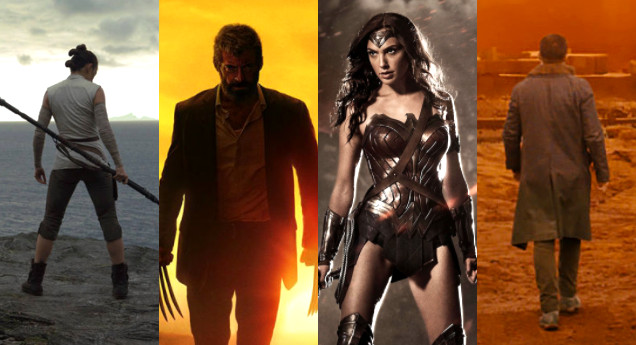 An eclectic array of characters graced the big screen in 2017 blockbusters, the vast majority of whom we had met several times before – a Spider-Man here, a Skywalker there. None of the ten highest performing films (with Star Wars: The Last Jedi inevitably about to push Dunkirk out of this list) were original stories; the closest we got were books that had never been previously adapted for cinema (Lion, and It).
I've compiled my thoughts on the best and worst of this year's biggest movies, grouping them into the themes and messages I most remember them for. Eighteen films are mentioned in total. Some titles I missed, such as Transformers: The Last Knight. The last time I sat through one of Michael Bay's migraine-inducing robot movies, the execrable Transformers: Age of Extinction, I vowed to self-administer waterboarding before sitting through another.
---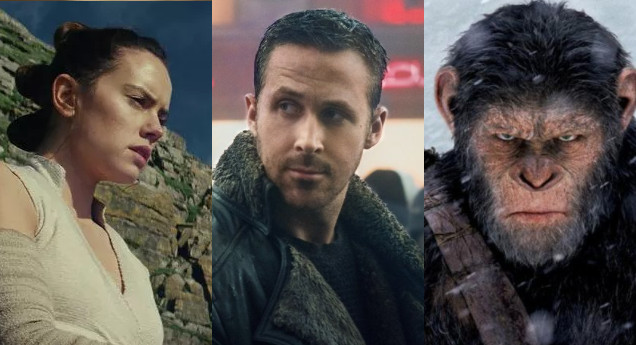 VISIONS OF THE FUTURE, MEEK AND MIGHTY
Star Wars: The Last Jedi, Blade Runner 2049 and War for the Planet of the Apes
Star Wars: The Last Jedi paints a hopeful, merchandise-friendly vision of the future, where the force (so to speak) that binds the galaxy together is a sense of good old fashioned adventure. The darkly magnificent Blade Runner 2049 shows us a world even more sexist than the present, where awful giant advertisements consume spaces previously occupied by trees, and the impact of climate change has taken its toll. Its director, Denis Villeneuve, dared us to do better.
Humans were also doomed in War for the Planet of the Apes, the third and reportedly final installment in the rebooted simians-seize-the-planet franchise, which has come along way from those silly monkey suits in the 60s. Director Matt Reeves evokes Akira Kurosawa, and casts Woody Harrelson as a Kurtz-inspired colonel. At one point this foul, captivating fellow unloads a poignant rumination on war and the decline of humans. It's a great scene.
---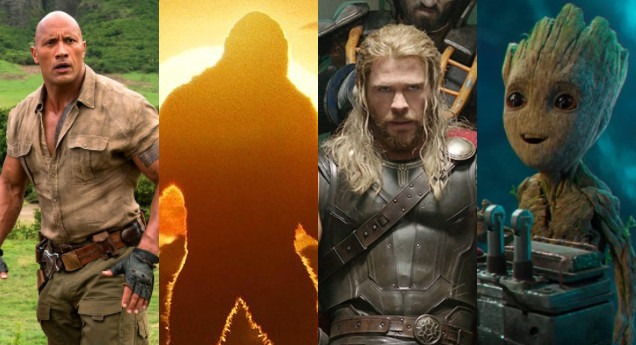 SFX COAT HANGERS, GOOD AND BAD
Jumanji: Welcome to the Jungle, Kong: Skull Island, Thor: Ragnarok and Guardians of the Galaxy Vol 2
The belated sequel to the original, dread-filled Jumanji is a lazy film about energetic people. This deflating affair has an annoying habit of resetting its storyline to the same basic coordinates – so there's never a real sense of progression. King Kong: Skull Island is guilty of the same crime, in a more traditional context: the B movie creature feature. At least it rocked out along the way, with David Bowie, Jefferson Airplane, Black Sabbath etcetera giving a bit of retro kick to the huge slabs of impersonal special effects.
New Zealand director Taika Waititi also rocked out in Thor: Ragnarok, casting himself as a comedic supporting character and overseeing a party-like, 80s-ish vibe. Much more enjoyable than all that stuff in the jungle, with comedy that consistently hits its mark – a respectable achievement for a film of this scale. Bizarrely, Ragnarok was widely praised for not taking itself too seriously, as if this were an ingenious approach for a story about a hammer-wielding god of thunder.
Guardians of the Galaxy Vol. 2, meanwhile, also maintained a party vibe but lost its fizz second time around. Call me a killjoy, but I would have preferred less party and more story. I'm not sure what constitutes a more shameless example of merchandise-pedalling and cuteness-mongering: the baby Groot in this film or the porgs in Star Wars: The Last Jedi. Toys of both would be great for a bonfire.
---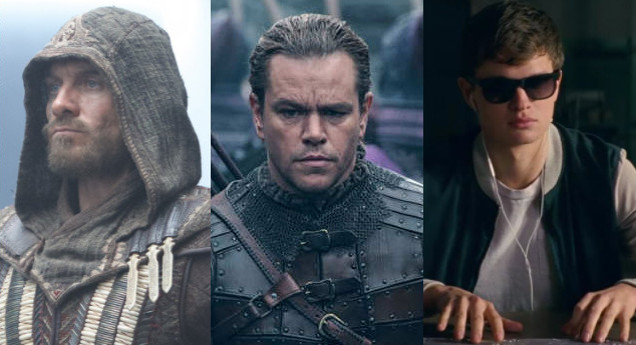 PAINTING AND HOLDING THE FRAME
Assassin's Creed, The Great Wall and Baby Driver
The Australian director Justin Kurzel refused to consider his young, video game-playing target audience in the traditional way: as cash-splurging idiots. In the underrated Assassin's Creed, he is guilty of crediting viewers with too much – rather than too little – intelligence. While convoluted in the story department, the film is a striking example of 'cinematic', a label that tends to trigger existential debate in the age of Netflix.
Yimou Zhang's China-loving propaganda fantasy The Great Wall, with Matt Damon as the armour-clad antipodean, is brighter, dreamier, and full of juicy colours – like a box of Skittles. American filmmakers could learn from Zhang's ability to hold the frame. Closer to home, Edgar Wright's heist movie Baby Driver was the best popcorn action flick of the year, with genuinely fresh and original flourishes. Integrating music into key moments was both a prerogative of the filmmaker, and an obsession of his getaway driver protagonist.
---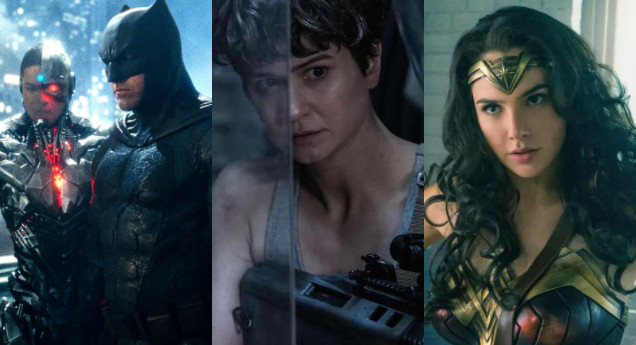 EXPECTATION, SUBVERSION AND UNDESERVED PRAISE
Justice League, Alien: Covenant and Wonder Woman
Nobody can say Justice League wasn't what it looked like on the box, or in any way unexpected given director Zak Snyder's oeuvre: a heavy-handed, mostly flavourless superhero mash-up, ruminating on the moth-eaten theme of superheroes as under-appreciated outsiders.
Ridley Scott refused to pander to fanboys of Alien, instead delivering them (like in Prometheus) Alien: Covenant, a film teeming with big ideas, including the ethical nuances of post-human society. Scott ought to be praised for his ambition, and forgiven for sometimes messy execution.
Wonder Woman was roundly praised, as if the hiring of a woman to direct a female-led superhero movie (written entirely by men and produced almost entirely by men) constituted some kind of innovation. Instead it highlighted the grotesque sexism of Hollywood. The film itself is bland but reasonably entertaining. To see how greatly the character of Wonder Woman has been homogenised over time, consult the enjoyable and well-made biopic of its creator, Professor Marston and the Wonder Women.
---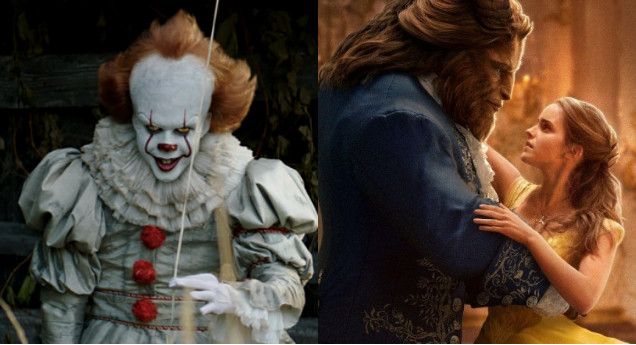 MOST SHAMELESS CASH GRABS
It and Beauty and the Beast
The core message of It, Stephen King's doorstop novel about a murderous shape-shifting clown, is that the fears we fail to conquer as children return to haunt us in adulthood. The 1990 miniseries starring Tim Curry as the hideous Pennywise understood that, jumping between adult characters in present day and their traumatic childhoods, spent attempting to slay the beast. Director Andy Muschietti's superficial adaptation throws that message to the wolves, focusing only on the children. Why? The sequel – another crack at the box office – will depict their later lives.
The line "ever just the same" in Disney's animated Beauty and the Beast musical, released in 1991, summarises the hugely successful note-for-note (in more ways than one) live action remake. Director Bill Condon uses the film's predecessor not as inspiration, but a blueprint. The business formula worked as a cartoon, the logic goes: so it will work in live-action. If the magic of the movies is about being transported into an illusionary alternative world, this was the spell reversed: taking something magical and normalising it.
---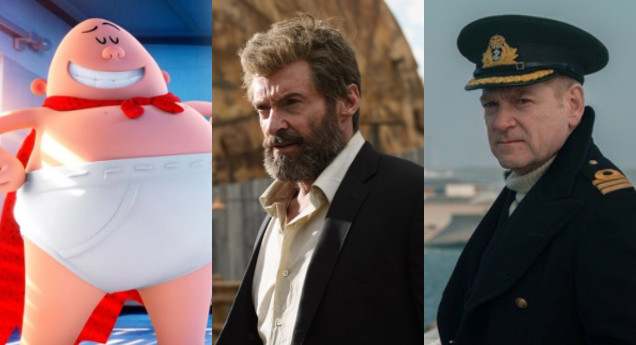 BEST SUPERHERO MOVIES
Captain Underpants: The First Epic Movie, Logan and Dunkirk
The most visually inventive superhero movie of the year, by a long shot, was the fabulous Captain Underpants: The First Epic Movie. Director David Soren and his screenwriters switch realities, break the fourth wall, change the surface and texture of the animation; anything other than rest of their laurels. The storyline reworks the concept of a superhero into a Frankensteinian tale of two kids who are desperate creators, escaping the pressures of their lives by transforming their principal into a cheerful, underwear-clad idiot.
Logan, marking Hugh Jackman's ninth and final outing as the adamantium-boned beast Wolverine, proved there are certain things you just don't do in big budget superhero movies – until somebody does them, and the genre marches forward. There is an almost instant pathos in the presentation of a grizzled iconic superhero who is very much past their prime, so long as their decline is not being usurped for comedy or presented purely as an obstacle to overcome en route to victory. Director James Mangold made a highly memorable, emotionally charged film.
I realise it's cheating, or at least pushing it, to include Christopher Nolan's terrific Kubrickian war film Dunkirk in this category – but the thought of not mentioning it in this article appalled me. A breathtaking and eardrum-perforating achievement. The roar and thunder of Hans Zimmer's abstract, electrifying score, is relied upon by the director so intensely the film could have been billed as a Nolan/Zimmer co-production, and nobody would have batted an eyelid.