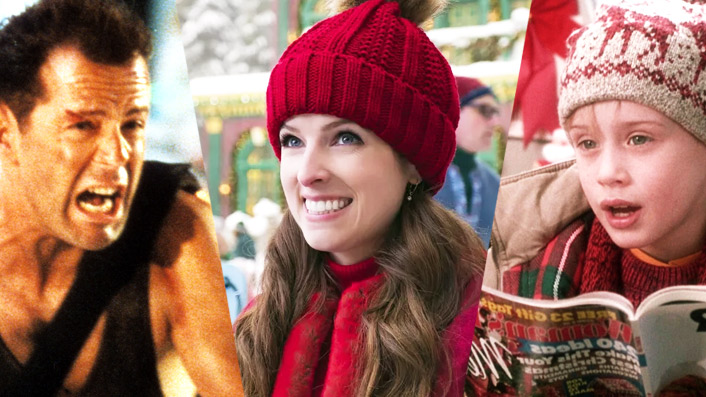 15 holiday movies you can stream right now

---
One of the best things about the holidays is, undoubtedly, holiday movies. It feels like there are more options than ever this year, especially with the plethora of streaming services now at our fingertips.
From Christmas classics to new hits, here's your guide to the best you can stream this holiday season…
Netflix
Netflix has really leaned into the cheesy holiday rom-com genre, and this is the best of their 2019 offerings. The Knight Before Christmas stars Vanessa Hudgens as a woman who stumbles across a medieval knight who has time traveled to the present day. It's as silly as it sounds, but that's kind of the point.
This is a cute teen ensemble movie that takes place all in one day/night. If you're a fan of movies like Can't Hardly Wait then you will enjoy this. There's nothing mind-blowing about it, but it's a fun way to spend an hour and a half while you wrap presents or decorate the tree.
Probably Netflix's most iconic – and campiest – holiday rom-com, about a journalist who goes undercover in a fictional European palace to investigate the crown prince, who she naturally falls in love with. If you haven't seen it by now, it's worth watching at least to understand the way it's influenced holiday movies in the last couple of years.
One more holiday rom-com from Netflix (they have plenty more, but, well, not all of them are a good use of your time). This one stars Aussie Eliza Taylor as a wealthy heiress who gets sent to a small town for the holidays as a reality check. It works mainly because Taylor is incredibly charismatic in the role.
Stan
If holiday classics are what you crave, then this should be your first stop. This movie is heavy on the saccharine, but it's hard to resist its old-fashioned charm. Especially when Jimmy Stewart promises to lasso the moon for his sweetheart.
Elf (2003)
One of the holiday comedy greats. Even if you're not a huge fan of Will Ferrell, he's absolutely delightful as Buddy, a human raised by elves in the North Pole. And Zooey Deschanel is charming (albeit jarringly blonde) as his love interest.
You either passionately love this movie or passionately loathe it. Either way, it's not going away anytime soon. It's become a holiday staple for many, and even with all its faults, there's something about the British ensemble comedy that's just damn special.
Disney Plus
With a killer cast including Anna Kendrick, Bill Hader, Billy Eichner and Shirley MacLaine, Disney+'s entry into the holiday streaming market lives up to the expectations of the brand. The comedy about Santa's daughter is, appropriately, fun for the whole family.
Disney+ is basically a '90s kid's dream when it comes to holiday movies (and movies in general). In hindsight, the plot of Home Alone makes absolutely no sense. But does that matter when you have the pleasure of watching an eight-year-old (hilariously) try to murder two adult criminals repeatedly?
Another '90s holiday icon, this Tim Allen comedy captures the magic of what it felt like to believe in Santa, and manages to be really funny while doing it. Who didn't low-key want to move to the North Pole after watching this movie?
There have been many, many iterations of Charles Dickens' A Christmas Carol over the years, but the Muppets' take is definitely the best – and, weirdly, one of the most faithful. It's so delightful and has some incredibly catchy Christmas songs to boot.
Disney Plus has BOTH the Natalie Wood classic and the Mara Wilson '90s version of this movie, so it's a win/win situation for fans of this particular story. Sure, it's cheesy, but if you can't embrace a bit of cheese at Christmas, when can you?
Foxtel
This is the ideal comedy for everyone who appreciates a little more reality with their holiday fare. If nothing else, the bitter family fights that take place in this movie might make you feel a bit better about your own.
This is a holiday rom-com that gets less attention than Love Actually, but that's just as endearing (if not more so). The cast is what makes it, with Cameron Diaz and Jude Law in particular lighting up the screen. The only danger is this movie might make you want to pack up and move to the Cotswolds immediately…
We're well past the argument about whether this counts as a Christmas movie by now, right? It totally does. And Die Hard is no doubt a welcome reprieve to action fans from all the rom-coms and kids movies filling up the screen during the rest of the season.