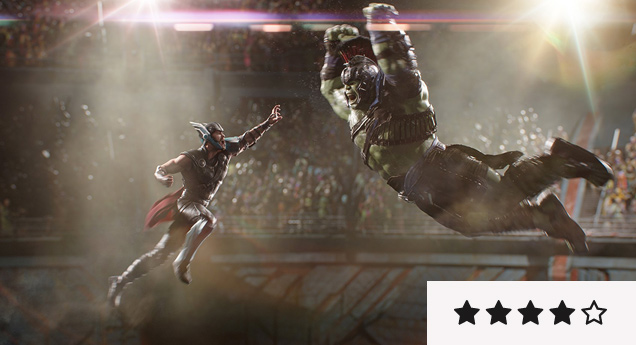 By Daniel Rutledge

20 Oct
Taika Waititi has somehow pulled off making a film that fits seamlessly into both his own body of work and Marvel's mammoth series.
Thor: Ragnarok, from director Taika Waititi, isn't out in Australian cinemas until October 26 (you can view session times here) but…

By Ed, Flicks.co.nz

20 Oct

The only things of note this week are the Elba-Winslet survival drama, the Groundhog Day slasher, and the $532,805 between them.

By Luke Buckmaster

19 Oct

Responding to a blizzard of bad reviews written about his highly anticipated new thriller, The Snowman, director Tomas Alfredson (Let the…

Want to get warmed up for Star Wars: The Last Jedi by attending a special screening of The Force Awakens, with the Melbourne Symphony…

It's as if Captain Planet wrote a Michael Bay disaster flick.

If you're an undemanding fan of lightweight romantic comedy-drama then it's harmless, vapid, instantly forgettable modern Hollywood fare.

Wolf Creek director Greg McLean's new film Jungle, a survival in the wilderness thriller starring Daniel Radcliffe, will arrive in…

By Luke Buckmaster

17 Oct

The current debate around same-sex marriage in Australia has been anything but respectful, with hate speech smeared across the streets and…

Hundreds of squealing fans congregated around the red carpet last night at Sydney's premiere of Thor: Ragnarok. Intern Pete, from the…

By Luke Buckmaster

13 Oct

There was a time, not that long ago, when the accolade "career-best performance from Robert Pattinson" meant very little – a matter of…

It may technically be a bomb in the states, but the killer sci-fi sequel takes the top place in Australia this week.
---