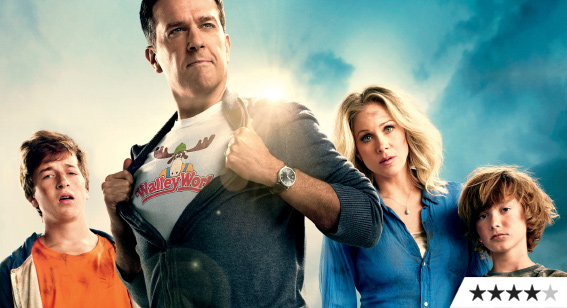 ---
Stupid? Yes. Adults only? F–k Yes. Dumb family comedy? You betcha. And, well, Chevy Chase? Yes. Though, thankfully not much. That's right, it's a National Lampoon's reboot as the Griswolds 2.0 go on an ill-conceived family vacation to Wally World. While that sentence alone is about as massive as the Berlin Wall when it comes to generation divides, the concept of terrible family holidays stands strong regardless of whether you are old enough to have journeyed with the original Griswolds through Europe, Christmas and countless other wayward Wally World pursuits.
Ed Helms of Office and Hangover fame takes on the mantle of Russ, the grown up youngest Griswold who, like his father (Chase) decades before him, is determined to unite his family in less-than-ideal times through the means of a car trip across the USA.
Everything that can go wrong does, usually in the form of a celebrity cameo and in spectacular fashion, but while you might have feared a tired imitation of its ancestors, the makers of Vacation recognised one crucial thing: The National Lampoon's Vacation films were not high art. They were not great cinema, nor complex capers, nor satirical masterpieces. They were stupid and proud. A series of films that committed, whole-heartedly, to having a lot of stupid fun.
So Vacation has A LOT of stupid fun. What-does-this-button-do car gags! Awkward father-son misinterpretation! Frolics in faeces! They have it all and they relish every moment. Heck, Chris Hemsworth is little more than one big penis joke for the entire time he's in the film, but it works because he hams it up like nothing else.
Vacation promises nothing but a wealth of big, gut-bursting belly laughs that appeal to your inner toddler (who has somehow also graduated from sex ed) and it delivers.
You will laugh. Lots.
Want More Like 'Vacation'? You'll Dig: 21 Jump Street | Horrible Bosses | The Hangover