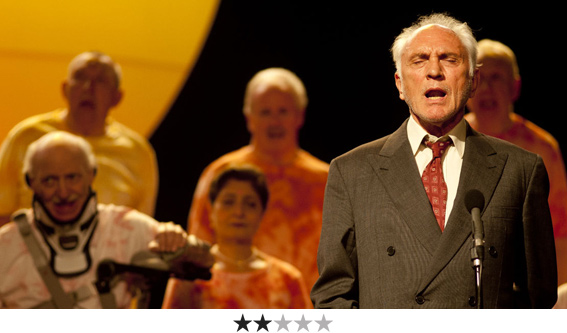 ---
Set in London, this geriatric comedy drama stars Terence Stamp as a shy, grumpy pensioner who is reluctantly inspired by his beloved wife (Vanessa Redgrave) into joining a highly unconventional local choir led by Gemma Arterton.
Read more and find movie times.
---
Retire to another cinema if you don't fancy giving your tear ducts a work-out. That's what Terence Stamp's curmudgeonly Arthur would do in Song For Marion, a film striving to match the success of Quartet, The Best Exotic Marigold Hotel and, by virtue of its esteemed older cast, The King's Speech. Even those who find the story's central choir, the OAPz, (Old-Age Pensioners) cloying will find it hard not to suppress the waterworks. This is one film that's equal parts moving and grating.
Director Paul Andrew Williams, whose previous films are much edgier (London to Brighton and Cherry Tree Lane) leads us dangerously close to sentimentality without overstepping the line. That's mostly thanks to Stamp, who's supposed to be the curmudgeon but, depending on your cynicism levels, may be closer to your idea of the hero. It's also thanks to the loveable Vanessa Redgrave as Arthur's wife, Marion, who won't let her terminal illness get in the way of enjoying what she has left.
Despite their finely tuned performances – and that of Arthur's estranged son, played by Christopher Eccelston – the film relies on the kind of humour that's done its day. We've all seen comedies where older people say rude or "outrageous" things; here our cringe-worthy choir perform Salt 'N' Pepa's Let's Talk About Sex and try to get angry on the metal tracks. Quite rightly, it's not Arthur's cup of tea.
So not a film for the cynics but one for older folk, perhaps, who don't mind being patronised. The biggest offender is Gemma Arterton, whose pretty choir leader inexplicably can't get a boyfriend, has no friends her own age and is intent on teaching her elderly crew street slang. While there's nothing wrong with a safe tear-jerker per se, Song for Marion suggests that its target market can't stomach much more than that. Which I, and my Nana, know is not true.