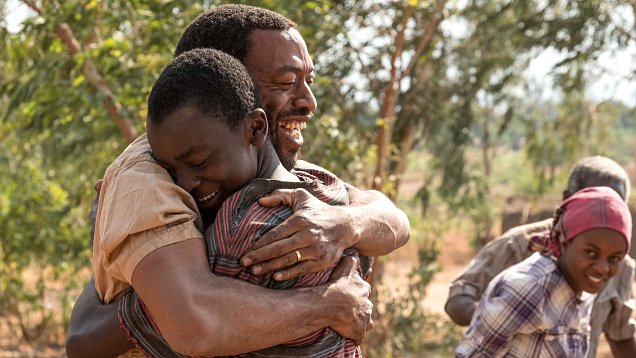 Netflix drama The Boy Who Harnessed the Wind is a stirring directorial debut from Chiwetel Ejiofor

---
Arriving on Netflix in March, the directorial debut of Chiwetel Ejiofor tells the story of a teenage boy who hatches a plan to save his family and community from famine. It is an emotional drama that understands the value of showing as much as telling, says critic Sarah Ward.
For his exceptional work in 12 Years a Slave, Chiwetel Ejiofor should have an Oscar to his name. As that compelling role proved, and everything from Dirty Pretty Things to Children of Men to The Martian too, he's a quietly powerful actor whose portrayals not only burrow under his characters' warm, textured, intelligent skins, but under the audience's as well. Rare is the moment when Ejiofor does more than what's necessary for a performance, although that description might be misleading. An economical master at making every look, gesture, move and moment count in a potent and pared-back way, there's never anything lacking when he's on screen, even when he appears to be playing a straightforward role.
Turning filmmaker with The Boy Who Harnessed the Wind, the British talent largely adopts the same approach, crafting a touching drama based on a true tale. Adapted from William Kamkwamba's memoir of the same name, and telling of the Malawian's childhood efforts to build a wind turbine to save his struggling village, Ejiofor's feature directorial debut hits all of the marks that it's aiming for. Set in a country blighted by environmental devastation and government corruption, this is an inspirational account of the battle between innovation and tradition, the complications of a father-son dynamic, and the need for one generation to exceed its predecessors. The end result may be solid rather than spectacular, but this kindhearted, empathetic picture feels like the exact movie that Ejiofor would make, translating his on-screen traits behind the camera.
Ejiofor stars in The Boy Who Harnessed the Wind also, as farmer Trywell Kamkwamba, but he relinquishes the spotlight to newcomer Maxwell Simba. Playing Trywell's 13-year-old son William, Simba has clearly learned more than a few things from his director, displaying the same penetrating, patient air that's always evident in Ejiofor's performances, including here. A smart, scientifically minded teen who's overjoyed about starting secondary school, William has much to ruminate upon, and to wait upon as well. As disaster after disaster sweeps through his rural town of Wimbe, and his family, he hatches a plan to make a difference, but his path towards enacting change is plagued by problems.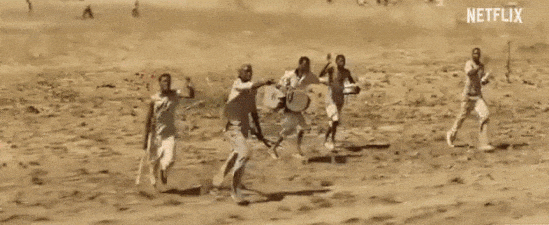 With the story set in 2001, William's quest will seem simple to many viewers, especially those watching on Netflix when it jumps from the Sundance and Berlin film festivals to the streaming platform in March. After finding a broken water pump in the trash left behind by invasive nearby tobacco plantations, then learning about motion-based energy via a teacher's bicycle lamp, the boy just wants to construct a windmill – and use it to power an irrigation system that'll water the community's desolate fields.
Alas, working out how to put his idea into action requires access, parts and assistance that aren't readily available to even the brightest resident of a village built on near-untenable land, alternating between flood and drought conditions, and suffering thanks to the tobacco industry's government-sanctioned usurping of local resources. Merely reading up on his proposed invention is fraught with complications, after poor crop yields places William's family in a precarious financial predicament, making paying for schooling an unnecessary luxury.
Sign up for Flicks updates
Writing as well as directing, Ejiofor gives detailed context to the Kamkwambas' plight, including broader Malawian political tussles, community scraps over land, the yearning of William's older sister Annie (Lily Banda) for a different life, and the difficulties of leaving one existence behind to carve out a new future. He's as thorough in his script as he is in his conflicted performance, although when the film strays too far away from William, it smacks of Ejiofor doing something that he never does on-screen: overplaying his hand.
As a filmmaker, however, Ejiofor always feels like he's happily in his comfort zone, and the stately but stirring The Boy Who Harnessed the Wind is all the better for it. Crucially, he knows how to relay his tale by showing as much as telling, even if some expository details arrive clumsily through conversation. As lensed by veteran Dick Pope (an Oscar nominee for The Illusionist and Mr Turner), every image in the film paints an intricate picture of the natural and emotional landscape that William, his father, sister and increasingly exhausted mother (Aïssa Maïga) must navigate.
Ejiofor stages both big set pieces and intimate moments in the same manner, letting frantic crowds, silent glances and parched fields land devastating blows in their own ways. Indeed, carrying the movie to its climax proves an act of precision – and while The Boy Who Harnessed the Wind's end point is never in doubt, the feature still mirrors what the man behind it does best, making a resounding impact using seemingly familiar parts.