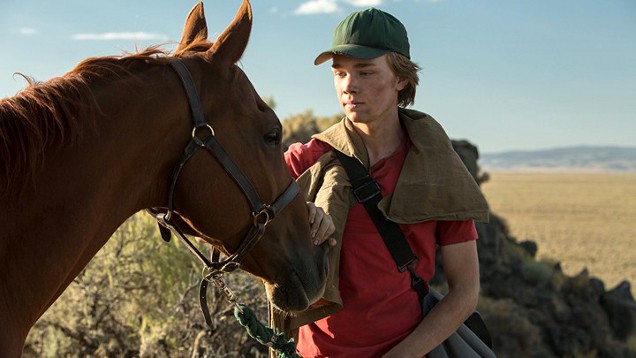 Lean on Pete is an unforgettable film about the teenage experience

---
This stunning adaptation of author Willy Vlautin's novel Lean on Pete is not your average coming-of-age film, writes critic Blake Howard.
There are so many films that showcase the struggles of the teenage experience, especially those sensational end-of-the-world feelings when faced with obstacles. As adults, there's a kind of fondness to revisit those feelings as the realities of real-life dwarf them. Writer/director Andrew Haigh's stunning adaptation Willy Vlautin novel Lean on Pete is precisely the opposite. In this delicate odyssey across an interrupted contemporary frontier, young Charley (Charlie Plummer) can only – to paraphrase Kipling – fill each unforgiving minute with sixty seconds of distance run.
Fifteen-year-old Charley (Charlie Plummer) lives with his father Ray (Travis Fimmel) from pay cheque to irresponsibly budgeted pay cheque. Charley gets a summer job as a stable hand for horse trainer Del (Steve Buscemi) where he takes care of ageing racehorse Lean on Pete. When Ray's philandering results in a fatal altercation, Charley seems bound for life in systemic foster care. Hiding from authorities in the stables, Charley learns that Del means to pu 'Pete down and charts a desperate cross-country escape to freedom searching for his Aunt Margie.
Sign up for Flicks updates
Haigh's direction beautifully observes Charley's life unfolding. Flowing between steady detachment, reporting on each step of the young man's morning running circuits, to the somewhat tragic lack of intimacy for every part of his life – except for his moments with Pete. Cluttered suburban streets and the unglamorous, manure-lined stables feel like prisons to boy and beast alike when contrasted by seeing this unique contemplative young man riding his horse freely through the wild vistas.
Plummer's performance is a revelation. Plummer conveys such moral clarity, quite often in silent moments alongside his silent equine co-star; it is quite an achievement. Haigh's direction fashions a delicate and boundlessly hopeful Charley. Despite the incomprehension of the gravity of the situation, he chooses to act with care for Pete, even if that means risking his well-being.
Buscemi's Del uses those well-worn lines on the suddenly aging actor's expressive face to speak volumes about surviving as a horse trainer on a variety of stages. In his older age, he's battling at the low end of the circuit, and he's aware that he's going to hustle to maintain a living. Chloë Sevigny's Bonnie appears sage in the face of the rampant sexism and exploitation in the racing industry, especially in this regional circuit. Travis Fimmel's Ray acts more like an inconsiderate room-mate than a father.
What's so tremendous about their performances is that their significance lies only in their relationship to Charley. For Buscemi's Del, his preliminary posture is one of uncertainty and suspicion; after all, there are a lot of fifteen-year-olds out to hustle. Plummer's Charley continually endears himself to Del because he briefly fulfils untapped paternal instincts. Sevigny's Bonnie observes Charley with wistful nurturing; she isn't as keen to see him gain an understanding of the world he's dipping his toe into. Fimmel's shoulder-shrugging, laissez-faire with the fundamental needs makes Charley's goodness all the more precious.
Lean on Pete draws you in and denies you the chance to reach out for a desperate protective embrace of Charley. Haigh's unforgettable adaptation makes you bear witness to this fragile flame nursed through the unforgiving world.