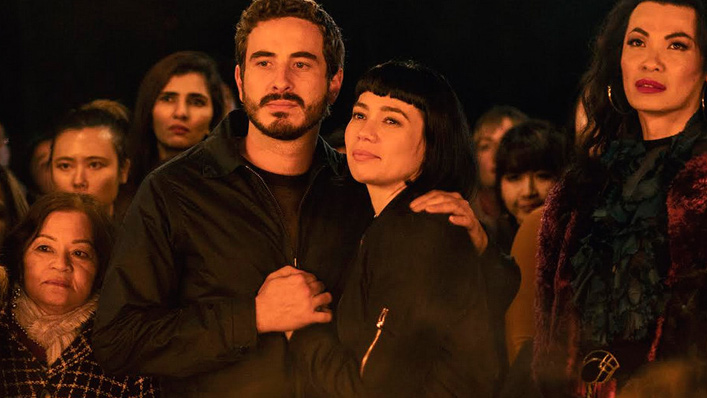 Hungry Ghosts is a supernatural drama about being haunted physically and emotionally

---
SBS on Demand's genre-merging new series—set in Melbourne's Vietnamese-Australian community—is a supernatural thriller with a difference, writes critic Sarah Ward.
New SBS mini-series takes its title from the Hungry Ghost Festival, a month-long Buddhist and Taoist ritual in China, Vietnam and other parts of Asia each September, where participants venerate the dead. Set on the eve of the spiritual celebrations in Melbourne's Vietnamese community, the supernatural drama also takes its moniker literally, with apparitions popping up within its frames.
These ghosts are hungry to settle old scores, reunite with their nearest and dearest, and share their pain. As Hungry Ghosts' characters discover, one is particularly vengeful and vicious, and downright ravenous. The show handles its paranormal elements evocatively, judiciously but effectively deploying bumps and jumps—earning each and every one, and its ominous mood, too—but what stands out is how deeply Hungry Ghosts understands what it's like to feel haunted in an everyday way.
Sign up for Flicks updates
Actually, in its concept and casting alone, much about the four-part series stands out. Local TV programs that tell Asian Australian tales, feature Asian Australian talent in most lead roles and fill their frames with Asian Australian actors as well (30 actors in the main cast here, plus 325 extras) shouldn't be as uncommon as they are. Hungry Ghosts does feel undoubtedly rare, including in its storytelling focus. Four families earn the show's attention, with the Le, Tran and Nguyen families of Vietnamese descent, and only the Stocktons hailing from an Anglo Australian background.
Directed by Storm Boy and Deep Water's Shawn Seet, and written by Timothy Hobart, Michele Lee, John Ridley, Alan Nguyen and first-timer Jeremy Nguyen, the series flits between various players, weaving their stories around a pivotal event: the opening of a tomb in Vietnam. During a minesweeping operation, Catherine Taylor (Susie Porter) accidentally stumbles across the crypt and, upon entering, unleashes an especially vindictive spirit. As the Hungry Ghost Festival approaches, she's back in Melbourne, making her presence known. But it's May Le (Catherine Văn-Davies) that's Hungry Ghosts' protagonist, with the 20-something nail salon employee haunted by visions after a tragedy involving her grandmother Phuong (Linda Hsia).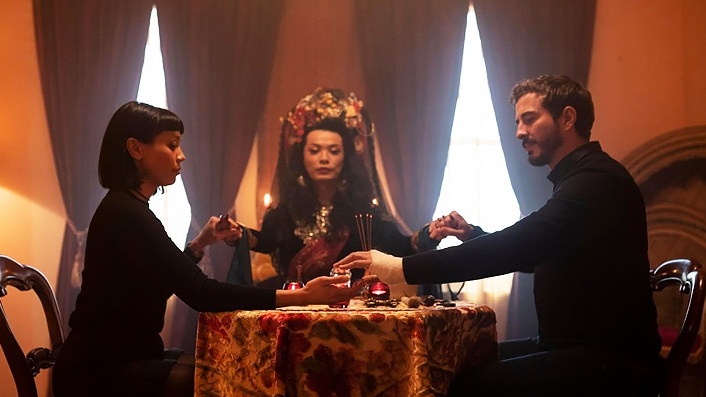 The series is deliberate and meticulous in introducing its ensemble and connecting them to the lingering spirits; everyone has a story. May also has her usually absent mother Stella (Susan Ling Young) to deal with, as well as an emergency medicine doctor, Ben (Ryan Corr), who starts seeing more than his patients. Wracked with survivor's guilt since his childhood, his colleague Sang Tran (Lap Phan) rarely spends time with his own family, including his wife Diana (Oakley Kwon) and their university-student daughter Sophie (Jillian Nguyen).
Over in the Nguyen household, Anh (Ferdinand Hoang) was a soldier and then a prisoner during the war, then followed his wife Lien (Gabrielle Chan) and son Paul (Gareth Yuen) to Melbourne. Then there's retired photojournalist Neil Stockton (Bryan Brown), who covered the war and is preparing for an exhibition of his work.
It's not difficult to guess what each of the show's characters are haunted by—other than otherworldly forces, including one eager to claim souls and escape the gates of hell. Hungry Ghosts takes its time to tease out the specifics, viewing regular woes through the prism of their new supernatural encounters. Its most affecting dramas are firmly steeped in the ordinary and ongoing. That's what good ghost stories do, using the paranormal as a manifestation of the fears, woes, traumas and struggles that beset everyone all the time. Hungry Ghosts makes that connection in a big and overt fashion—with a concerted focus on shadows cast by the past, and by the war—but it always does so in an authentic and moving manner, with help from grounded performances.
As genuine as the series' emotional impact feels, and as fleshed out as its collective outpouring of pain and trouble does as well, not every narrative element earns the same description. The thread involving Neil Stockton hews closely to recent Aussie feature Hearts and Bones, for instance, and threatens to squander the great Brown in the process. Of course, perhaps that's fitting, with Hungry Ghosts saving its strongest material for the Vietnamese community it's immersed within. Also apt: the expressiveness of Seet's visuals, which give naturalistic tones an ethereal sheen, peer closely at the show's characters and serve up a luminous final sequence.